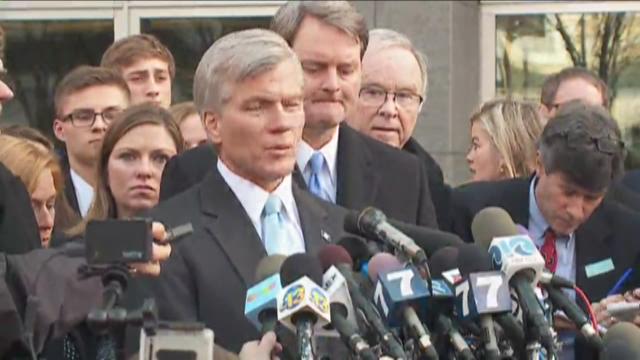 RICHMOND -- "I am a fallen human being," Bob McDonnell said Tuesday after Judge James R. Spencer handed down a two-year sentence on public corruption charges.
McDonnell will have to report to prison by Feb. 9.
"I would also say to the people of Virignia that I have never, ever betrayed my sacred oath of office in any way while I served as governor of this great commonwealth," McDonnell said outside the courtroom following his sentence.
A jury in September 2014 convicted McDonnell and his wife, Maureen, for taking bribes to promote a dietary supplement. They accepted gifts including a Rolex watch, designer clothing and vacations in exchange for promoting a purported miracle cure made by Star Scientific Inc.

The company's former CEO, Jonnie Williams, testified under immunity as the prosecution's star witness in a case that exposed the details of the McDonnells' shaky finances and troubled marriage.
In a strong but somber voice, McDonnell told the judge before sentencing that he was "a heartbroken and humbled man" and that he holds himself accountable.
"I allowed my life to get way out of balance," he said.
When Spencer announced the sentence, McDonnell was stoic.
"As Governor of the Commonwealth of Virginia, Robert McDonnell violated the public's trust and tarnished the highest office in state government," said U.S. Attorney Boente. "This investigation, prosecution and sentence will help restore and maintain the high integrity of the governor's office, while affirming our commitment to prosecuting public officials who commit crimes."
At the trial, the former governor said he began working unnecessarily late, just to avoid his wife's angry outbursts and begged her to work on their deteriorating marriage. Defense attorneys claimed Maureen McDonnell developed a "crush" on Williams and was largely responsible for the couple's cozy relationship with Williams.
McDonnell testified in his own defense during the six-week trial, acknowledging that he accepted Williams' largesse but did nothing for him in return other than extend routine political courtesies. He was convicted of 11 counts.
"I'm 60 years old. Whatever days the Lord allows me, I dedicate anew to the service of others," said McDonnell, whose lawyers had asked the judge to impose three years of community service. Prosecutors wanted more than 10 years in prison.
"It breaks my heart, but I have a duty I can't avoid," the judge said.
Maureen McDonnell, who did not testify, was convicted on eight counts. She will be sentenced Feb. 20.
The public corruption case prompted the General Assembly to tighten the state's murky ethics laws, and some Virginia elected officials have voluntarily limited the value of gifts they will accept.
McDonnell, 60, delivered the 2010 Republican response to the State of the Union Address and became chairman of the Republican Governors Association in 2011. He was indicted 10 days after leaving the office.
At trial, the McDonnell's defense strategy depended in large part on convincing the jury that their marriage was so strained that they could not have conspired to squeeze bribes out of Williams. They arrived at and left the courthouse separately every day and rarely even glanced at each other as they sat separated by lawyers at the defense table.
McDonnell and other witnesses testified about the first lady's erratic behavior, suggesting she was mostly responsible for the relationship that developed with Williams. They said she was prone to such angry outbursts that the Executive Mansion staff threatened a mass resignation. One acknowledged calling Maureen McDonnell "a nutbag."
The defense introduced a September 2011 email from McDonnell to his wife lamenting the deterioration of their marriage, complaining about her "fiery anger" and begging her to work with him to repair the relationship.
Photos: McDonnell trial evidence
Prosecutors countered the broken marriage defense by showing the jury photos of the McDonnells holding hands as recently as at pretrial hearings.
Several witnesses described Maureen McDonnell's relationship with the wealthy vitamin executive as inappropriate and flirtatious. Nobody suggested the relationship was physical, and Williams testified that his dealings with the McDonnells were all business.
Williams said he spent freely on the McDonnells to secure meetings with administration officials and a launch event at the Executive Mansion for his tobacco-derived anti-inflammatory supplement Anatabloc as a treatment for ulcers, Alzheimer's, multiple sclerosis and other maladies.
His gifts included nearly $20,000 in designer clothing and accessories for Maureen McDonnell, a $6,500 engraved Rolex watch for the governor, $15,000 in catering for their daughter Cailin's wedding, free family vacations and golf outings for their sons.
Soon after court began Tuesday at 10 a.m., Judge Spencer lowered the sentencing guidelines to six-and-a-half years to eight years, down from 10-12 years, saying an "obstruction of justice" enhancement shouldn't count if McDonnell gave testimony that the jury did not believe.
Defense attorneys had asked for three years of community service, arguing that the federal investigation that destroyed his career and exposed details of his rocky marriage and shaky finances was punishment enough.
Just after 11 a.m., character witnesses for the former governor were taking the stand and asking for leniency in McDonnell's sentence. Among them was the head of Operation Blessing. The Virginian Pilot reported Bill Horan offered to have McDonnell work in Haiti.
"He's been punished enough," said Virginia House Speaker William J. Howell.
The Washington Post reporter covering the sentencing tweeted former Gov. Doug Wilder draws applause from courtroom of McDonnell supporters when he questioned why the briber "walks away clear."
McDonnell arrived at federal court just after 9 a.m. and briefly spoke with reporters.
His family, including wife Maureen, and supporters including former NFL star Bruce Smith of Va. Beach and some state lawmakers are in the courthouse.
Support from family & friends
Included among the nearly 1,000 pages of documents filed by McDonnell's legal team are 443 letters from family, friends and former colleagues urging the judge to give the former governor a lenient sentence.
Each of McDonnell's five children—his three daughters and twin sons—wrote letters on their father's behalf. Some of them told the judge that it was their mother who made bad decisions and solicited money and gifts behind their dad's back and without his knowledge.
His sister, Maureen, says her brother has spent his time reaching out to others in need since his conviction. She believes that community service will allow him to continue helping others. She tells WRIC-TV in Richmond that the McDonnell family is prepared for whatever may come.
"The prospect of having him incarcerated is hard to fathom, but we have to wrap our heads around the reality that that's a possibility," she said.
McDonnell also received support from notable political and business figures, including Senator Tim Kaine (D-VA), Rep. Scott Rigell, (R- 2nd D), Virginia Beach Mayor Will Sessoms, former Virginia Beach Commonwealth's Attorney Harvey Bryant and developer Bruce Thompson.
Read More: Letters submitted to judge in support of Bob McDonnell
Possible prisons
The Federal Bureau of Prisons will decide which facility the former governor will be assigned. Most likely, McDonnell will serve his time at a minimum-security prison camp with other non-violent offenders.
Photos: Politicians in prison
The BOP considers a range of factors, including available bed space and proximity to an offender's home, when assigning an inmate to a facility.
There are two minimum-security prison camps in Virginia: Federal Correctional Institution Petersburg, about 25 miles south of Richmond in Hopewell, and U.S. Prison Lee in Pennington Gap in the Appalachians more than 300 miles southwest of Richmond. Both facilities have fewer prison guards and more freedom for inmates.
Justin Paperny, who worked as a stockbroker before being convicted of fraud and serving an 18-month sentence, says life at a prison camp isn't as bad as it may sound.
"I joke that part of the reason you see movies about prison that don't include prison camp is because no one would watch it," Paperny said. "It would be quite boring."
Still, Paperny said the 60-year-old former governor needs to prepare psychologically for the possibility of extended time behind bars.
"When I went to prison, I remember trying to shake hands with the guard when I got there. I didn't know any better," Paperny said. "He said, 'We don't shake hands with inmates.' Having gone through it, you always wonder, 'Can I get through this? Does it ever end?' And then it does."
Sentencing
McDonnell was sentenced by U.S. District Court Judge James R Spencer. Spencer presided over the six-week trial and has been inundated with thousands of pages of briefs, exhibits and other evidence from prosecutors and defense attorneys in the days since the verdict was handed down.
Prior to the sentencing, the U.S. Probation Office prepared a pre-sentence investigation report that recommended McDonnell be sentenced to between 10 and 12 years in prison. The recommendation is based on a complicated formula outlined in the federal sentencing guidelines.
Defense attorneys, meanwhile, asked that the former governor be given probation and 6,000 hours of intensive community service. They had issue with the calculation used by the Probation Office and have said that if McDonnell has to go to prison, he should be sentenced to no more than four years.
Related Content: McDonnell Corruption Scandal
Live Blog: Bob McDonnell Sentencing