VIRGINIA BEACH, Va. — Pharrell Williams said he wanted his Something in the Water festival to be similar to South by Southwest (SXSW) in Austin, Texas. The three-day event in Virginia Beach definitely seems to have gotten attention similar to SXSW.
Let's be honest. A lot is riding on #SITWfest in a lot of ways.
Tens of thousands of people will crowd the Oceanfront for it. Huge names in the music industry will be performing. They include Gwen Stefani, Timbaland, Usher, The Dave Matthews Band, and Pharrell's fellow Hampton Roads native Missy Elliott. There will be featured speakers and plenty of other activities promoting the arts and culture.
The enormous event debuts April 26 through April 28, the same time as the annual College Beach Weekend. #SITWfest, in part, was meant to bring structure to the yearly weekend which, at times, seemed like a free-for-all with hoards of college students at the Virginia Beach Oceanfront, but no real official program in place. Some years, College Beach Weekend brought waves of violent crime to the city, and that brought a lot of criticism.
Like we said. A lot is riding on #SITWfest in a lot of ways.
Pharrell Williams
A Virginia Beach native
Brandon Stokes has known the man behind Something in the Water festival, Pharrell Williams, since 1999.
Many probably know Stokes better as the on-air personality and Z104 music director, Shaggy.
"[Williams] way of talking to people makes you want to do better, makes you want to be great," said Stokes.

When Stokes first heard about Williams bringing the Something in the Water festival to Virginia Beach, he knew it was the star's way of getting back to his roots.
"Pharrell will tell you this event, even though it's in his name, is for Hampton Roads," said Stokes. "For Pharrell to come home, and get all these guys on here, it's going to bring awareness and show it's the breeding ground for new talent."
Stokes was an up and coming radio guy back when he first met Williams.
Williams was with his rock and hip-hop band N.E.R.D. around the time people really started taking notice of the Princess Anne High School grad's potential.
"To see him do this, it doesn't surprise me," said Stokes. "He's composed and scored the Grammys and the Oscars. Pharrell is going to make sure it's top notch."
That's why Stokes is excited to see what else his friend has in store for the region in the coming years.
"[Williams] a fantastic husband and father, and still comes back here," said Stokes. "If the guy told me tomorrow he would fly to Mars, I would believe it."
Creative Culture Hampton Roads
Millennials are leading the way
A creative scene has emerged in Hampton Roads and millennials are leading the charge.
Food, arts, and music are really taking off, most of them taking place simultaneously, in places like Virginia Beach's Vibe District and Norfolk's Neon District.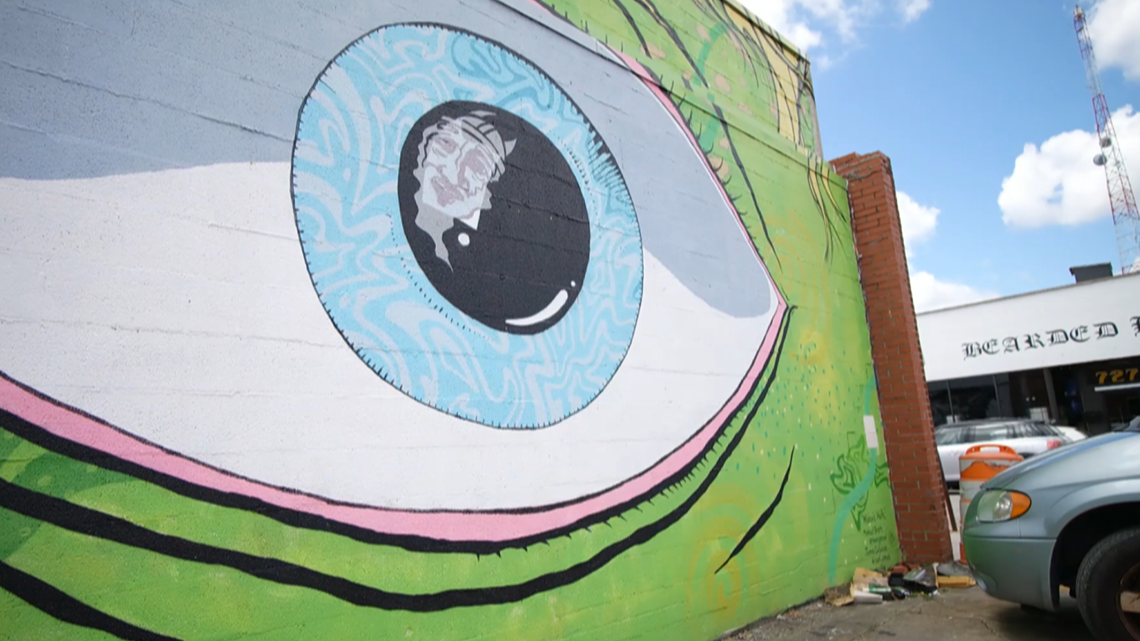 "It was a combination of an artistic collective," said Kyle Siebels referring to the Neon District. "They kind of took it grassroots, and took the leap first."
Most probably know Siebels better as the popular local DJ CanRock. He was born and raised in Norfolk.
13News Now sat down with Siebels and Brandon Stokes, better known as on-air personality Shaggy from Z104, one afternoon in Virginia Beach, Stoke's hometown.
They are both champions of the region, promoting local talent as often as they can. They said a lot of the region's creative drive was influenced by one local artist in particular: Pharrell Williams and his hip hop and rock band N.E.R.D.
"I went to VCU," said Siebels. "My college roommate was from New Hampshire and he loved N.E.R.D. It just showed a certain sound this area is known for."
When Williams' Something in the Water festival was announced, Siebels and Stokes knew the stage was set --- and not just for the long list of stars.
"I'm proud to say I'm from the city putting on this fantastic event," said Stokes.
Now, that pride extends to people who aren't even from here originally.
"Something about the vibe here," said Jarrell Williams. "It's beautiful."
Jarrell Williams is a Fredericksburg transplant, but he has used the area's growing creative scene to establish himself as one of the go-to food and culture bloggers.
His brand Nomarama highlights local hot spots, many of them run by younger up and coming chefs.
"I'm expecting amazing things from this," said Jarrell, referring to the Something in the Water festival. "For me personally it's like if it's happening now it's going to inspire me."
It seems fitting that the man who laid the innovative groundwork for people like Jarrell, Siebels, and Stokes to thrive, is building momentum once again by introducing a surge of talent and creativity to the new Hampton Roads.
Diversity and Inclusion
City leaders hope festival strikes down lack of inclusion stigma
"Something in the Water" is drawing thousands of people to Virginia Beach from all over.
City leaders are happy about the diverse group of artists, as they hope to appeal to the different communities in Virginia Beach and strike down stigmas that have long stuck with the city, suggesting it may not be an inclusive city for all.
"Any kind of different person who walks in, I want to be prepared to make sure they have a good time," said popular local act, DJ CanRock.
A well-known figure in the Hampton Roads nightlife and music scene, he said that's always been an ongoing conversation.
"Diversity is huge as a form of DJing because you don't want to play the same music all night," he said.
If you look into a crowd that DJ CanRock plays for across Hampton Roads, you'll notice just how different everyone is.
"Being diverse as a DJ is even more important because of how diverse this area is," he said.
For him, an accomplished local DJ who has performed with A-list hip-hop artists, the science of inclusion is fairly simple.
"You can break that down to something as simple as food. Nobody wants to eat the same thing every day," DJ CanRock told 13News Now.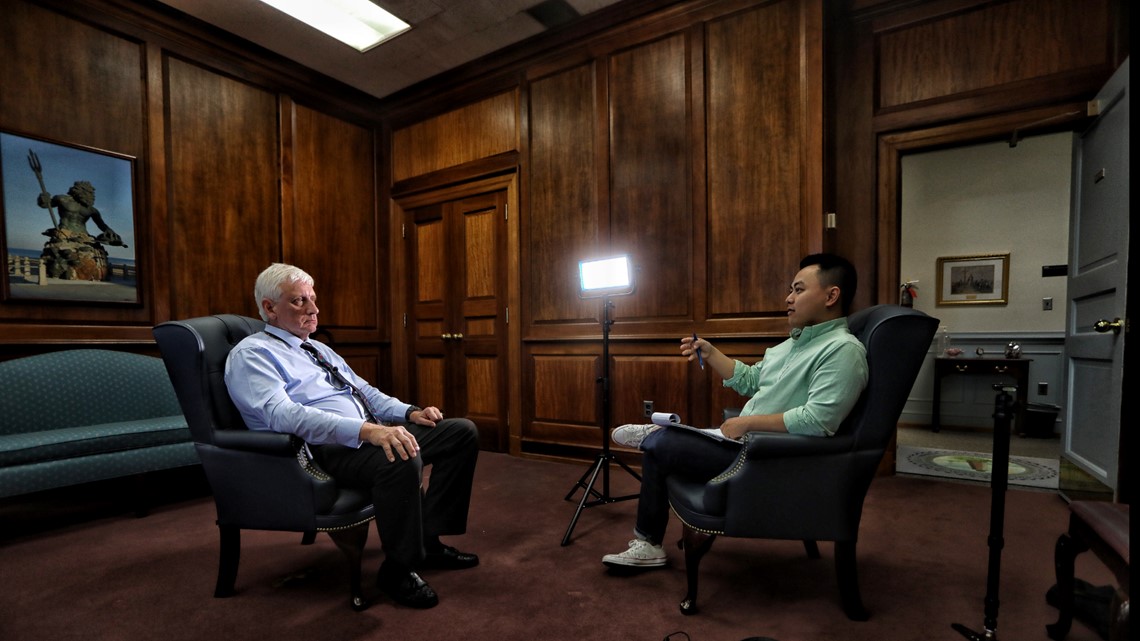 But, take that and apply it to an entire city, things get a little more complicated.
Virginia Beach Mayor Bobby Dyer is bringing that to the forefront since taking the seat in November.
"We're really trying to be an inclusive city," he said.
He recognizes that despite there being diverse communities within the city, the reputation has not lived up to that variance.
"Virginia Beach, locally, outside of this community, has, at some point in time, had a stigma of not being welcoming," said Mayor Dyer.
How do you plan to or how do you overcome that?
"You change the culture. You evolve into it but you have to be legitimate," the Mayor responded.
The Virginia Beach Economic Development statistics show 64 percent of the city's population is white and just 19 percent is black. Furthermore, just about nine percent is Hispanic, and seven percent is Asian.
"One of the strengths that we have here in Virginia Beach is the people and I mean all the people," said the Mayor.
Virginia Beach is in the national spotlight as it hosts the "Something in the Water" music festival put on by Virginia Beach-native Pharrell Williams. The city hopes the festival will bring fresh, innovative ideas to a weekend historically known as "College Beach Weekend."
"Let's be honest, College Weekend had a bit of a stigma over the years, but once again, through adversity, let's find opportunities and let's show all people that all people are welcome here," Dyer stressed.
"I think Virginia Beach has played it safe for a long time. They've been bringing in older rock groups, older reggae groups and then country acts. That's really all you see in the Virginia Beach festivals," DJ CanRock explained.
Councilwoman Sabrina Wooten thinks the festival is a turning point for the city when it comes to the diversity discussion, including race and age.
"This is a different time, I believe," she said. "I think it's important for us to be intentional about representing the population. When you look at our past, people have some negative things to say sometimes, and I think it's important for leadership to get involved because it shows that we're changing."
"Now we have something more geared towards the youth. We have hip-hop. We have R&B, even experimental. We have DJs. We have across the platform," said DJ CanRock.
That platform will soon be center stage for thousands of people.
"We're hoping this feeling of good and well-being becomes infectious," the Mayor said.
SIWT or South-by-Southwest
Can it even compare?
Something in the Water is an ambitious undertaking for Virginia Beach.
In just its first year, Pharrell's festival already is drawing comparisons to South-by-Southwest in Austin. That may be a stretch, but it's not bad company to be in.
Consider that everything is big in Texas. South-by-Southwest has drawn big names like Jay Z and Kanye West. SXSW has big time discussions about BlockChain and Cryptocurrency. It draws big names like Congresswoman Alexandria Ocasio-Cortez. Even former President Barrack Obama has appeared at SXSW.
The 10-day festival draws people from around the world to Austin, a city with a reputation for good music, a thriving high-tech industry, and progressive thinking.
"When people come to Austin, when they have fun, they make new connections that lead to new opportunities, that makes all the work and the sweat worthwhile," organizers say.
What began as a festival of just 700 people, now draws 300,000 to Austin and generates $350 million in economic impact.
By comparison, Something in the Water is jumping in the deep end.
"I completely agree with Pharrell's platform, that Hampton Roads is a very special place," Anne Furlow said, looking forward to Pharrell's oceanfront event.
An estimated crowd of 70,000 people is expected in Virginia Beach, clear evidence Pharrell's a draw along with his line-up of established stars, speakers like Deepak Chopra, even a Pop-up ecumenical church service. What's missing for some locals, however, is an emphasis on what makes the area special.
"I hope that in the future, this festival will shine a light more on the local perspective rather than what they're bringing in," Furlow added.
As for the future of the festival, Virginia Beach Mayor Bobby Dyer said if anyone can build this into something special for the area it's Pharrell.
"I've met Pharrell a number of times, and what a dynamic, remarkable human being he is," Dyer added.
While there's talk of Something in the Water this becoming a yearly event, there are no guarantees.
"When it's over, we'll sit down and have a debrief, what went right, what went wrong, and we're going to move forward on it," Mayor Dyer said.
Whether the size and scope of Something in the Water will ever generate the visibility and recognition Austin gets from South-by-Southwest, it would take several success years to determine.
What is clear, like Pharrell, people want to see Virginia Beach step up and step out.
People just don't want to come down here for saltwater taffy and the sand. It's time for something different, and that's what many in Virginia Beach want to see.
SITW Longterm?
It's all up to Virginia Beach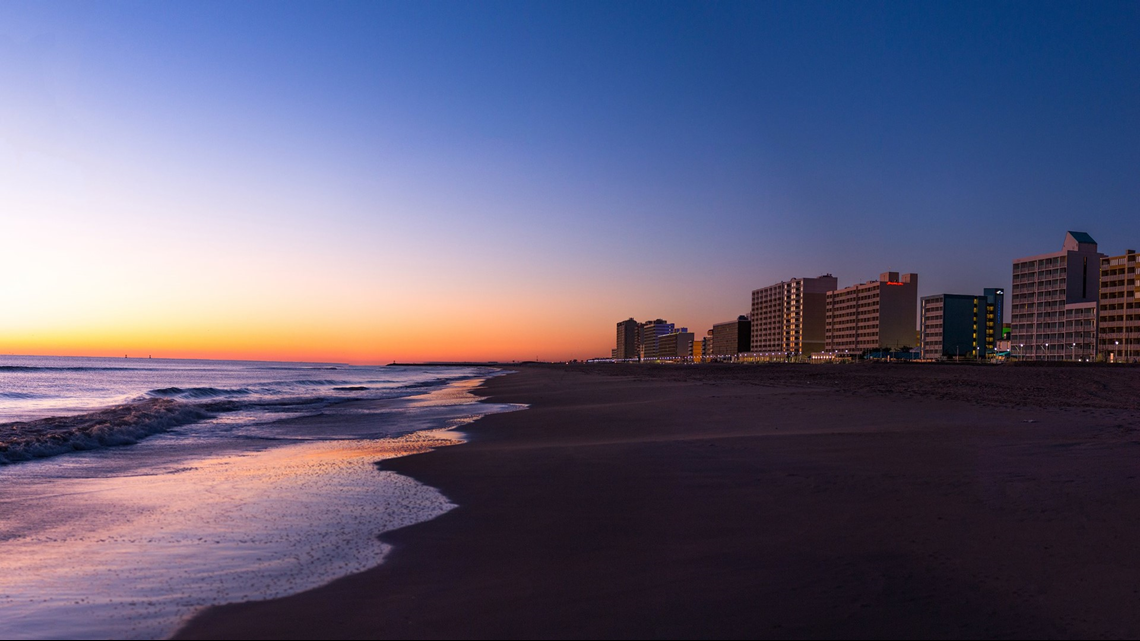 Come Monday morning, Virginia Beach's Assistant to the City Manager for Special Projects, Brian Solis said the city has a lot to think about.
"What went well? What things could have gone better?" he said.
Then city leaders will begin to answer the question, 'What about next year?'
The indication from the big name behind the Something in the Water (SITW) festival, music artist, Pharrell Williams, is this is not a one and done.
As the volume turned up on complaints that there are no planned events during College Beach Weekend, Pharrell listened. Now the city is ready to provide support.
"What was communicated to us is that this festival was conceptualized and brought forward in order to provide some really positive social programs for the College Beach students that are already coming," says Solis.
Solis said this will mean evolving Something in the Water into an event that gives people way more than entertainment.
"Opportunities to collaborate about their future. We want folks to have their first jobs here," Solis said.
Already this year, the itinerary is filled with activities that will draw millennials into strategizing about their futures. Cox Communications is sponsoring a session on how to break into the tech sector. The company will also join ODU for a pitch competition where young innovators can present their start-up ideas to win funding.
Right now, the city has a special events task force that helps to oversee nine of the biggest events in Virginia Beach including the Shamrock Marathon, Neptune Festival and Patriotic Festival. SITW would need extra attention. The city would need to build long term partnerships with the of the festival's organizers, such as Live Nation and BWG Live.
"There's some organizational framework that would need to develop on the festival side," said Solis.
Come Monday, the city will also begin to compile the numbers showing just how much of an economic boost SITW gave the beach. ODU economics professor, Dr. Vinood Agarwal says the first variable to consider is how many people come from outside Hampton Roads.
"This activity could be an enormous activity and if this event is a success, this could can only get bigger, bigger and bigger."