NORFOLK, Va. (WVEC) -- Dale Price, the number two man under brewer and owner Eric Tennant at Benchtop Brewing Company in Norfolk, wanted their small staff to go to the Great American Beer Festival (GABF), which took place in Denver, Colorado this year. They, after all, won the lottery to set up a table to show off Benchtop's beer at the awards, and submitted four beers for consideration this year; however, it came down to an economic decision, not an emotional one, and the team didn't go.
So, on Saturday, October 7, Tennant and his crew were in the brew lab of Benchtop, more than 1000 miles away from Denver doing what they do best -- brewing.
Assistant Brewer Nathan Mizner, working next to the bearded and tousled Tennant, would stream audio of the awards periodically on his phone when the opportunity for his hands to be free presented itself. Mizner happened to catch the stream as the bronze and silver winners for best Gose were being declared, and other breweries were proclaimed the winners. Tennant quipped, "I guess we won gold then," right before the revelation rang out from the phone that the brewery's Mermaid Scorn Gose won the gold prize.
High fives and an announcement in the tasting room immediately followed, and though the surprise could be heard in several of the celebrating voices, Tennant's GABF award may prove to be only the first of more to come in the future for the man known as the "mad scientist" to brewers and beer brats around Hampton Roads.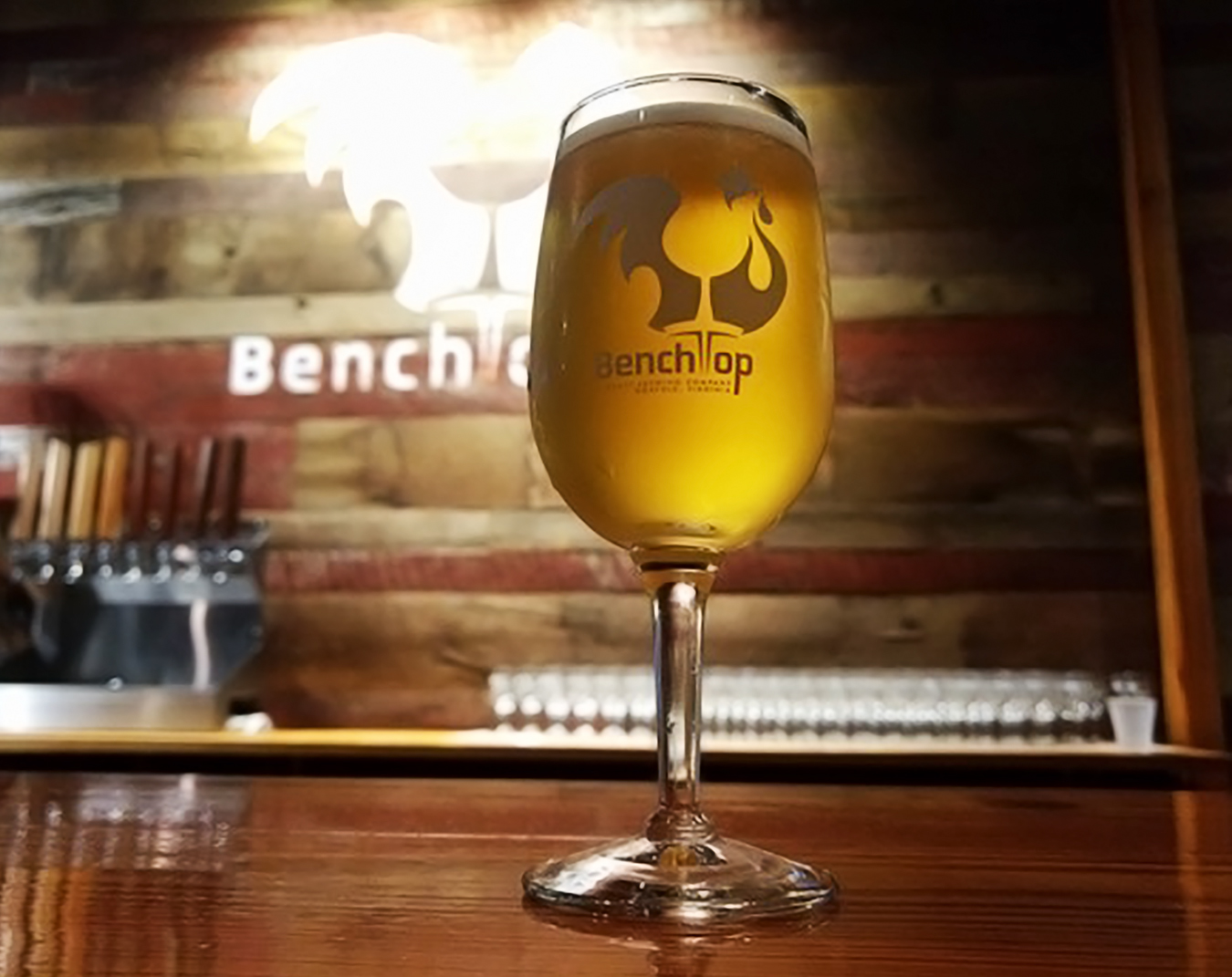 Everything about Tennant's brewing philosophy is calculated and pre-planned, which is not surprising considering his background in food and beverage science, as he spent 15 years behind the charcuterie program at Smithfield.
Tennant views his brewery as a sort of laboratory, and water chemistry is the greatest proponent in what makes his beer so palatable. According to Tennant, "Norfolk water is a blank slate." This so-called blank slate gives him the opportunity to adjust the water chemistry for each and every beer he produces, with the goal of a lighter finish and a drier beer.
The ingredients that make up the beers in Benchtop's repertoire stand out as well. Whenever possible, the vegetables, malts, and other ingredients hail from local sources. This is something that should be a huge part in all craft breweries; after all, tight local connections in the community make for a stronger foundation, and building relationships in this way tends to create a more supportive community for a local brewery. For example, the Trials of Dmitri beer uses beets from a local farm and vollkornbrot rye bread produced by The Bakehouse at Chelsea in Norfolk. The most recent version of his Wicked Lobstrocity beer uses coffee beans roasted and sourced by Cafe Stella, also in Norfolk. That delicious Chelsea Grisette beer? Malts from Copper Fox Distillery in Williamsburg.
For Benchtop, it is crucial to change and improve beers constantly, as is making sure to try new things. His entire menu has gone through significant changes, from extra dry-hopping in his IPAs to grain bill alterations in his Chelsea Grisette. Core beers, while important, can lead to stagnation if a brewery is too afraid to take risks. Constantly improving regulars on the menu, however, keeps the beers current and interesting, which is part of the reason why Benchtop is successful. As Tennant says, "Core beers don't differentiate."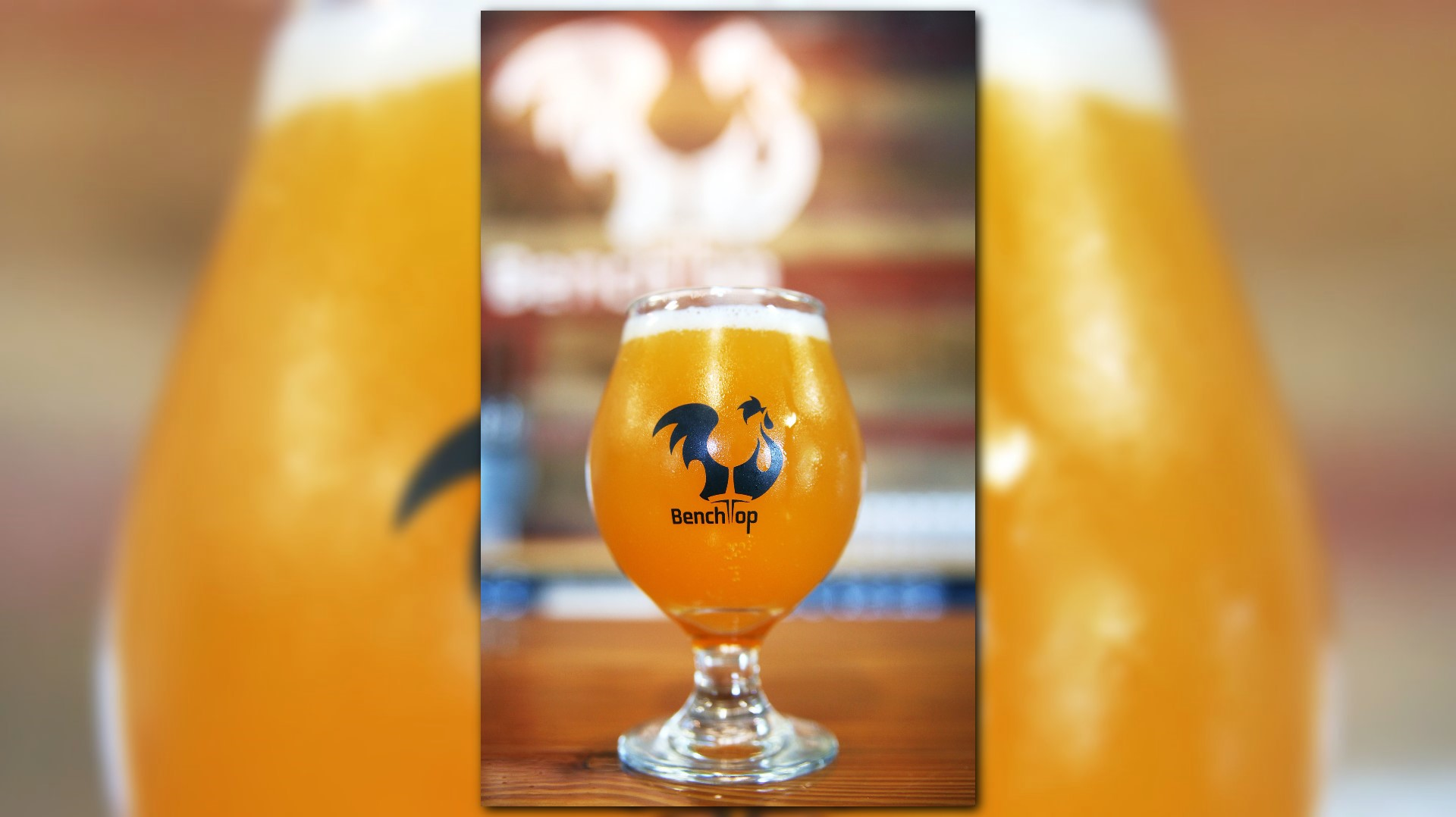 Beyond the award-winning Trials of Dmitri, Benchtop's Quick Pickle beer is a prime example of what Tennant is capable of as a brewer. His goal is for people to try his beers and not understand why they liked them, which is evident in the uniquely named brew. The Quick Pickle is brewed with fresh pickles and carrots from local Virginia farms. Tennant admits patrons were confused by the name, since Quick Pickle is not, in fact, made with pickles or pickle juice; rather, the beer is akin to being brewed with fresh vegetables.
Collaborations with other breweries are now in Benchtop's future. For example, the brewery currently is working on some exciting things with the new head brewer of Oozlefinch. Along with partnerships, Tennant would like to continue to see Benchtop grow, even though it's only been open since December 2016. He hopes that one day he can expand to a separate production facility for his main beers, while turning the current tasting room into "sour town", an area for sour beers; perhaps more importantly, he would like to see the area become a real craft beer destination as well. As Tennant puts it: "People don't talk enough about Norfolk beer, but next year, they're going to."
Photography by Joshua Fitzwater
ABOUT SOUTHERN GRIT MAGAZINE: Southern Grit Magazine is a food publication based in the Hampton Roads area of Virginia and aims to open an honest dialogue about food in the region. Each issue is themed, and highlights different food-related issues within that theme. Southern Grit features recipes and reviews as well as more creative content spinning off each theme.