VIRGINIA BEACH, Va. — Author's note: The video above is on file from Dec. 14, 2021.
Service members heading home for the holidays this year will get some heartfelt snacks from the United Service Organizations (USO) centers in Hampton Roads' airports.
A group of Girl Scouts who sold the most in donations during a Fall Product program, went to a USO Service Center at the Norfolk International Airport to meet with the center director, Len Friddle.
They got a chance to tour the center while meeting with soldiers from Fort Eustis who were heading home.
The girls donated 3,238 items from the Fall Product catalog including specialty trail mixes and holiday candies.
Chris Ramos-Smith, GSCCC's product program and service director, said, "It was amazing to see the girls learn about the USO, spread holiday cheer and say 'Thank you for your service' to the military men and women. Proud Girl Scout moment."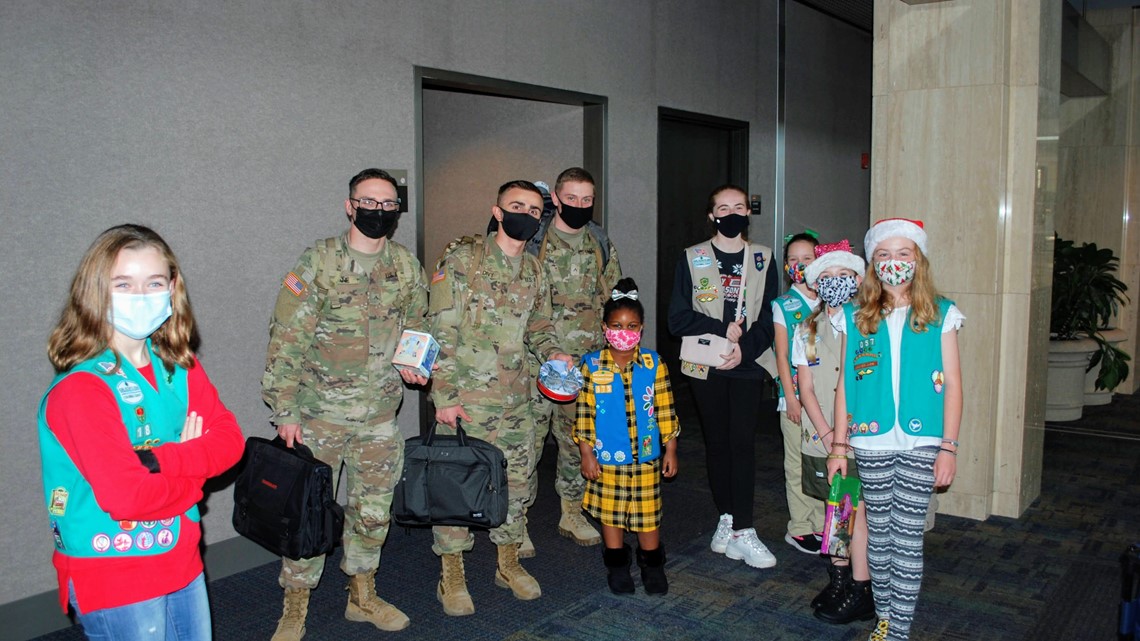 In addition to the support from the Girl Scouts, the Tidewater Council Boy Scouts of America worked together to collect donations on the USO's behalf throughout their usual popcorn sale season.
By the time they wrapped up, the scouts had raised enough money to send $40,915 worth of popcorn to these military lounges.
There are USO comfort centers in the Newport News/Williamsburg International Airport (PHF), Norfolk International Airport (ORF) and Richmond International Airport (RIC), just to name a few.
Virginia Beach Cub Scout Bennett Harrison, 7, enjoyed being part of a larger mission.
"It is awesome that I could help the military," he said.
Some popcorn also went to the USO's "Mission Delivery," which sends mood-lifting gifts to service members who are in quarantine.
In a statement, USO of Hampton Roads and Central Virginia's Executive Director Paula Moran said her team was incredibly grateful for donors like the Boy Scouts.
The Tidewater Council Boy Scouts has members in Chesapeake, Norfolk, Portsmouth, Virginia Beach and parts of northeastern North Carolina.