BAY VILLAGE, Ohio — We're eight months into the COVID-19 pandemic, and, it's fair to say that it's been overwhelming at times. But we cannot ignore the glimmers of hope and togetherness.
Stories like that of Alex Darling and Sara Maskal, who were engaged on November 8.
The day most likely started with news of the pandemic and election tension, spreading uncertainty. Then a picture of Alex and Sara's proposal appeared on social media, and it spread something else: love.
"It came together in like two minutes before the sun went down," Alex told us. "Before the sun finally hits the water ... it was a beautiful moment. I'm so excited."
At Huntington Beach in Bay Village, right at Sunset, Alex Darling got down on one knee and proposed to his girlfriend of 8 years, Sara Maskal.
"It was like, perfect. It was just beautiful," Sara remembered.
Little did they know, their stunning moment was captured by an onlooker and posted to social media.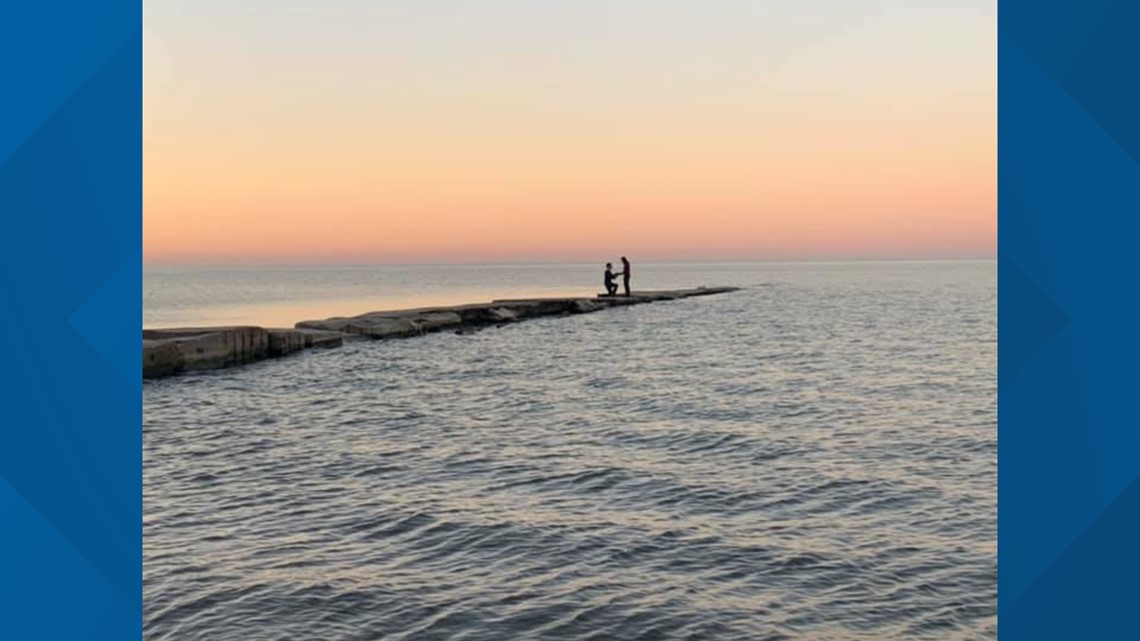 "The lady reached out to me on Facebook," Alex said.
Sara couldn't believe how many people the picture touched.
"Oh my gosh, like, look at this post, look at how many people have seen this and liked it," she said.
Folks they had never even met, taking in the beacon of hope.
"Someone had screenshotted it and shared it on another Facebook page to get more attention. And someone had a screenshot of that and put it on another. There was like a statewide manhunt for us," Alex said.
It's a love story that so many people were eager to hear in these times.
"We met like eight years ago at the University of Washington," Alex said.
Then, after four years, the couple packed up and came here to Cleveland. Sara was accepted into medical school at Case Western Reserve University. Today, she's a resident at Cleveland Clinic.
"I've wanted to be a doctor for a really long time. So I love going to work every day," Sara told us.
Watching Sara pull those 80-hour weeks inspires her doting fiancée.
"This was something I tried to tell Sara before I went down on my knee, but then I couldn't because I started crying," Alex remembered. "There was a point where Sara was just working really hard and killing it, while also loving her job. That made me realize that there was a level of fulfillment in my life that was missing. So I went back to college. And also another great thing that happened in 2020 was I graduated and I got a job. Honestly, I'm not totally sure that would have happened if it weren't for her."
Sara says, she's motivated by Alex's caring heart.
"I think he's always just been incredibly kind to everyone around him," Sara told 3News. "Being a resident, it's kind of a hard job. So it is really nice to also have a really good home life and have like Alex supporting me."
In a year of fear and unknowns, one thing is certain: Love always wins.
"I constantly come back to just how crazy, unbelievably lucky I am," Alex said. "I never, never, never, ever want to take that for granted."