LINCOLNTON, N.C. — Tears filled Greg Wendt's eyes as he sat on a couch next to his biological mom and talked about the moment he found out she was alive, 67 years after his birth.
"Just kind melted down on the spot. And that's not characteristic of a United States Marine," he said.
Due to circumstances at the time, Marilyn Wallace, now 94-years-old, gave her son up for adoption in 1952 in Rochester, New York. She later tried to find him but had difficulty.
"Everything's all closed off. You get no information," she said. "I figured, that's a lost cause."
Wendt also made attempts to find his birth family a few times in his life but never really followed through.
"Just because I didn't want to intrude on somebody's life. Not knowing that they'd been looking for me," he said.
In 1997, Wallace shared her secret with her daughter, Lori Wallace, who began looking for her long-lost brother. But she was searching the wrong name.
By Christmas 2018, Wallace's daughter decided they should do DNA test kits on ancestry.com.
"I'd been unsuccessful finding Greg," she said. "And since Dad has passed, I thought I'd do one so my siblings and I would know our heritage as well."
PHOTOS: Mother, son reunited after 67 years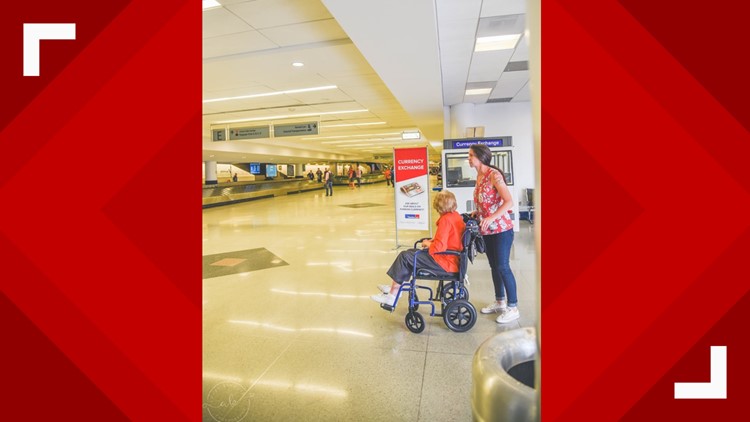 By this point, time had crept up on Wendt, and he began to realize he did want to know about his past.
"My adopted family is dwindling. My parents are both gone. I just started thinking, yeah, I'll probably live the rest of my life alone," he said.
"I was just kind of wondering how it was going to play out. And praying about it, talking to the Lord about it. Telling him I would prefer it not be like that, but His will, not mine," he added.
Their paths finally crossed in February 2019. Through a couple of cousins Wendt found on ancestry.com, his prayer was answered.
"The phone rang. And it was Gary. He said, 'I've just found your birth family. Your mother's alive,'" Wendt choked up.
"How did you feel?" asked NBC Charlotte.
Wendt couldn't speak, only pointing to the tears in his eyes. His cousin told him his new sister would soon call him.
"This is my precious little baby sister," Wendt said crying, gesturing across the room to Lori Wallace, who also called their mom to share the big news.
"What did she say?" asked NBC Charlotte.
"She was silent for a second. And she said, 'You're kidding me?'" Lori Wallace remembered.
Wallace admitted she was overwhelmed.
"It was hard to believe, you know, because I've wanted to find him forever, and actually he found us," she said.
Plans were set in motion for Wendt to travel from Kentucky to North Carolina around Mother's Day. Wallace and her daughter picked him up at the airport.
"What was it like waiting for Greg?" asked NBC Charlotte.
"Nervous. And he didn't come, and he didn't come," Wallace said. "We just went up and down thinking we were standing in the wrong place. But, finally, we saw him coming."
"It's just very emotional. I knew what they looked like from pictures. Seeing them in person was just that much more intense," Wendt said.
However, it wasn't just his new mother and sister he would meet during his week in Lincolnton.
"(I now have) five sisters, one brother, 10 nieces and nephews, 19 great-nieces and nephews, and eight great-great-nieces and nephews," he said.
Wendt also has six new cousins, including one no one knew about until another recent revelation through ancestry.com. Nearly all of the family was able to come together for a party to celebrate last week.
"I have never felt so welcomed, so accepted, so loved," said Wendt, teary-eyed. "So wanted. It's just been an absolutely fantastic week."
His sister said Wendt looks more like their mother than her or the rest of her siblings. The mother and son share other characteristics, too. Wendt was a Marine; Wallace served in the military along with her mother and brother.
The Wendts and Wallaces plan to keep in touch and visit. Though Wendt's sister has even bigger plans for him.
"I'm looking for houses for Greg," she said laughing.
"Does he know that?" asked NBC Charlotte.
"He does now," she giggled. "I know he's got a life in Kentucky, but we're not there."
"I'm just saying," she whispered, looking over at Wendt.
"It's a definite possibility," he said.
From a shrinking family to a brand-new bloodline, the recent chain of events has turned out well for Wendt.
"It's been a dream come true. A dream I didn't have, come true. Does that make sense? I just had ruled it out. I didn't think that it was going to happen. Or that I would even be wanted," he added.
For Wallace, a hole in her life has been filled.
"It just all came out good," Wallace said.
MORE STORIES ON WCNC.COM