Making a Mark: The Best of Hampton Roads
Making a Mark is devoted to the folks who try to step up and bring people together in the Hampton Roads community.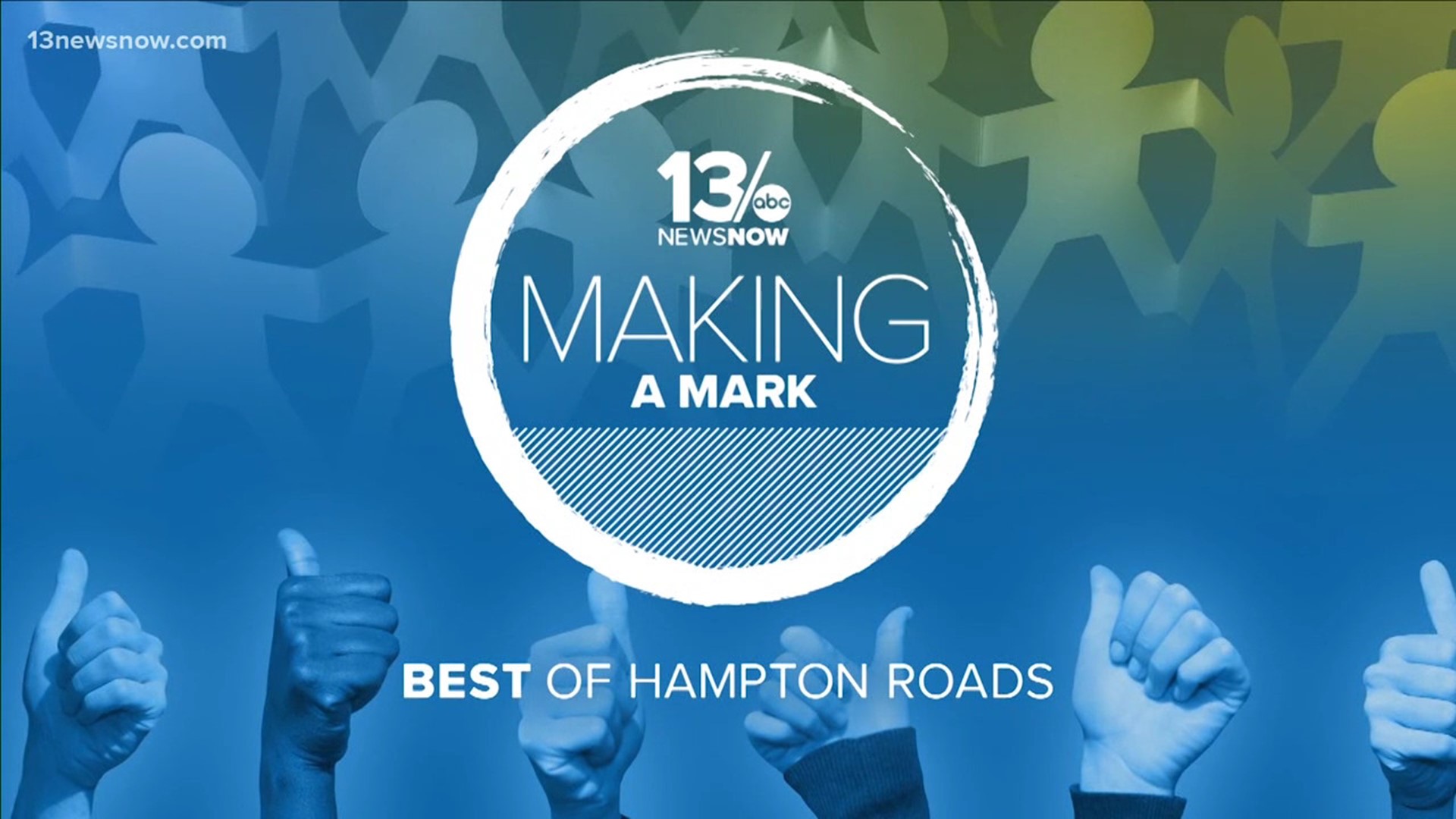 Making a Mark is devoted to the folks who try to step up and bring people together in the Hampton Roads community.
Norfolk hero coach helps shield kids from violent street life
:
By Arrianee LeBeau
The Berkley Timberwolves is a nonprofit youth sports program in the Berkley neighborhood, helping keep kids off the street and out of trouble.
It was created by coach Glen Yearling about 25 years ago as a safe place for kids in the area.
"It's a safe haven for these kids and it's getting these kids in school to the next level doing things they didn't think they could ever do," Yearling said.
The Berkley community is commonly associated with gangs, gun violence, and other crimes. Yearling said during the time the kids participate in his program the parents don't have to worry.
"You never know when they walk out the door when a shooting is going to take place, robberies anything. I'm trying to shield them from that as giving them something to do," said Yearling.
The volunteer-based program coaches kids in sports like football, basketball, and cheerleading. But Yearling said the program is mostly about teaching the kids how to do well in life.
"The most important thing to me is making sure they are great people and coming out of the program being good people. I have several of the youth that came through my program that are in college, playing college football and I got some in the military," said Yearling.
Yearling spends his afternoons before the Timberwolves' evening practice at the Berkley Park picking kids up for practice in his van. Riding through the community waving and greeting kids on the street.
"I ride around and I see them and they are just out here. I want them (parents) to understand that this program can help their children make it to the next level," said Yearling.
The program has no sponsors and relies heavily on fundraising. Oftentimes Yearling spends his own money to make sure the kids in the program don't go without. Even without extra help, Yearling refuses to stop the program or let the kids down.
"If I took on this task of being a coach out here in this community, I'm going to be here until God is ready for me," he said.
For more information on the Berkley Timberwolves program and how you can help, visit the organization's Facebook page or website.
Bald eagle expert in a class of his own
:
By Philip Townsend
Tommy White has devoted his life to rehabilitating wild birds, and it's paid off.
He just received word that he will be certified as a Category 3 wildlife rehabilitator, making him the only person in Hampton Roads federally certified to rehabilitate bald eagles.
"You work up to this for years and years," said White.
The two-tour Vietnam War Marine said he found relief from post-traumatic stress caring for birds with his wife.
"I was lost," said White. "All of those emotions I learned to rechannel into compassion."
The facility is three hours away from the next closest facility federally certified, the Wildlife Center of Virginia in Waynesboro, Va.
White has made countless trips to the center, and three bald eagles died because of the extra travel time.
Now, he can care for and rehabilitate them at his rescue facility.
Personal trainer fighting his own battle
:
By Steven Graves
Jeff Di Fulgo's life was turned upside-down in a cruel twist of irony. Since then, he has made it his life goal to disprove what most people think to be impossible.
Di Fulgo started a journey to recovery in a hospital bed in Virginia Beach in July, shortly after he dove into a sandbar at Croatan Beach. The incident left him paralyzed from the chest down. His family immediately worked to get the Di Fulgo the best care possible. That led to the personal trainer being airlifted to the Shepherd's Center in Atlanta.
13News Now caught up with Di Fulgo in Atlanta as he learned skills needed for daily care and home life. Each day of learning is different but each one is filled with hour-long sessions. The sessions take place five days a week.
One was a physical therapy session in which he learned how to move from an electric wheelchair to a manual chair. It provides him more mobility. Sound easy? Not so much.
"You have to do weight shifts, you have to turn, you have to do this and that," Di Fulgo said. "There's so much more than just existing and trying to get better. It's more than exercise."
July 14, the day that Di Fulgo dove into the sandbar, was supposed to be a day of fun in the sun. Instead, his girlfriend, Madison, would end up pulling his motionless body from the water.
"That's another thing that gets me emotional is that she really did save my life," said Di Fulgo. "And, now, I'm here and I have to work for that because she saved my life."
During our visit to Atlanta, the couple worked together during certain therapy sessions. For about an hour, Madison helped Di Fulgo move from his wheelchair to a bed.
"I don't want to go too far when he's not ready to go as far as I'm pushing," Madison told a physical therapist. "That's what I guess we have to work on."
Adjustments that 26-year-old Di Fulgo has to make include talking to a computer to navigate web pages and emails. Both were part of his administrative work at the Hilltop YMCA. He can't type, although he has limited movement in his hands. He uses a device to click on a laptop trackpad.
At one point, he had to take a break from the sessions. An infection, which put him in the hospital for days, left him very sick and dealing with a severe fever.
"I was nauseous here. I couldn't get out of bed, couldn't even get in my chair," Di Fulgo said. "And, then, finally when I got discharged and got over to the residence, I couldn't get out of bed and I was running a 104 temperature, so it was time to call the ambulance."
Trainers said Di Fulgo jumped right back into training as soon as he could. He shared mainly positive affirmations during an interview.
Di Fulgo said community support is what keeps him going. In Hampton Roads, #jeffstrong seems to have taken over social media. People formed a Facebook support group for him. Former clients at the Hilltop YMCA have sent well-wishes and attend numerous fundraisers for him.
"That's definitely where the emotions come. Whether it's pictures, thinking about work and what I could be doing today instead of this," Di Fulgo said. "I just try not to think about that."
Di Fulgo has a tough road to recovery. Soon after leaving the Shepherd Center in October, he was readmitted to a hospital in Virginia Beach because of more complications. Family members told 13News Now he is progressing. They have set up a support fund at Towne Bank and a GoFundMe page.
Di Fulgo is committed to walking again and to teaching other people a lesson through his story.
"Just be happy with your situation no matter what it is," Di Fulgo said. "Don't ever wish your life was different or anything like that. Just be happy with what you've got because it can be different in a matter of seconds. Just be happy with what you've got."
NATASHA House needs help housing homeless women with children
:
By Arrianee LeBeau
A home for homeless women with children is looking to expand but they need a little help.
It's called the N.A.T.A.S.H.A House, and it stands for "New Alternative Toward A Secure Home Atmosphere."
N.A.T.A.S.H.A. House provides a place for women and children rebuild productive, thriving lives as they transition to permanent housing. Residents also receive resources and help that teaches them how to live financially independent, and how to maintain self-sufficient, stable households.
Executive Director Karen Brown knows first-hand the need for transitional housing in the community. She was homeless at one time in her life with three boys.
"I was stationed here in the Air Force. I was married for about 25 years and my then husband decided he didn't want to be married anymore. So, that's left me and my three boys homeless," said Brown.
Brown said there's a growing need for transitional housing to help women with children.
"In the last year the number of moms calling us with 3 or more children has increased significantly," said Brown.
To combat the growing need for more housing N.A.T.A.S.H.A. House launched a $50,000 campaign to expand their facility. The expansion will allow them to and bring in and help more families. They are the only halfway to reach their goal.
Although the organization receives grants, funding from United Way and donors to keep the home afloat, Brown said they are in need of more help to finish expanding their home.
The center is seeking monetary gifts, building supplies and gift cards to home improvement stores to complete the expansion.
Norfolk woman spreads smiles by decorating lion statues
:
By Philip Townsend
You can find one of life's little joys on one of Norfolk's busiest streets.
Off Hampton Boulevard in Ghent, Sherman McDaniel started her tradition of decorating the two lion statues in front of her house five years ago.
"When people ask for an address, I say the house on Hampton with the lions," said McDaniel. "Everybody knows what we're talking about."
The lion statues at the end of her walkway are decked out in stars and stripes right now for the patriotic holidays in June and July. Every season, and every holiday, the lions get a new outfit.
"It just snowballed," said McDaniel. "Now, they're getting mail."
Neighbors have sent letters, and commuters passing by having left notes, all of it serving as motivation for McDaniel to keep the tradition alive.
The support means, even more, this month.
At the beginning of May, McDaniel was diagnosed with breast cancer.
"I'm not going to allow myself to get depressed," said McDaniel. "[The lions] take me a long way in making sure that doesn't happen."
It's something simple, even silly, but it's McDaniel's way of bettering the world around her.
"Life itself is hard," said McDaniel. "If I can make somebody smile between here and the tunnel, or on their way home at the end of the day, that makes it worthwhile to me."
Mom's book tells story of young son fighting cancer
:
By Ashley Smith
Three-year-old David Johnson has bravery built into his name.
"He was named after King David in The Bible," says his mother, Christina Johnson.
"[King David] loved to dance and praise God. [David] is the same way. He loves the drums. He loves music. Anything that has a rhythm to it, he loves to do."
But every now and again, even a king needs help adjusting his crown.
"He had cancer," says Christina. "His cancer was his Goliath."
"Fighting for King David" is a story about the courageous toddler. At 19 months old, David was diagnosed with neuroblastoma — a cancer that is often found in the adrenal glands and commonly affects young children.
"At a year old … he'll have the spirit to run. But we have to say, 'No, David, you can't run,'" says Christina. "That's not a usual situation for a mother to say that [her child] can't play."
This past July, David finished cancer treatment. Since then, Christina has relished even the small things that mean her son is in remission: "Things as simple as tying David's shoe, instead of wearing hospital socks, was just exciting to me," Christina says.
"Fighting for King David" isn't written from David's point of view but instead through the eyes of his mother, Christina.
After she and David faced so many obstacles during his treatment, Christina wrote the book to help others who love and support children with cancer.
"It was difficult for me to tell [David] that he can't do certain things. He can't jump up and down. He can't go crawling underneath the table, because he has this long IV pole attached to him," Christina says.
"It's like he had no freedom. I felt like he was attached to this disease. I'm hoping that caregivers will express themselves [after reading the book] … let the world know what you're going through. Don't be afraid to let them know that you're scared, you're angry, that you're upset. It's completely normal."
Christina also launched Chrissy's Designs, a line of custom T-shirts aimed at helping children with cancer spread awareness of their illness. "[The T-shirt] lights them up," says Christina. "And they're just amazed because now, their name is on it. Now, it's their T-shirt. So now, they can make a statement without saying anything."
Through these efforts, this mother and son have a simple message — no matter how hard the fight, the journey is always better together.
To learn more about the book Fighting for King David, click here.
Sampson the three-legged dock diving retriever
:
By Philip Townsend
Six-year-old Sampson is a Chesapeake Bay Retriever who will compete in DockDogs this weekend as part of the 11th annual Care-A-Lot Pet Lovers' Extravaganza.
Sam, as his owner Tawny Humphrey calls him, competes in the Big Air event with all the other dogs.
However, Sam only has three legs.
"You don't have to be slowed down because you have a disability," said Humphrey.
Humphrey adopted Sam five years ago.
He was a stray, and after being hit by a car he needed to have his leg amputated.
Shortly after that, the Humphreys made a 19-hour drive to Alabama to adopt him.
He's been a part of the family ever since.
"I fell in love with him the second I saw his picture," said Humphrey.
It wouldn't take long for the family to learn Sam's setback really wasn't a setback at all.
"We turned around to walk to the back of a dock, and we heard a splash," said Humphrey. "We turned around and Sam jumped off the end. Now you can't stop him."
After this weekend Sam will have competed in around a dozen DockDog competitions.
"He just has fun doing it," said Humphrey.
With three legs, he may not run the fastest or jump the farthest – but he's full of heart.
"He truly doesn't let him slow it down," said Humphrey. "There's nothing this dog can't do that any other dog can do."
Free book giveaway prevents summer slump
:
By Arrianee LeBeau
Kids of all ages came out to the London Oaks Apartments to receive free books on Monday.
Portsmouth School Board member Cardell Patillo organized the giveaway. He said its important children read during the summer to retain what they've learned during the school year.
"Early literacy is very important trying to help our children, with summer slide or summer slump, so they can have a successful start to the new school year," said Patillo
With the help of a few teachers and volunteers, the group handed out hundreds of books to kids. Nearly 300 books were provided by the organization, The Mile High Kids in Virginia Beach.
The London Oaks neighborhood off of High street near London Blvd is often associated with crime. Patillo said he hopes instilling a love for reading in young children will help them turn to a different way of life.
"Giving them books to read will keep them refreshed, keep them encouraged, and give them something positive to look at that they may not see on television," said Patillo.
Volunteer grows and thrives with Norfolk Botanical Garden
:
By Ashley Smith
In the middle of honking horns, flashing lights, and all of the hustle and bustle lies a place some may call an escape.
"People will ask, 'Where's a good place to take children?' 'Where can I take my mom?' 'Where can I go for a hike or a picnic?' And everybody's going, 'The botanical gardens!' 'The botanical gardens!' 'The botanical gardens,'" says long-time volunteer Patricia Rawls.
But in 1990, it still had some blooming to do.
At the time, Rawls had just started helping out in a small gift shop on the garden's property.
" [I] came out [to the garden], met the new gift manager in the small gift shop, which was located in the cafe. Her office was in the [now] ladies' bathroom, and the [now] storage was the men's bathroom," says Rawls.
She has been volunteering at Norfolk Botanical Garden for 28 years. Over those years, though, her role has changed a bit.
"I'm the past president of the Board of Trustees here at the botanical gardens and, currently, I'm chair of the Norfolk Botanical Garden Foundation."
Rawls has helped the garden to grow in more ways than one since 1990.
"At that point in time, we only had 600 members," says Rawls. "Since then, 28 years later... we now have about 14,000 members."
And Rawls has been there for all of its growth over nearly three decades — from the restoration of the Moses Ezekiel Statuary Vista to the installation of a frog fountain in the Children's Adventure Garden.
"We have polished so many facets of this gem that people now are seeing what I call its 'brilliance,'" says Rawls.
Nowadays, you won't find Rawls in the garden's gift shop. But you may still see her strolling along a trail, "getting away" in her own city.
"You can think...about your life, or not think about your life," says Rawls. "Sit on a bench in a beautiful spot and just enjoy the surroundings. Rest your mind and your soul. And I think we all need that."
Girl with rare disease becomes hand cyclist and inspires others
:
By Arrianee LeBeau
Rebecca Rollick was born with a rare disease called Arthrogryposis Multiplex Congenita that affects her joints and muscles.
As a baby, she wore casts on her legs and has had 6 leg and feet surgeries in her lifetime.
Unable to run, play and jump like most kids, at the age of 10 Rollick discovered hand cycling. Now 15, she races about 20 times per year on her specialized bike.
"It's basically freedom for me since I've always been really slow. It just made me feel like I was more than my disability," said Rollick.
Several organizations like Preston's March for Energy, Ainsley's Angels, and Challenged Athlete Foundation helped Rollick buy a specialized bike and compete in races across the country.
Rollick is using her racing as a platform to raise awareness about the need for adaptive sports for kids with disabilities.
She recently participated in a program called the "Mighty Monarchs" at Old Dominion University. The program allows kids with physical disabilities and visual impairments to play sports.
"It shows that I'm not alone and that there are other kids out there that also like doing adaptive sports and being included," said Rollick.
Rollick's mother Jessie Rollick said Rebecca also raises money to help buy adaptive bikes for children with disabilities.
"We do make bracelets and sell them at a shop called Kitsch in Ghent and we turn around and donate that to other kids getting their own adaptive bikes," said Rollick.
Rollick said she's found something she loves in hand cycling and hopes to share that joy with others with a simple message.
"They should never give up. Life is hard but it can always get better," said Rollick.
Local first responders make up US volleyball team
:
By Philip Townsend
7,000 miles away from the Olympics in PyeongChang, at the Tidewater Volleyball Association center in Virginia Beach, you'll find a team representing the United States that you probably haven't heard of.
"The vast majority of this team comes from here in Hampton Roads," said player Chris Tischler.
The team is preparing for the 2019 games in Chengdu, China.
Most of the players either played D-1 volleyball in college or spent time on the pro beach circuit.
All of them are public responders representing police and fire departments all across the area.
"On the outside, we are in one uniform and we are cops and firefighters," said player Zach Walden. "In our volleyball uniforms we are still cops and firefighters, we just happened to play volleyball."
Nearly the entire team hails from Hampton Roads, but they represent the country every two years in the international competition.
Last year in Los Angeles, the team took home a silver medal.
"It was a big honor to play for the team," said player Bryce Sparks.
"It is like our Olympics," said player Steve Trypuc. "It drives that pride."
Local store showcases artists for a good cause
:
By Arrianee LeBeau
Tucked away on a side street in the Ghent neighborhood of Norfolk is a shop called Kitsch.
Kitsch is a little different from most stores because it's full of items handmade by local artists. Co-owner Christine Redel said the store keeps local businesses alive.
"It keeps it all local and fresh and new. We offer that brick and mortar store for these artists that toil away at their homes," she said.
With an increasing number of people shopping online, Kitsch's other co-owner Danielle Norris said their store is stepping out of the box to get customers in the store.
"We have workshops almost weekly artists that sell here will come in and teach someone how to do it themselves," said Norris.
The store also features works of artists whose proceeds go to great causes like Nicole Lorah's creation called Chapeaux Chaleureux. When the fancy French name is translated it means, 'Lorah makes warm hats.'
She takes the money from the hats she sells and makes more for babies at the Children's Hospital of the Kings Daughters neonatal intensive care unit (NICU).
"They actually have a bin outside of the NICU right by the secretary and they allow parents to take any of the items," said Lorah.
Lorah is also trained to rock and hold babies at the hospital as a cuddlier. She said it's her way of giving back.
"I strongly believe in giving back. I'm also a dancer and with that, I feel like with any art form naturally giving back your art," said Lorah.
What started as another way to keep Lorah busy has turned into a mission to warm the tiniest hearts.
"Whatever community you are in it's important to take the talents you have and not just use them for your own profit, but to give back," said Lorah.
Oceanfront businessman fighting against plastic in the water
:
By Jaclyn Lee
Growing amounts of trash and plastic threaten Hampton Roads' waterways, so a stand-up paddleboard businessman is using his business to fight against pollution.
Randy Harris grew up and now works on the Rudee Inlet. He's the owner of Rudee Inlet Standup Paddle.
"This is my passion," said Harris. "This is my playground. This is my children's future playground. This is where our food source is."
Over the past eight years, Harris said he noticed an increase in the amount of trash floating around the water.
"It just makes me sick to my stomach because I think of the sea creatures," said Harris. "These animals can't help it and we're throwing plastic in the ocean and they're swallowing it and dying."
According to Mark Swingle, Director of Research and Conservation at the Virginia Aquarium, the amount of plastic and trash continues to increase because plastic doesn't break down for hundreds of years.
"The reality is unless we're cleaning it up, we're getting more and more plastic in the environment all the time," said Swingle.
Plastic continues to pose a huge threat for marine life, who either get entangled in it or ingest it. As an example, Swingle mentioned a 50-foot whale that washed up in a creek off the Elizabeth River in 2014.
A necropsy revealed the whale died from ingested plastic from a DVD case.
"That piece of plastic was swallowed by the whale when it was feeding on fish and the plastic got into its stomach," said Swingle. "It really damaged the inside of its stomach and the whale was unable to feed."
As a surfer, Harris noticed the adverse effects of trash on the environment and the animals, so he started the "leaveitbetterthanyoufoundit" program as part of his business.
Each customer picks up at least one piece of trash during their trip in the water.
"It's a small thing that we do every day and in six years we've picked up approximately 20 thousand pieces of plastic," said Harris.
Harris said he hopes he can serve as an example to other small businesses that one simple, small act at a time, can make a difference.
Couple holds 5K to honor son's legacy
:
By Ashley Smith
The Bullocks may appear to just be a young family of four in Virginia Beach.
But looks can be deceiving.
The Bullock family had a fifth member. Before becoming parents of twin boys Troy and Jackson, Nathan and Bayley Bullock welcomed their firstborn son, Joshua.
"When I found out that I was pregnant with Joshua, Nathan and I were reading through the Old Testament and we were in the book of Joshua," Bayley says.
"And just reading about how this leader was strong and courageous ... in the midst of fighting great battles."
Joshua entered the world on November 5, 2015. Two weeks later, though, his parents received news that would shake their world.
"He had Spinal Muscular Atrophy," Nathan says. "Joshua was affected by the most severe form of this, which is type 0-1. That's a fatal diagnosis."
But that diagnosis didn't slow the Bullocks down. Together they visited five states, saw the ocean, and spent lots of time at First Landing State Park in Virginia Beach.
"We vowed to make [Joshua's] life full and fun and meaningful," Nathan says.
"Let him experience life to the fullest. And then, he taught us to experience life to the fullest as well."
Joshua died on January 13, 2016 at just over two months old.
"Just fighting for every breath was ... challenging, but... [Joshua] just showed a lot of strength, even in that," Bayley says.
Joshua's battle with Spinal Muscular Atrophy, or SMA, was over. His parents' battle, however, was just beginning.
"Bayley and I made a conscious decision ... We are gonna lean into each other ... we're gonna lean into our marriage, and not let this take us apart," Nathan says.
The Bullocks decided to join forces with Cure SMA. The organization spreads awareness of the disease, raises funds for treatment and to help find a cure, and supports families affected by the illness.
"You felt, you know, not alone, and felt cared for," Bayley says about Cure SMA.
As part of Joshua's legacy, the Bullocks hold a 5K and 1-mile walk to raise funds for Cure SMA.
"It's just a meaningful way for us to honor and celebrate his life every year," Nathan says.
This will be the second Jogging for Joshua event, and the Bullocks could think of no better place for it to be than First Landing State Park.
"When Joshua was born, we walked in this park many times with him. And we felt it was just a special place," Nathan says.
Bayley says the event also helps the family heal after losing Joshua.
"It's good that we can just still see his face and remember that. And now that he is beholding the face of The Lord, of God, The Father, is really beautiful," Bayley says.
Jogging for Joshua is Saturday, Nov. 10 at First Landing State Park in Virginia Beach.
Check-in opens at 8 a.m. and the race begins at 9 a.m. Runners, walkers, and rollers are welcome. To register or donate, click here.
For more information about Cure SMA, call 1-800-886-1762 or visit www.cureSMA.org.
Rex the Tiki Man
:
By Philip Townsend
Rex Wiltshire has always had a thing for carving.
That's why his latest work of art in the front yard of a client in Virginia Beach comes as no surprise.
"I just take my imagination and turn it into a Tiki," said Wiltshire.
Wiltshire takes old, dying trees and turns them into handmade Tiki men using a chisel and a chainsaw.
"I want people to come by here and say this is really cool looking," said Wiltshire.
Wiltshire has also been a tattoo artist for 20 years, but three years ago he went looking for another creative outlet.
"Found some wood just started practicing on it," said Wiltshire.
Now, he's completed six statues in yards all across Virginia Beach.
"My wife and I have them all over the house," said Wiltshire.
Peace Corps kicks off 'Barbershop Tour' to reach men of color
:
By Arrianee LeBeau
There's a new tour passing through Hampton Roads with the goal of recruiting men of color for the Peace Corp.
The group is called the Peace Corps HBCU Barbershop tour. Diversity Recruiter Dwayne Matthews said the barbershop tour brakes the mold of traditional recruitment campaigns.
"We are going to Barbershops and HBCU's to target our population and demographics. It's where we can have a really honest conversation about international development and international service," said Matthews.
On Monday afternoon, Matthews visited Kappatal Kuts Barbershop near Norfolk State University. Barbershop owner Junius Thompson said he welcomed Matthews using his shop as a backdrop to talk about positive opportunities for people.
"You can talk to upwards of 50, 60 kids in one day and give them an opportunity, something different in life. Dwayne is giving an opportunity with his partnership with the Peace Corps so we definitely appreciate it and are glad we can be a part of that and help our community in that way," said Thompson.
The event focused on recruiting current students and alumni with skills that are in high demand for Peace Corps programs, including education, public health, and agriculture.
An NSU alum himself, Matthews said the Peace Corps allowed him to travel the world and experience a life he never thought was possible.
"It allows you to mix passion and purpose. If there's something you love to do and essentially will do for free you can do that in your Peace Corps service while also building community," said Matthews.
Cross-country busker spends a day in Norfolk
:
By Philip Townsend
Willy Shipe could be anywhere right now.
"I traveled the country for three years," said Shipe.
But Thursday, he finds himself in Norfolk sitting on a storefront ledge off of Colley Ave.
"I've got a gypsy soul," said Shipe.
Shipe travels the country, exclusively by bicycle. It's a no-rules kind of life that he started to get over depression and anxiety.
"When I'm traveling none of that is there," said Shipe. "My music comes from the soul more."
Playing music on the street is how he makes his money, and he doesn't need a lot to get by.
"I want people to know that it's normal to get out and want to do something," said Shipe. "Life is terrifying, and you have to embrace it."
Shipe's next terrifying adventure will be biking across the country to California next month. The South Carolina native takes with him a coin and a twenty-sided die to make all of his major decisions. It's the reason he ended up in Norfolk just by chance.
"If there's a fork in the road it tells me which direction to take," said Shipe.
It may not be the life for you, but Willy's after the same thing most of us are.
"To find joy in life," he said.
Shipe's joy just happens to move at a slower pace.