NEWPORT NEWS, Va. — Driving down 21st Street in the Marshall neighborhood of Newport News, there are a few things you'll notice.
A "business open" sign sits half broken and on its side, some buildings are half empty waiting on renovation, a plastic grocery bag hangs stuck to a branch in a tree, and a small food market sits at the corner. Concrete consumes the homes around with no major grocery store in walking distance.
But just a few feet away is a fence with promise on the other side.
Flowers are beginning to bloom in the spring sunlight and budding right above the ground are strawberries, broccoli leaves, and cabbage in a small piece of land. These are some of the different fruits and vegetables Renee Foster is growing in her "micro-farm" for Hampton Roads Urban Agriculture.
"Urban agriculture, to me, can actually help revitalize a community," said Foster. "Not just to provide an affordable and healthy food, but also from a business standpoint where that community has the resources in it that they need for their everyday living."
Foster was raised growing her own food in her backyard with her family. After serving in the military, she wanted to combine her love of growing food and helping others.
"Talking about buying local!" Foster exclaimed. "To see food produced right in your own community, there is nothing like it."
Foster's micro-farm is small in stature in Newport News, but its impact is by no means short in reach.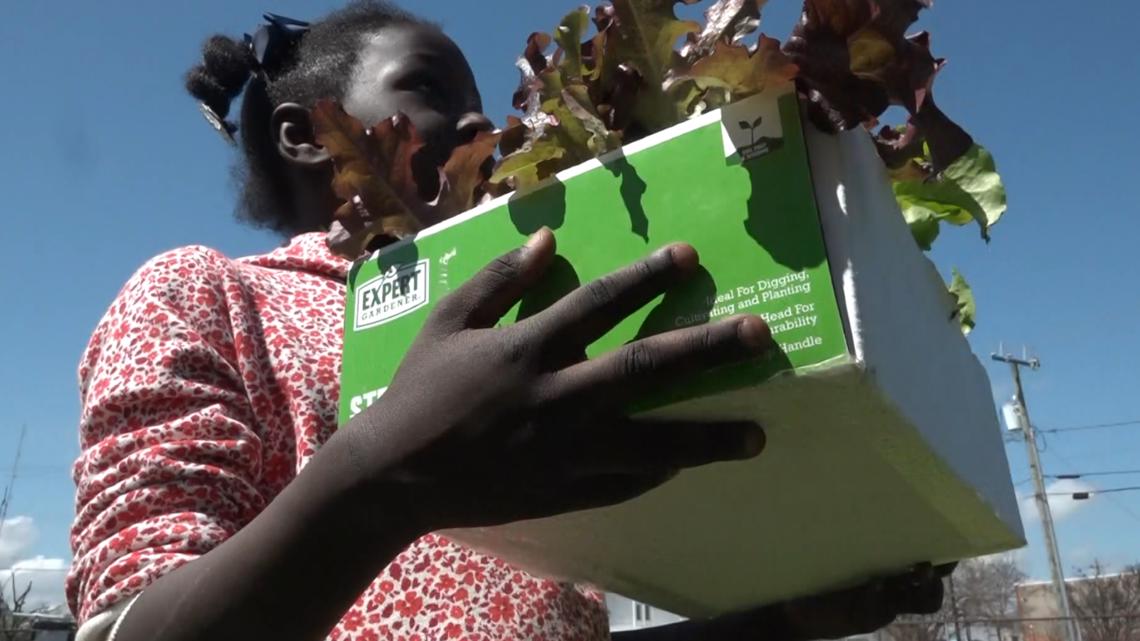 Families in the East End neighborhood are able to come by and help maintain the farm.
Elisa Francis brings her daughters to the farm every now and then to let them run around and learn about what it's like growing food from the ground up. Francis moved to Newport News with her husband about five years ago and quickly learned there are few options to get healthy, affordable food near her home.
"When we first moved to Hampton Roads, we knew the downtown here was suffering with a food desert," said Francis.
With few options for quality groceries, the mother of five had to find a better way to put food on the table. Little did she know, a new opportunity started growing right in her backyard.
"We love this farm," said Francis. "The blessing is being able to come here. I can get almost everything. We were able to get squash, zucchini, potatoes, collard greens... at a much lower price."
As inflation drives up prices on grocery store shelves, Foster said the cost of her fruits and vegetables at her micro-farm remain stable to allow families to afford the opportunity to eat better.
"Watermelons were going in most markets for $10 or $12," said Foster. "We were still doing watermelons [at] five or six bucks."
In addition to working with neighbors, Foster said she collaborates with local farmers to also give back to their businesses. Taking an old lot and turning it into a green sanctuary, she planted more than just food in this neighborhood.
"There is no stranger that walks out here," said Foster. "So, that being said, not only are we going to provide you with something nutritious that you can take home, we'll also teach you how to grow it if need be, so there's that hope of being able to sustain myself."
For Francis and her five children, this micro-farm in walking distance of their home helps give them hope for a healthier future both physically and mentally.
"It exposes young children to gardening, herbs, community, fellowship," said Francis. "Long when we're gone, then we'll have the next generation that's been exposed to these types of gardens and farms."
Hampton Roads Urban Agriculture accepts SNAP benefits.
The non-profit organizers are also working to launch a "Drones in Agriculture" program for at-risk youth as a way to expose them to careers in agriculture, STEM, coding, and healthy eating as well as a youth farmers market entrepreneurship program.
Foster said she and other organizers officially launched the "Urban Agriculture Coalition" in partnership with Christopher Newport University to help create more micro-farms in Hampton Roads.
You can learn how to donate to the organization here.
Newport News and Hampton aren't the only communities with micro-farms. The City of Norfolk also has a "GrowNorfolk" program to help neighborhoods struggling with food insecurity.