CHESAPEAKE, Va. — In the hours following the deadly mass shooting inside a Chesapeake Walmart just two days before Thanksgiving, survivors described a chaotic scene.
The shooting left seven people dead, including the gunman himself, and several more hurt. The suspected shooter was identified as long-time Walmart employee Andre Bing, 31.
The Chesapeake Police Department identified the six victims who died:
Brian Pendleton, 38, of Chesapeake
Kellie Pyle, 52, Chesapeake
Lorenzo Gamble, 43, of Chesapeake
Randy Blevins, 70, of Chesapeake
Tyneka Johnson, 22, of Portsmouth
A 16-year-old boy from Chesapeake. His name and picture were withheld due to the victim being a minor.
Witnesses detail how shooting unfolded
It was a busy time at the Walmart, with people preparing to cook Thanksgiving meals in two days' time.
Someone who left the store just minutes before the gunshots started going off, but who didn't want to be identified, shared his account with 13News Now.
"I'm sure that I brushed up against, at least some of them," he said. "I probably saw them on their last night on earth right before the holidays. It's just sad. I don't get it. I don't understand it."
He could hear the shooting even from outside the store
"I know what gunshots sound like, so I knew the muffled sounds and then the screaming afterward. You just knew something bad was happening inside."
Another shopper, Terri Brown, also left the busy shopping center just before the violence broke out.
I was counting the police cars. And as the count before the light could turn green, it was 13 police cars, and I could see a fire truck coming. I got home, because I live less than two minutes from that Walmart, and I could just hear police cars just coming and coming and coming and coming.
There are no words. There are just no words. To see this unfold, to be a part of it, to know that this crime occurred so close to me, and I was literally in that store, is terrifying.
It was extremely crowded. All of the checkouts were extremely busy. They had most registers open. There [were] long long lines at the self-checkout. They had people at the front doors. There usually is one or two greeters, tonight I saw probably around four. A lot of people in the store. I literally parked way down in the parking lot, because you could not find spaces.
It is a busy street, but I think by the time that the first car came past me, it was like, truthfully, if I don't say anything about Chesapeake police, I will say tonight, they were On It.
I don't know what they do the rest of the time, but they were on the scene. Those police cars came so fast. I mean literally within a minute, I was counting 13, firetrucks, I mean they were coming from all areas. There was no traffic moving because so many police cars were coming so quickly.
A Chesapeake woman, who didn't want to be identified, said she worked at the store for 13 years. She was there when the shooting happened.
"I used to work at that Walmart and I actually knew the shooter," the woman said. "I saw a man laying on the ground and the cops were giving CPR and I saw maybe about five cops go in the store and they quickly came out with a body in a shopping cart and I heard one woman screaming."
David Nixon, a cousin of victim Tyneka Johnson, said his family is shaken to the core. He learned about the attack on social media.
"It was just unbearable I had to put my phone down for a while. It's hard to cope," Nixon said. "She woke up, got ready for work, just like any other shift. I'm sure she didn't think that nothing like this would happen to her."
Tragedy can bring a community together
Some are turning to their faith during this time, others are leaning on each other in this community.
Jeannie Griffith spent hours at the scene, offering prayer. She said although she can't bring back the lives lost, she hopes she can offer a little comfort.
"I just felt this overwhelming sense that I needed to be here," Griffith said. "I hope people rally around these families so that they can feel the love of the community, feels God's love."
At the scene, memorials are starting to grow. A tree surrounded by balloons, flowers and candles serves as just one reminder that so many stand with the victims.
Among the newest additions are orange miniature windmills. Cameron Bertrand, founder and director of Violence Intervention & Prevention - V.I.P LLC, led an initiative Wednesday night to fold the windmills and add them to the growing memorial.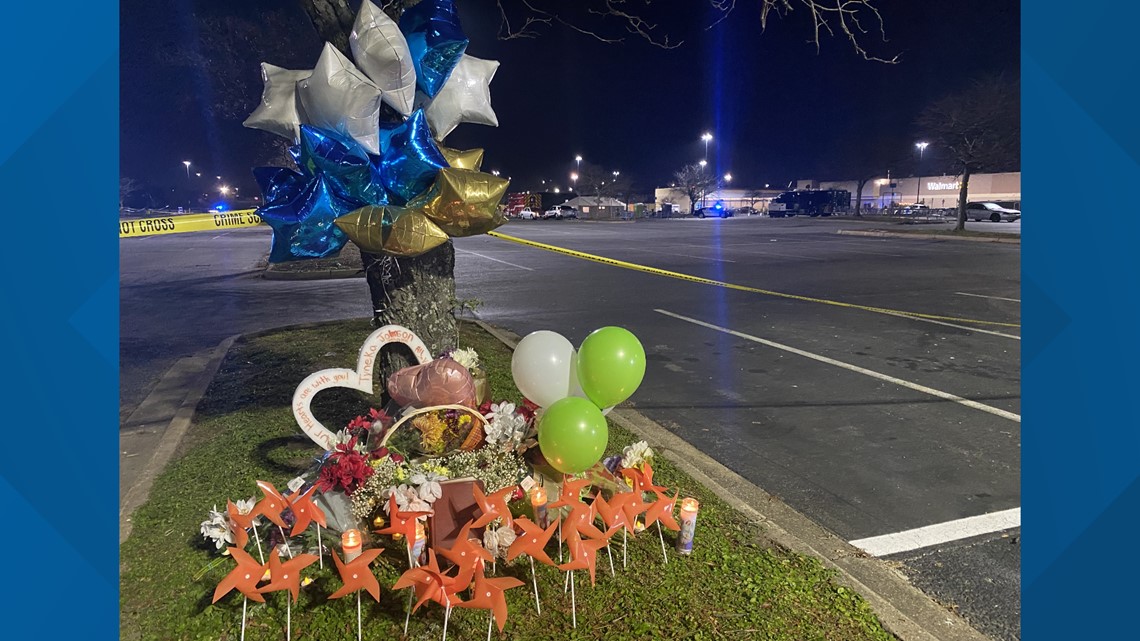 "I brought my love, my heart, my thoughts and prayers, the flowers. I felt like I had to do something to show my love and support. This is our Walmart," said Chesapeake native Teresa Yeager.
While she does not personally know any of the six victims killed or any of the multiple wounded, she said she still can't wrap her mind around what happened.
"I just don't understand why. Why? And to kill a 16-year-old, a kid. He hasn't even started his life yet," Yeager exclaimed.
"We're in this together," said Rev. Mark McKone-Sweet, priest-in-charge at St. Thomas Episcopal Church, where more than two dozen people gathered Wednesday night to unite in song and prayer.
"We say this isn't normal or we don't want this to be normal. We say we're going to gather and here in our church and I know many of the faith communities gathering [Wednesday night] are saying, we're going to make our voices heard," Rev. McKone-Sweet added.
Back at Walmart, Chesapeake native Cathy Stafford believes there is a path forward.
"God willing. Just baby steps because I feel kind of in shock, kind of numb," said Stafford. "It rattles the whole community."
Bilal Mohammed of the group Stop The Violence said the community needs to come together to find solutions to gun violence.
"A deep, deep tragedy took place here in the Hampton Roads community," Mohammed said. "This hits too close to home. This is home."