Joe Biden wins the Arizona Democratic contest
Joe Biden has won Florida and Illinois.
President Trump has won enough delegates to secure the GOP nomination
Joe Biden has swept to victory in Florida, Illinois and Arizona, increasingly pulling away with the Democratic presidential primary race and building pressure on Bernie Sanders to abandon his campaign.
The former vice president's third big night in as many weeks came amid tremendous uncertainty confronting the Democratic contest as it collides with efforts to slow the spread of the virus that have shut down large swaths of American life. Polls were shuttered in Ohio, and although balloting went ahead in three other states, election workers and voters reported problems.
Biden's quest for his party's nomination now seems within reach.
Joe Biden wins Arizona's Democratic presidential primary
The state's top election official had declined to seek a delay because of the coronavirus, saying there was no certainty that putting off voting would help.
Most of the 1.2 million registered Arizona Democrats cast ballots early by mail, but about 300,000 could vote in person Tuesday. According to figures obtained by The Associated Press, turnout among Democrats had already surpassed the 2016 election. Over 480,000 votes had been cast by Tuesday morning.
Biden also won Illinois and Florida primaries Tuesday. Ohio canceled its election because of coronavirus fears.
Trump wins primaries in Illinois, Florida, has enough delegates for GOP nomination
Donald Trump has won the Republican presidential primaries in Illinois and Florida, securing enough delegates to win the GOP nomination.
Joe Biden wins Florida, Illinois
Joe Biden won Florida and Illinois' Democratic presidential primaries. Tuesday's results show the former vice president building on a remarkable surge as he barrels toward the nomination at a time when the nation is gripped by concern about the new coronavirus.
Biden's victory was another blow to Bernie Sanders, whose early strength has evaporated as African Americans and working-class whites have sided with Biden.
Coronavirus complicates voting
The new coronavirus hampered efforts by voters to get to the polls in some states on Tuesday as the global pandemic scrambled the Democratic presidential contest.
Democratic National Committee Chairman Tom Perez is calling on states with upcoming presidential primaries to use vote-by-mail and other measures to make it safe for people to vote because of the coronavirus outbreak.
In a lengthy statement issued as three state held primaries Tuesday, Perez was critical of Ohio officials for postponing their primary on the eve of voting. Ohio Gov. Mike Dewine made the call Monday night, while officials in Arizona, Florida and Illinois decided to go ahead with in-person voting on Tuesday. Perez did not name DeWine, a Republican, but said the delay "has only bred more chaos and confusion."
Perez said states that already have mail voting should "proactively mail ballots to registered voters, where feasible, and should count all ballots ... postmarked by the date of the primary."
He also suggested expanding days and hours of early, in person voting and expanding absentee voting to all registered voters. Some state laws allow absentee voting for a limited number of reasons.
Georgia, Maryland, Louisiana, Ohio and Kentucky have postponed upcoming primaries.
Voting was called off in Ohio, but in Florida problems popped up across the state. In Okaloosa County on the Panhandle, two dozen workers dropped out, leaving elections officials scrambling to train replacements. And in Palm Beach County, the elections department said 800 volunteer poll workers backed out on Monday and just 100 new volunteers offered to take their place.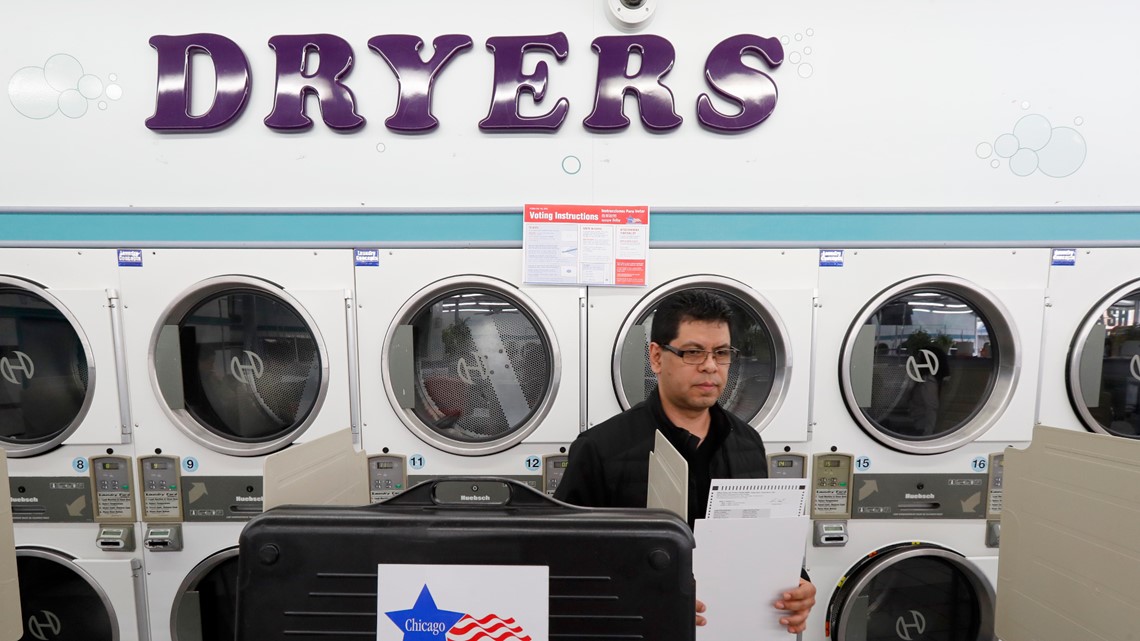 Jim Allen, a spokesman for the Chicago Board of Election Commissioners, said Tuesday morning that the board asked Democratic Gov. J.B. Pritzker last week to cancel in-person voting and expand other options, including mail-in ballots, but the governor refused. Allen says Chicago election officials had proposed a move to entirely mail-in ballots.
Pritzker responded heatedly at a daily briefing on the coronavirus cases in the state. He said state law does not give a governor the authority to make the sweeping changes that Chicago election officials wanted.
Pritzker says he will not use this situation "to supersede my constitutional authority." He says it is "times like these when the constitutional boundaries of our democracy should be respected above all else." And he says, "If people want to criticize me for that, well, go ahead. I'll wear it like a badge of honor."
Pritzker also said the Chicago board turned down offers for help to staff polls using the National Guard and a statewide program that connects teenagers with civic opportunities.
Primaries in Illinois and Arizona were also moving forward Tuesday despite coronavirus concerns. Election officials in Illinois scrambled to find alternate locations as nursing homes and other typical polling sites backed out amid concern over the coronavirus. There were signs of confusion about the changes on Tuesday morning.
Timna Axel, director of communications for the Chicago Lawyers' Committee for Civil Rights said, "we all understand that these are really unusual circumstances and we all want eligible voters not to be disenfranchised."
People showed up for the Democratic presidential primary at Ohio polling places that were closed because of the coronavirus threat.