NEWPORT NEWS, Va. — As shootings claim more lives in Hampton Roads, 13News Now Investigates is working to put this moment in perspective.
Detectives in both Hampton and Newport News have already investigated more homicides in 2023 than all of 2022. And federal and local crime statistics confirm Newport News is experiencing one of its most violent years on record.
The city's 32 homicides are already more than last year's 31.
This year is on pace for the worst year since 1994, when 44 people were killed in Newport News, according to FBI data.
Since 1985, Newport News has averaged 23 homicides a year, or two to three per month.
A violent summer in Newport News
But this year is a different story. Killings in Newport News began to spike in June when five people were killed.
Investigators were called to another five homicides in July. Yet August proved to be a particularly violent month, with 10 people shot and killed.
It's the most homicides the Newport News Police Department has investigated in a single month dating back at least a decade, and possibly even longer.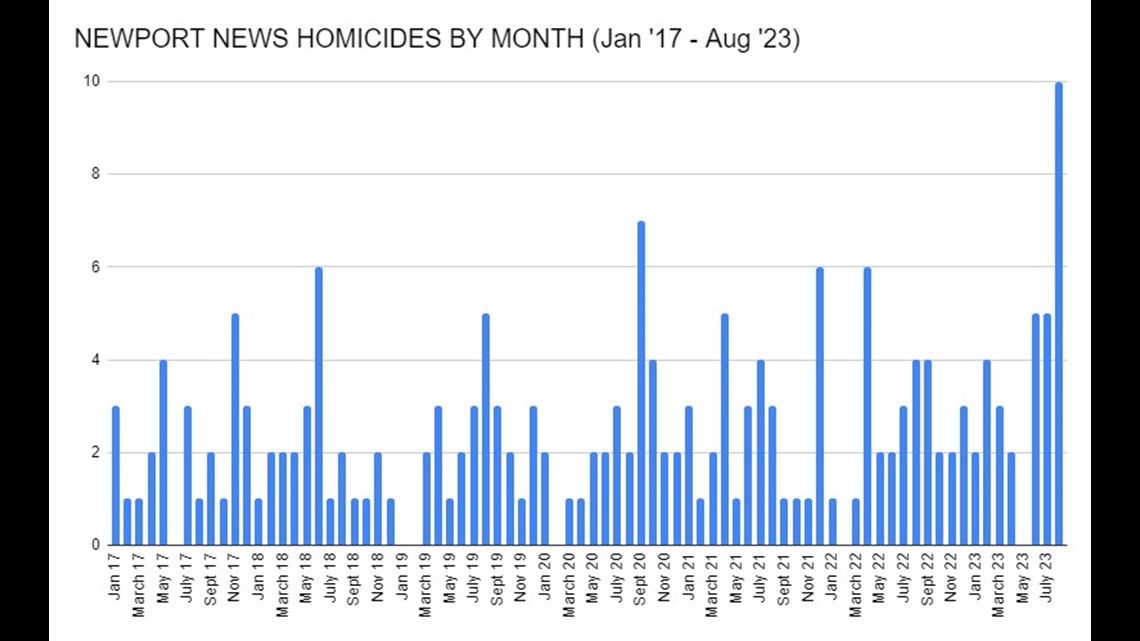 Younger victims
In Newport News, the average victim is 34 years old.
But in recent weeks, the victims are getting younger.
The last five people shot and killed in Newport News were ages 16, 22, 15, 17 and 18.
Newport News Police Chief Steve Drew was not immediately available for comment.
In his most recent 'Chat with the Chief' discussion on Facebook Live on August 15, Chief Drew said: "Sometimes people don't value life... Life is valuable. You pull out a firearm, and use that gun, you can't pull back that bullet, that projectile. And if someone's life ends or is injured, you can't change it."