Oceanfront shootings: One year later
Ten people were shot at the Virginia Beach Oceanfront on the night of March 26, 2021, including an innocent bystander whose murder remains unsolved.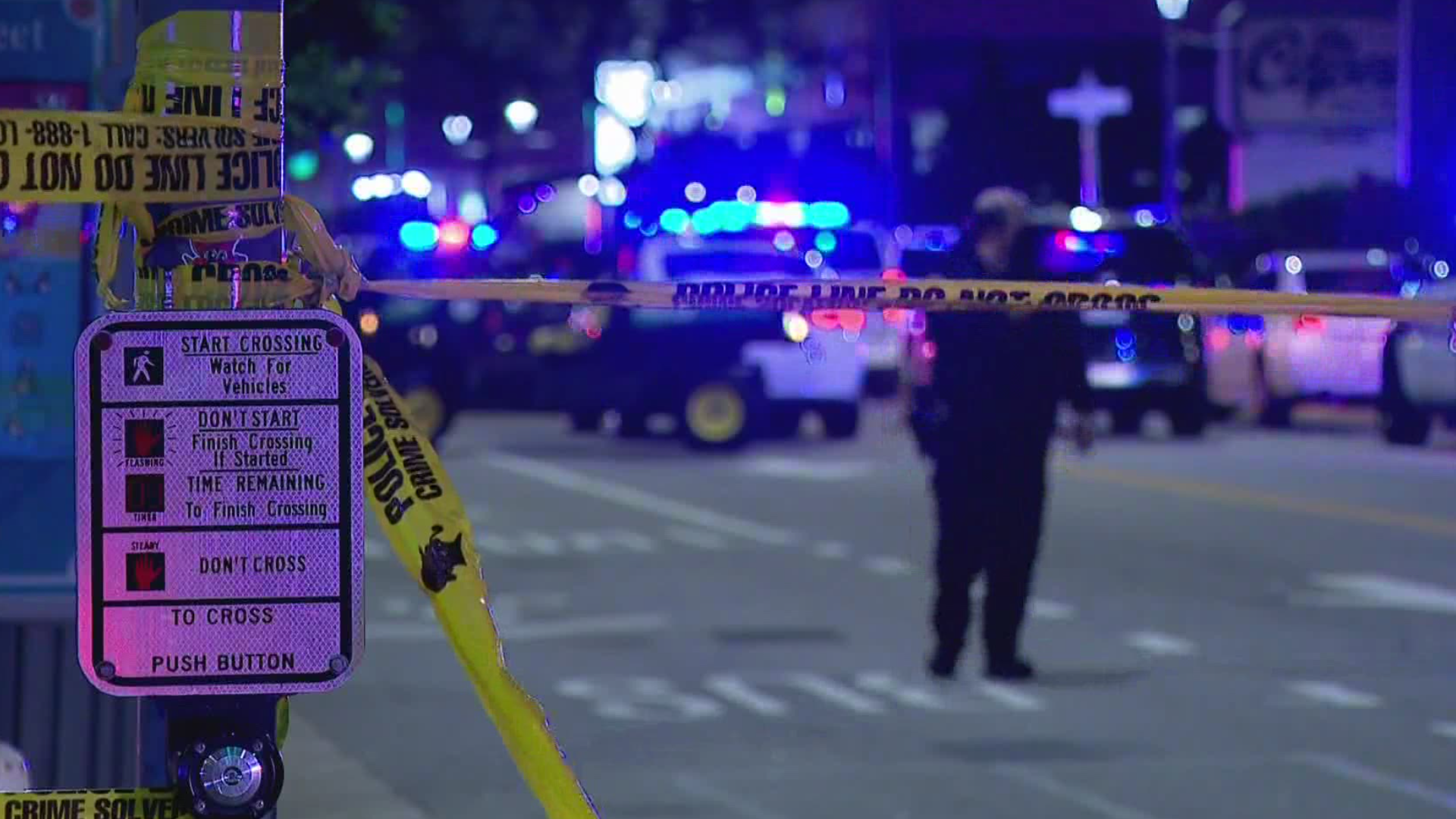 Saturday, March 26 marks one year since the deadly Oceanfront shootings in Virginia Beach.
Ten people were shot the night of March 26, 2021, including an innocent bystander whose murder remains unsolved.
13News Now is looking back on that chaotic night through a series of exclusive interviews.
Chapter 1
:
"Shooting just to be shooting"
The family of Deshayla Harris wants answers, closure, and justice.
The young woman was gunned down as an innocent bystander enjoying a night out in Virginia Beach.
"Justice would be closure for me and my family. It would be the beginning of healing, trying to get back to normal, which I don't think we'll ever be normal again," said Deshayla's mother, Elisheba Harris.
Elisheba wonders how things can ever be normal after she had to bury her daughter last year and still doesn't know who to blame.
"We're all walking around here, and there's a killer amongst us. We're not safe... who's safe? Because we don't know who it is," she said.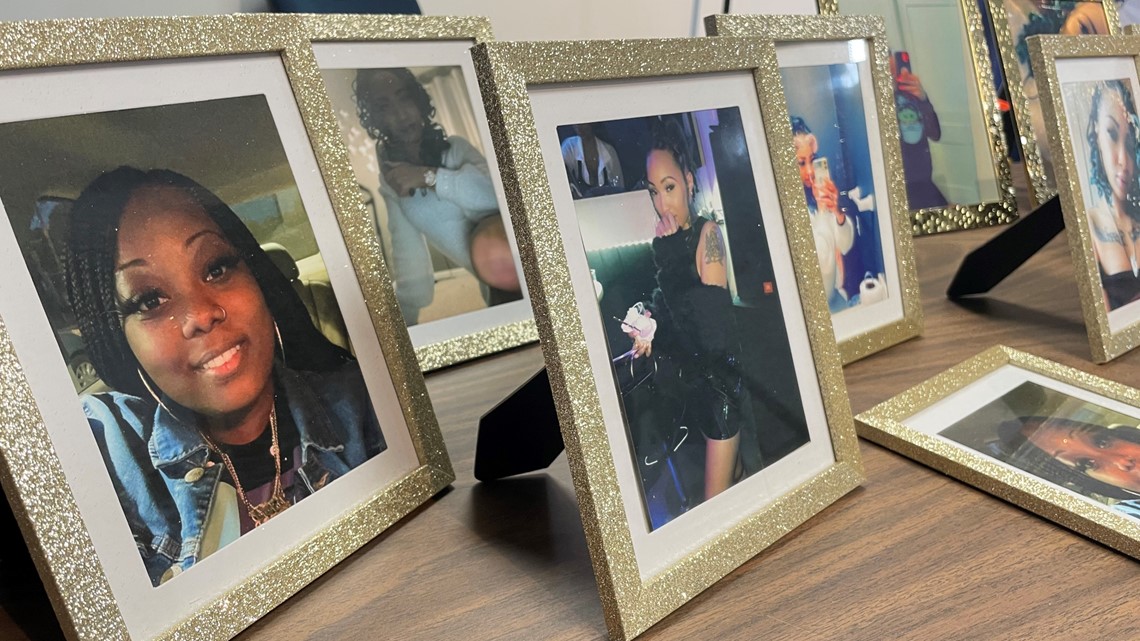 By the end of the night, 10 people were shot, including Deshayla Harris.
"She was walking down 19th Street," said Virginia Beach Police Sgt. Andre Jerry, who noted it could have happened to anybody.
Jerry was one of the first detectives on the scene. He thinks people were pulling out guns that night just to show off.
"There were so many shell casings that we picked up that night," Jerry said. "Who knows how many actual shooters there were. But there was a lot of people that was shooting. In my personal opinion, I think there were people shooting just to be shooting."
Deshayla was caught in a deadly crossfire in a case of being in the wrong place at the wrong time. And lost in all that chaos is the answer to who killed the young woman.
Police have exhausted all leads and the right tip has yet to come in.
Chapter 2
:
Closing in on a killer
Virginia Beach Police Chief Paul Neudigate thinks his detectives could just be one tip away from solving the Deshayla Harris homicide.
"Someone is talking, it just hasn't gotten to us yet," Neudigate said.
"The money is great, but do it out of the goodness of your heart," Neudigate said. "Get that off your chest, because you're not going to be able to live with it for the rest of your life."
The police chief and Deshayla's mother teamed up in their first interview together with this unified plea:
"It can't just be Ms. Harris. It can't just be the police department. These are community issues, and we need community assistance," Neudigate said. "And we got to be in here together."
Harris and Neudigate then held hands as she added: "I totally agree. It's not us against them. It's us together. We have to do it together now. There's no other way. I think we tried to go against them and it just didn't work, it didn't work. And I need this from the police department, I need this from the community."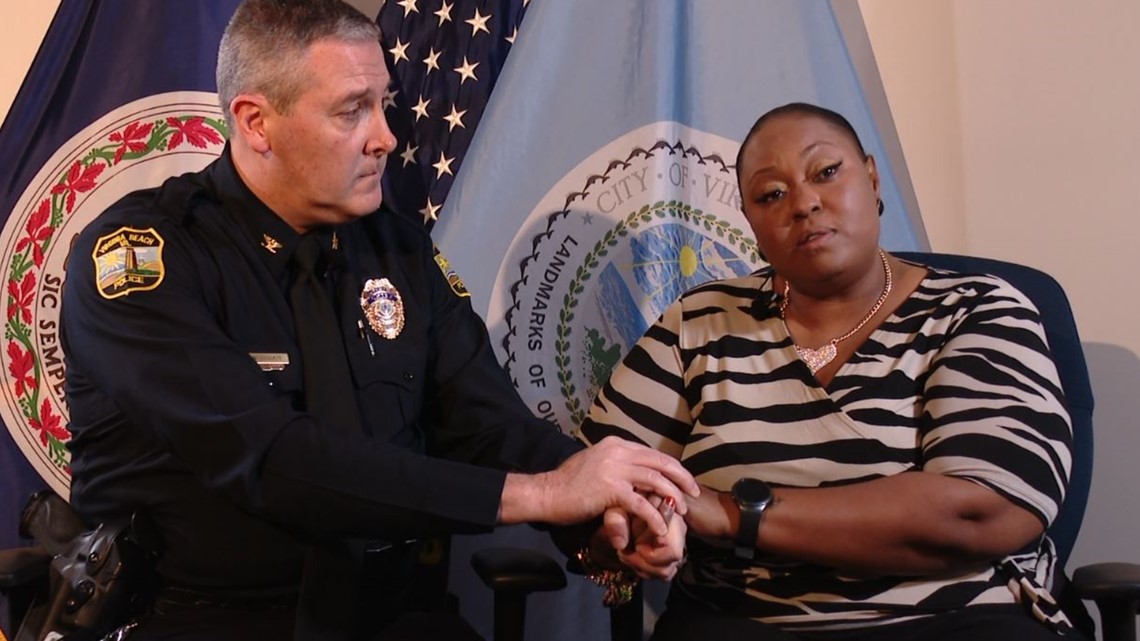 Elisheba said it's time to unite in finding her daughter's gunman.
"It's not 'I'm against the city and they're against me,'" Elisheba said. "Somewhere in my heart, I feel like it will be a new beginning for Virginia Beach as well."
Police urge anyone with information about who may have fired the fatal shot -- even if it's hearsay -- to come forward and claim that $15,000 reward.
Chapter 3
:
Changes to police policy, public perception
March 26, 2021, changed everything from the public's perception of safety to entire police policies.
"I think as a police department, we have made significant strides in the last year to try and build back some of that accountability, some of that transparency that we want with that community," Chief Paul Neudigate said.
The need to build back trust came after Officer Solomon Simmons failed to turn on his body camera that night when he shot and killed Donovon Lynch.

In response, the entire police force now has new body cameras. They come with a pre-recording buffer that captures up to two minutes before an officer hits "record." The idea is to take human error out of the equation.
"Police work can be very ugly. And when it gets ugly, we want to capture that so we can evaluate that," Neudigate said. "Ninety-eight percent of the time, cops are doing the right things for the right reasons, and those cameras show that."
The department is also in the middle of installing in-car cameras for their entire marked fleet. The installation is scheduled to be completed in a few weeks, by mid-April.
The department also installed new ShotSpotter gunshot detection technology in strategic parts of the city, including the resort area where it captures gunfire an average of twice a month. The technology quickly alerts officers to a precise location of gunfire, so police are not solely dependent on a 911 call.
Police also pointed to a new substation on Atlantic Avenue, enhanced lighting in the area, and the addition of 22 fixed cameras as part of the Oceanfront Camera Expansion. Another 20 cameras will be installed once the equipment is ready.
Using the benefit of hindsight, 13News Now asked Neudigate if the violence of March 26, 2021, could have been prevented.
"I still say no," the police chief answered. "We have to remember that we had a uniformed Virginia Beach Police Officer on that corner when that shooting started."
Neudigate said you can expect a robust police presence this Spring at the Oceanfront.