VIRGINIA BEACH, Va. — Some people in Hampton Roads are buying homes and spending thousands of dollars on repairs only to find out they're not the legal owner, a 13News Now investigation found.
At least two of those recently sold homes are now up for demolition after city inspectors discovered the properties in dire disrepair.
It's a worst-case scenario that could leave the buyers broke and homeless.
They say beauty is in the eyes of the beholder.
But on 29th Street in Newport News, it's easy to spot the neighborhood eyesore.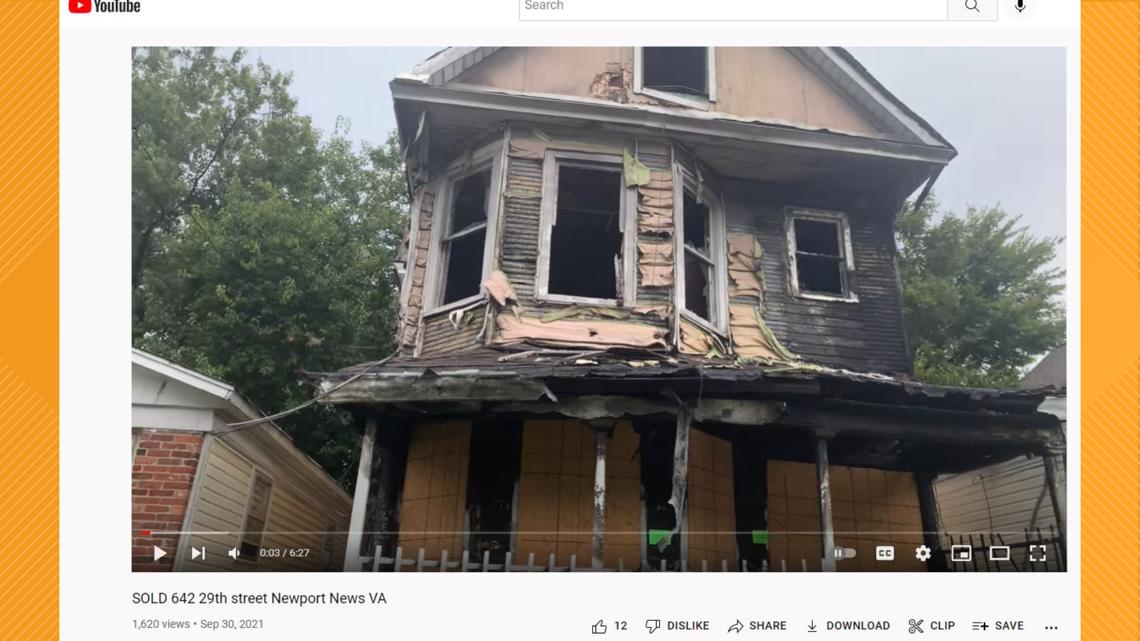 City officials posted a bright green sign to the house at 642 29th Street, deeming it unsafe after a fire nearly destroyed it in February 2021.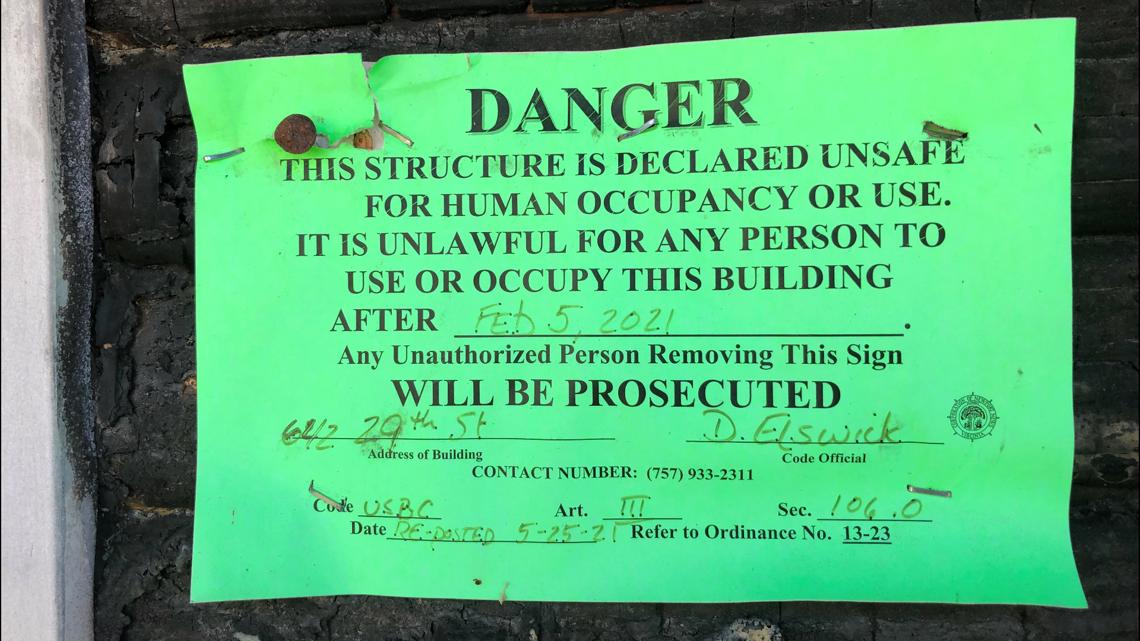 But despite the broken windows, melted siding, and charred porch, property records show a Virginia Beach-based LLC purchased the home in September 2021 and used YouTube to advertise it for sale.
"There is major fire damage to this house but nothing I have not sold before," said the seller in a 6-and-a-half-minute walkthrough video of the home.
In November 2021, about a month after the YouTube video was posted, public records show the Department of Codes Compliance mailed a written notice regarding code violations to the title holder, "72019 LLC."
The Codes Compliance official followed up in February 2022 with a second notice to 72019 LLC stating the city was proceeding to have the building demolished.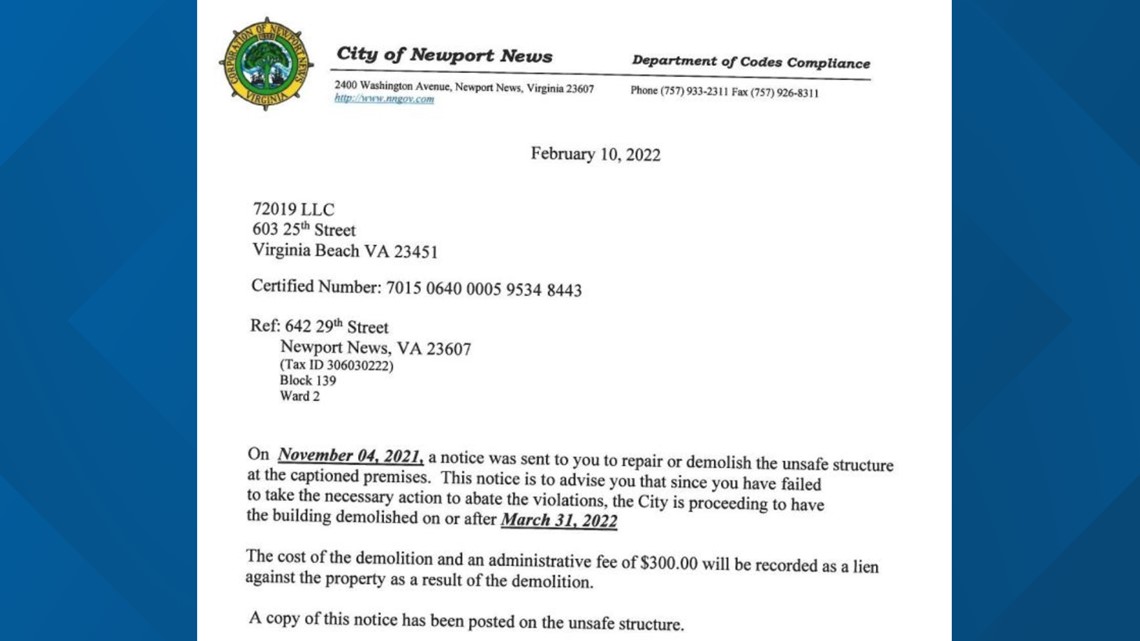 The city received a response six days later... not from the LLC, but rather from a man claiming to have purchased the home.
"I recently purchased the fire damage[d] house," the buyer wrote in an email to an inspector with Codes Compliance.
Within 30 minutes, the inspector responded to the buyer that the home's title still belonged to 72019 LLC and that the demolition process would proceed.
"Our office will need a copy of the new deed and title showing that you are the owner," the Codes Compliance inspector wrote in the February 16 email to the buyer. "Once I receive that information our office will reissue the notices for demolition of the property due to the state of disrepair."
It appears not much has changed since that email exchange. As of today, the deed is listed under 72019 LLC and the home remains on the demolition list.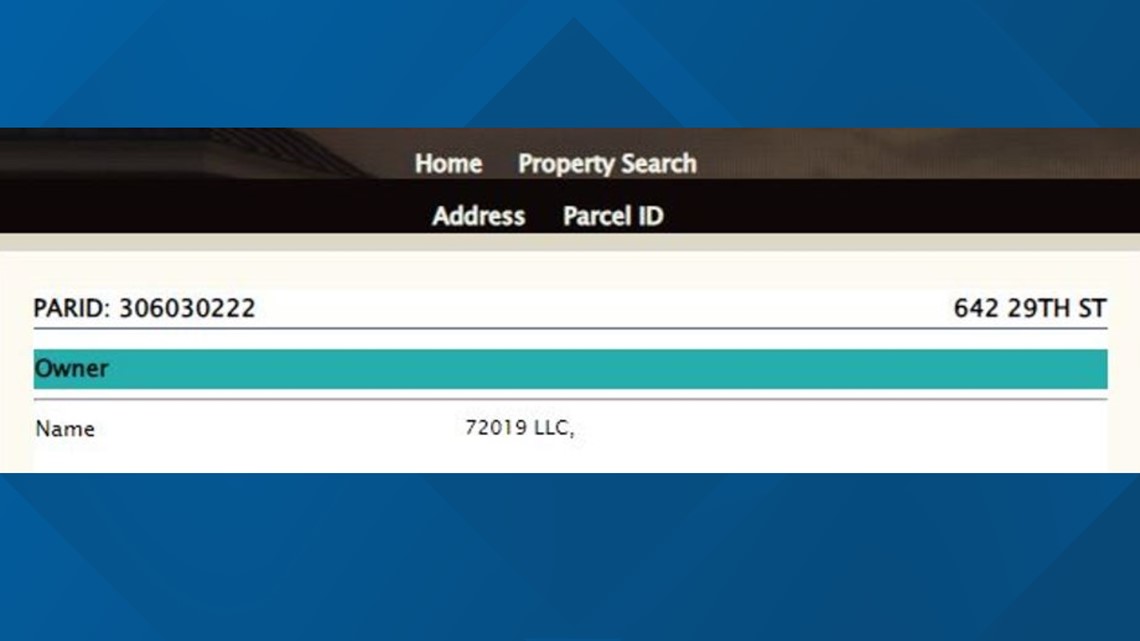 We obtained an "Agreement for Deed" contract between the 72019 LLC and one of its buyers.
It came with a down payment of several thousand dollars, with the rest financed by the seller at 17% interest, which is almost triple the average rate a bank would charge today.
A second contract we obtained shows the sellers charging a different buyer another high-interest rate of almost 14%.
The sellers tout their home buying process as "very easy," writing on their YouTube page description that they usually only require a photo ID and proof of income.
Buyers get to move into the homes even though the deed remains in the LLC's name until all monthly payments are made, which could take decades.
Such an agreement may seem beneficial to buyers who wish to forego financing a traditional mortgage or can't afford to pay for the entire property up front. But our investigation found it may also leave them broke and homeless if the sellers ever decide to evict them.
One buyer who wished to remain anonymous told 13News Now that the 72019 LLC threatened eviction "a few times" after they missed a couple payments due to pandemic-related job losses.
They say they've poured thousands of dollars' worth of repairs into the home and are now afraid they could lose it all.
We showed the contract to attorney Eric Dunn, who is an expert on tenants' rights for the National Housing Law Project. He called sales like these potential scams, predatory and possibly illegal.
"These are almost always predatory," Dunn said. "I'm confident in saying almost all these deals are gonna... you're gonna find illegal things, it's just what's actually illegal about it will differ a little bit from situation to situation."
One line in the contract states buyers must maintain the current condition or better. It goes on to state that sellers may inspect the home and take back "immediate possession" if it fails to meet their standards.
Yet we obtained another document signed by one buyer that states the seller has done "no inspections and has no knowledge of the condition of the house."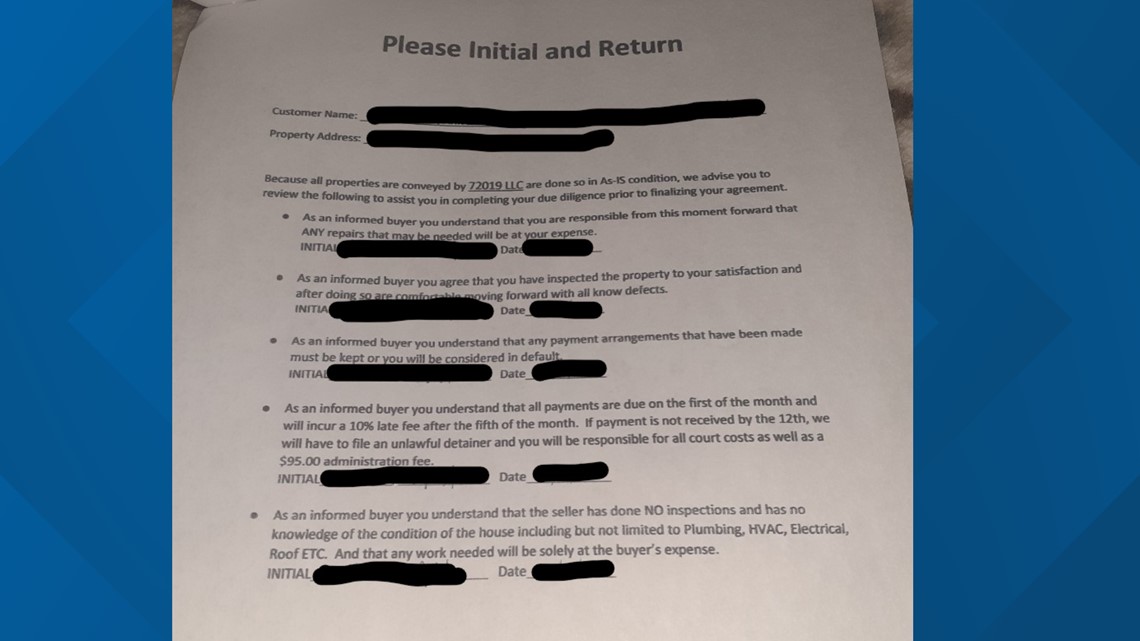 Dunn said the contract shifts all responsibilities onto the buyer to fix up the property, maintain it and make it habitable.
"It's really an outrageous transaction," said Dunn, who recommends all buyers have an attorney review a contract like this before signing. "The buyer just has an endless set of hoops they have to jump through. This one I think is extreme in terms of just not having any chance whatsoever to possibly fulfill this."
"If you're making a monthly payment, you have no title of the property, no realistic chance to ever acquire the property, you're a tenant," Dunn said.
We learned through our investigation that some buyers were under the impression that they owned the home after signing the "Agreement for Deed."
Reyna Hoell of Reyna Agency Solutions talked to us on behalf of her client who thought he was a homeowner after entering into one of those contracts for a house in Newport News.
"Ethically it's wrong. Why are you going to sell something to somebody and say, 'This is yours' and legally, it's not theirs? It's wrong. It's deceiving them," said Hoell.
When Hoell's client began making repairs to the home, it caught the attention of Codes Compliance inspectors, who found the property to be unsafe and in violation of codes.
An inspector condemned the home, put it on the demolition list, and wrote in an email to the buyer that any more work would require both permits and a structural engineer's report.
But Hoell said her client can't get the proper permits because the home isn't in his name.
Property records show the title owner is actually "Keylu LLC."
"He's afraid that he can lose the house, he's afraid he can lose the money," Hoell said.
We found a similar story a few streets over on 24th Street, where a Codes Compliance inspector found another home with code violations and work being done without permits.
The buyer emailed the inspector, writing: "As far as my husband and I know, we are the owners of this house. How do we find out if this is true? I mean we are tired of being used."
Property records show the title is still listed under "72019 LLC," not the couple rehabbing the home.
The YouTube page with ties to both 72019 LLC and Keylu LLC includes more than 400 videos since 2018, with listings spanning all seven cities of Hampton Roads.
We looked up the available property records for every address listed on that YouTube page, and found that the deeds still belong to an LLC in many cases.
In fact, we found more than a dozen "SOLD" listings on YouTube where the title holder is still 72019 LLC.
Keylu LLC is still the title holder on at least seven homes advertised as "SOLD."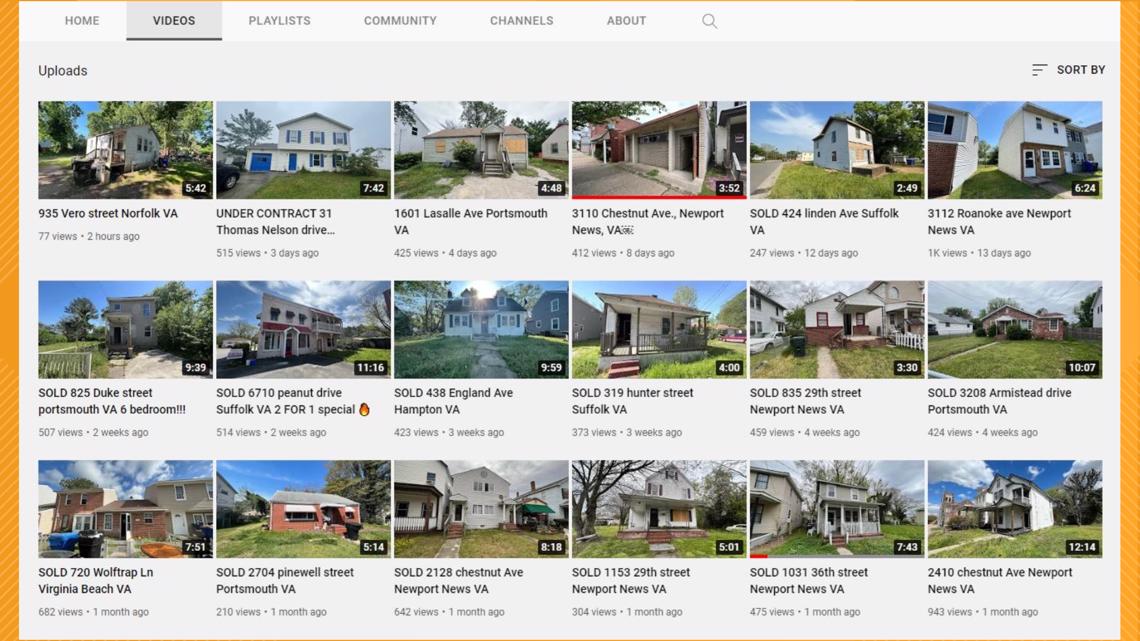 We wanted to hear from the sellers, so we called and texted the man in the YouTube videos, but he did not answer our requests for an interview when we started asking questions.
We asked: What happens to the buyer and their down payment if they get evicted for missing payments – or if the city condemns a home and puts it up for demolition?
In June, he may have to answer to a judge.
Codes Compliance summoned both the YouTube seller and the 72019 LLC to court for failing to maintain one of these homes.
The judge may soon decide who is legally responsible for the repairs and upkeep on these homes: the legal owners, or the buyers, who in some cases, thought they were the owners.