Chesapeake Fire PIO Lt. Anthony Barakat said their main goal is to determine if there is a criminal component to what started the fire.
"We have determined that it is natural gas related," said Barakat. "Where specifically and how specifically is something we're continuing to investigate here."
The next part of the investigation is determining the source of the natural gas leak. The main gas line and what leads up to the outlet of the meter falls under the company's jurisdiction. Anything behind the meter, subsequently inside the home, falls under the owner's jurisdiction.
If the explosion is determined to be Columbia Gas' responsibility, the SCC will start investigating. According to Ken Schrad, Director of the Division of Information Resources, the SCC is "monitoring the situation and collecting information."
In a statement, Columbia Gas said:
Columbia Gas of Virginia continues to work with local authorities following the incident on Lofurno Road in Chesapeake. After a thorough evaluation, all of the natural gas systems in the area are safe. Preliminary investigation results indicate that our facilities did not contribute to the incident. We will continue to support the fire department and other agencies as they complete their investigation into the cause of this incident. Our thoughts are with the community and families dealing with this tragic event.
The National Safety Transportation Board, which investigated at least two other explosions in Massachusetts and West Virginia involving Columbia Gas, said the agency is not investigating the incident in Chesapeake at this time.
On Monday, the home Amanda and Joe Gandia lived in with their two daughters was condemned after a natural gas explosion next door, and the couple said they feel grateful to be alive.
A fire destroyed the home of Gandia's neighbors. The couple that lived there are in the hospital receiving treatment, but they're only there because of Joe Gandia's quick-thinking.
"Everything was on top of her, and I had to pull this piece of the roof out of the way so I could get to her," Gandia said, recalling the moment he rushed in to save his neighbor after the first blast. "By the time we got her out into the street the whole house was in flames."
Joe Gandia said he doesn't consider his actions to be heroic, but other neighbors disagreed. Amanda Gandia said the whole neighborhood is thinking of their neighbors in the hospital.
"I want all of the prayers to go out to them," she said.
House explodes in Chesapeake; several injured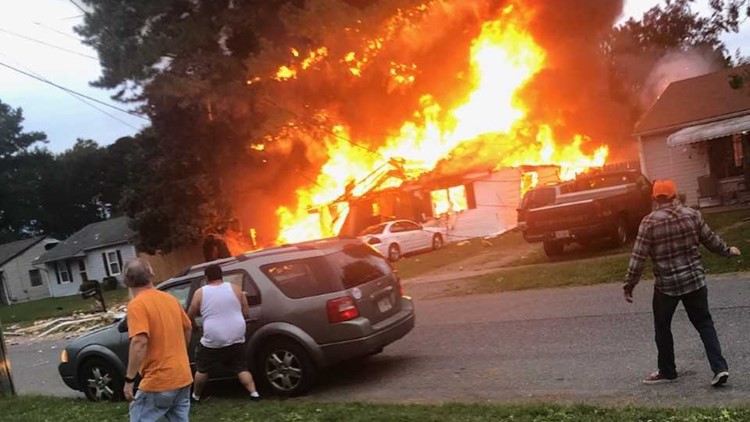 The Gandias have a temporary place to stay, provided by the Red Cross. Their house is inhabitable and items were burned. They are collecting donations via GoFundMe and Facebook. Joe Gandia said his family will make it through, somehow.
"We're pretty sad right now, sad about our neighbors and their well-being," he said. "But we're a tight family and we love each other and we're going to make it through this someway."