ASHEBORO, N.C. — John Anderson McGlohon lived a remarkable life, that much is evident. The retired Asheboro fire chief, city council member, and World War II veteran died Sunday, February 2 at Randolph Hospice House. He was 96 years old.
McGlohon passed from a cancerous tumor. He chose not to receive treatment. Diagnosed January 27, 2020, he was gone by the next week, his family said.
"We were there, he was comfortable and he knew we were there, and that was it," Bob McGlohon, John's eldest son, said, "He had a long life and a wonderful life."
McGlohon's life was marked by his service to others.
In John joined the Army Air Corp only months before Japan attacked Pearl Harbor. Assigned as an aerial reconnaissance photographer, he found himself inadvertently flying over Hiroshima on August 6, 1945.
"Because of a series of events, the flight crew that he was assigned to were kinda forgotten about," Bob said, "and nobody on his crew knew anything about an atomic bomb, it was top secret."
"Dad's plane and crew, as they were flying on over Hiroshima, there was a really bright flash. He said, 'It was like flashbulbs going off inside of the aircraft,'" Bob said, "as soon as that happened, Dad turned his cameras on."
The photographs McGlohon snapped from his B-29 plane are some of the rare pictures of the Hiroshima bomb mushroom cloud, and among the closest in proximity to the event in military history. For decades after World War II, the pictures remained classified and unpublished before appearing in an edition of Life Magazine.
"It is, I guess, his primary claim to fame, but he loved the fire service, and he loved it dearly," Bob said.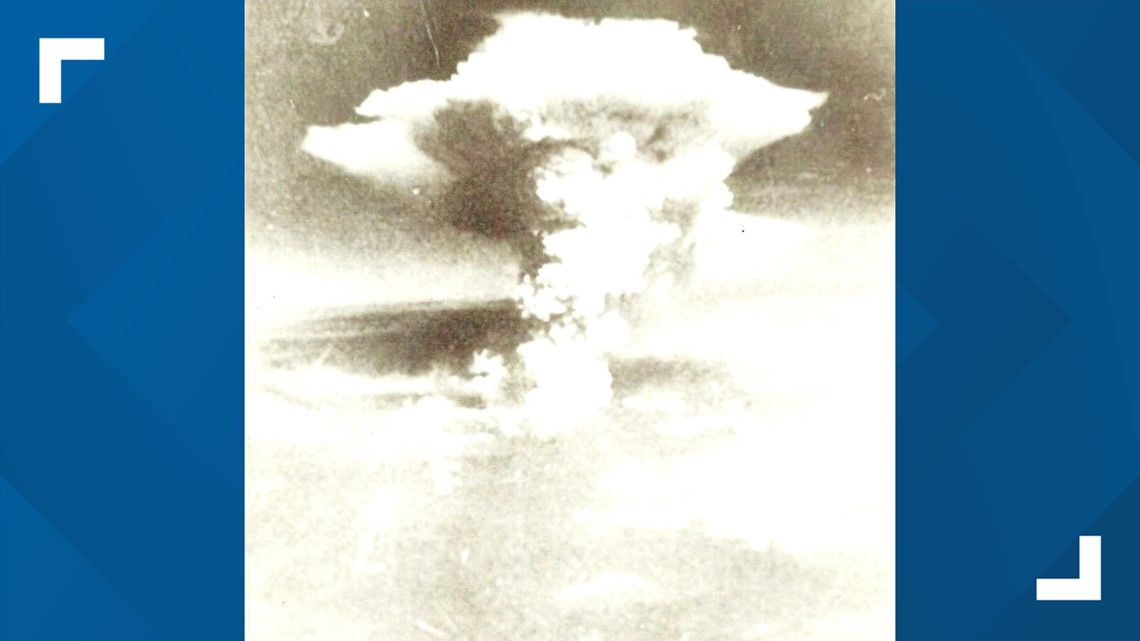 After serving his country, John served his hometown in Asheboro, North Carolina. In 1955, McGlohon volunteered at the Asheboro Fire Department. He would remain there until 1985, rising to the rank of Fire Chief - a position he held for 24 years.
"He's really responsible for bringing Asheboro's Fire Department into the modern era," Asheboro Mayor David Smith said.
In his time, the Fire Department saw an increase in wages, improvements in equipment and training, and the construction of two new stations still in use today, Asheboro FD officials said.
Mayor Smith said he knew McGlohon all his life since his time as a boy at First United Methodist Church in Asheboro. Smith, like many others, marveled at McGlohon's commitment to the job.
"John sang in the choir," Smith said, "but almost every Sunday morning, he'd jump up and run out, and then a few minutes later we'd hear the sirens going by because he had a fire call."
"He kept his boots and turnout gear beside the bed here, so when the radio went off, he was on his way," Bob said, "I think any of his firemen would agree with me: There couldn't have been more than a very few fires in this city in his time as chief that he wasn't there."
Mayor Smith also served alongside John when McGlohon joined the city council in Asheboro. McGlohon held the position for 16 years before retiring in 2006.
"The legacy of John McGlohon is huge in Asheboro, there's no question. Whether it's the fire service or just one of the nicest, kindest most unassuming people I've ever known." Mayor Smith said.
McGlohon is survived by his two sons, Bob McGlohon and John 'Steven' McGlohon.