NEWPORT NEWS, Va. — A total of eight days have gone by in the search for 62-year-old Marine Veteran Leon Francis. Francis was reported missing on Jan. 14, 2020. Since then, several agencies including Newport News Police and Virginia State Police got involved.
On Wednesday, community members joined the search for this missing husband, father and grandfather. They've posted fliers throughout the week with Francis' pictures and description.
Several people started creating fliers in the back of an SUV. They posted the signs on their car windows and on public light poles. Some residents went to different shelters, churches and some ventured into the woods to look for any traces of Francis.
"If my family member was missing I would want people to come out and help," said Newport News resident Maura Santoni.
Francis' wife, Daphne Thompson-Francis explained the description might have changed since he was reported missing.
"We have descriptions of him wearing certain outfits, and no he didn't have on that Knicks starter jacket. But we do know he is fully-clothed," said Thompson-Francis.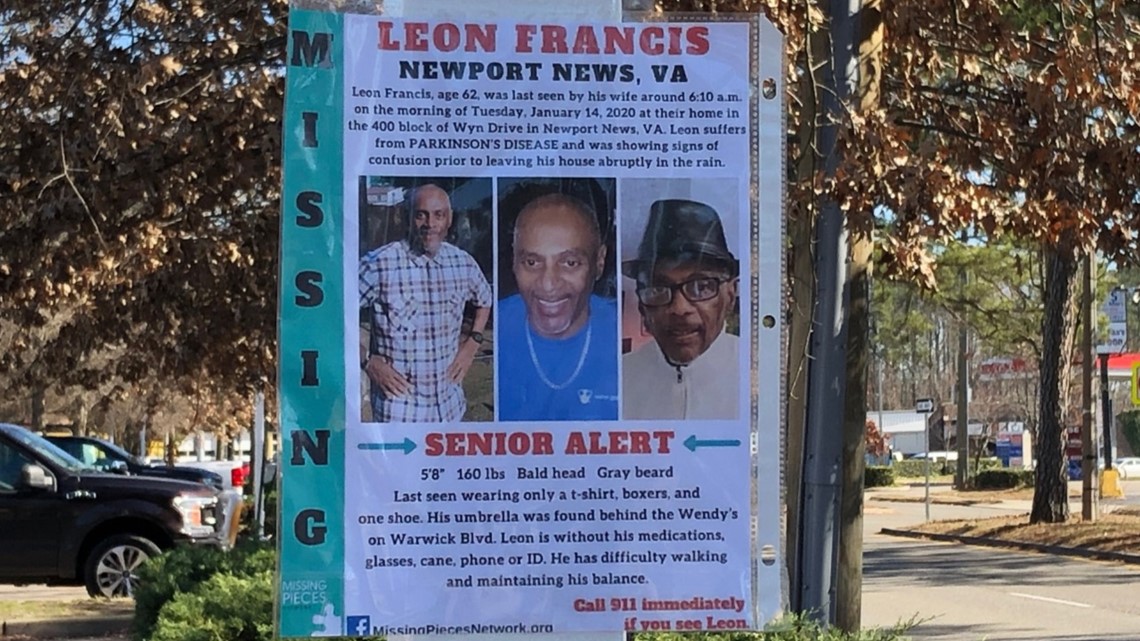 Thompson-Francis also mentions her husband was diagnosed with Parkinson's Disease and may seem disoriented due to not taking his medication.
Newport News Police pointed out investigators are still actively looking for Francis at this time. The family is urging the public to keep a lookout for their loved one.
Family and friends have also created a Facebook group where users can post with any new information on the search or Francis' whereabouts.