NORFOLK, Va. — In the wake of recent gun violence in Norfolk, several community groups are coming together to talk about possible solutions and find ways to heal.
They plan to meet at 6:30 p.m. on Wednesday behind the Royal Farms on 5350 East Virginia Beach Boulevard. You can bring a teddy bear or flowers in remembrance of the lives lost, organizers said in a flyer.
The organizations hosting the gathering and discussion include Auntie Advocate, Community of United Focus and Guns Down.
Their efforts come on the heels of a violent Labor Day weekend in the City of Norfolk.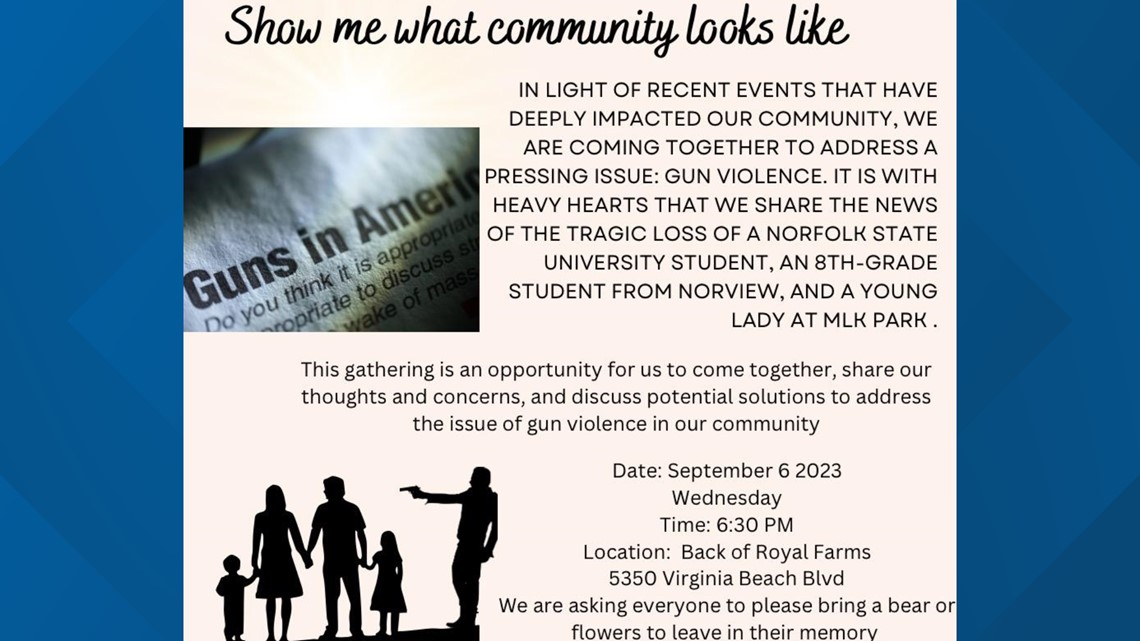 On Tuesday, Norfolk police officers said they worked with U.S. Marshals to capture a murder suspect on West Military Highway in Chesapeake.
Smith now faces charges of second-degree murder second-degree murder, malicious wounding and two counts of use of firearm.
He was wanted in connection to a shooting that sent a 51-year-old man to the hospital and left Precious McClendon, 24, dead, according to a news release.
Norfolk police said the double shooting happened before 1 a.m. on Church Street near East Brambleton Avenue on Sunday.
"I'm going to miss [Precious]. I really am," a woman who wanted to remain anonymous told 13News Now. She said she used to live near McClendon in Norfolk.
The former neighbor said McClendon's first name fits her perfectly, "It's literally what she was. She was sweet, no matter the hardships or anything she went through. She always had that uplifting spirit."
The woman also said McClendon had two young children.
She reacted to news of an arrest made in the case on Tuesday, saying "Justice for Precious and I hope he gets what he deserves."
A mother grieving the loss of her 14-year-old son shares a similar sentiment. After a shooting on Wyngate Drive Sunday afternoon left Amir Burnett dead, Norfolk police on Monday said they arrested Albert Sutton, 27, and charged him with involuntary manslaughter and reckless handling of a firearm.
"I believe he should get everything he deserves. As me being a grieving mom, my baby's never coming back. Whether he gets 10 years, 20 years, or 100 years, my baby is still never coming back," Amir's mother Ny'Shell Traynham told 13News Now on Monday.
The incident on Gate House Road sent junior Jahari George, 20, to the hospital, where officers said he died.