NORFOLK, Va. (WVEC) -- At Sacred Heart Catholic Church in Norfolk, Father James Kauffmann credits Pope Francis for bringing attention to Christians suffering in Syria.
"He's the one that brought attention to all of the suffering and plight of Christians, which is something that the media ignored worldwide until the last minute," Father Kauffmann says.
But for those who go to church every Sunday...
"It's a lot of kneel, sit, stand."
Betsy Hnath says Pope Francis made the Catholic experience have a more personal connection.
"I think the pope represents a new beginning, fresh start," she says.
Which means a lot for a woman who relied on her faith to get her through both her husband's cancer treatments as well as her own.
Betsy, who is from Norfolk, is hoping to catch a glimpse of Pope Francis in DC this week.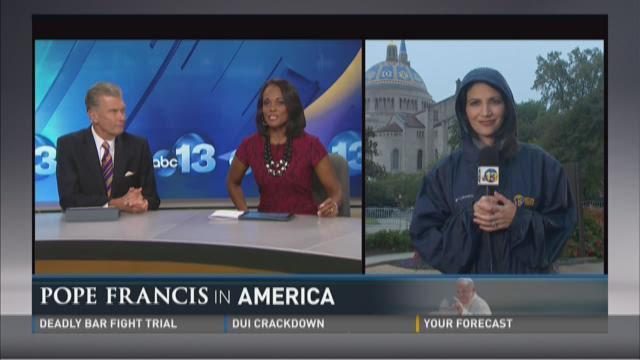 FULL COVERAGE: Pope Francis visits the U.S.
Father Tom Reese, a Jesuit and senior analyst at the National Catholic Reporter, says that he wants the Church to be much more welcoming, and not judgmental.
"He has not changed the teachings, he has changed the priorities," says Father Reese. "And he's also changed the style of the Church."
According to a Pew Research Center survey done in June, half of the Catholics surveyed have left the church... but half of those people say they're also willing to come back if they see changes.
"I believe that the pope's presence is a sign of peace and reconciliation that is so badly needed in the world today," says Sacred Heart parishioner Ann Gilda.
13News Now reporter Lucy Bustamante is in Washington D.C. this week to cover Pope Francis' visit to the United States. Follow her on Twitter @13lbustamante for the latest updates!