Days after Hurricane Florence first hit the coast of North Carolina, we are getting our first look at how the coast has changed. Storm surge breached sand dunes, releasing feet of sandy water over barrier island. Large waves crashing on the beaches quickly eroded away beaches and changed the shape of North Carolina's coast.
These GIFs show you Before Vs. After Florence Hit, using NOAA's satellite and remote sensing. You can view more of the coastline at this link.
Half of the fishing pier is missing post-Florence. There is significant beach erosion. There used to be plenty of sandy beach for locals and tourists to enjoy on a sunny day. Now, the last strip of dry land is the rock wall used as a barrier against the storm's surge and waves.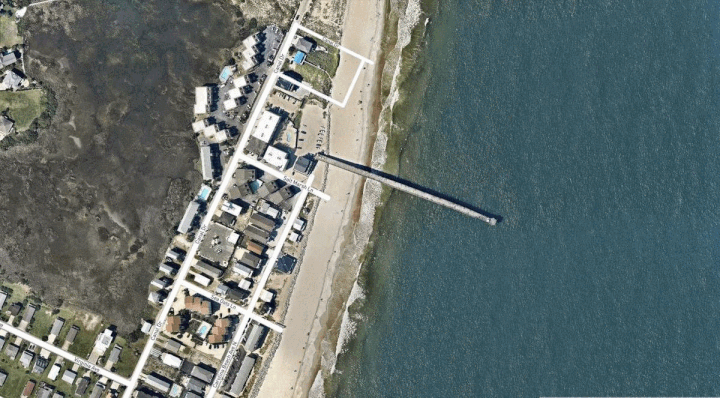 The sandy beach is gone. Storm surge and crashing waves breached the sand dunes and sandy water rushed into the Barrier Island community. Roads are left covered in sand all the way across to the other side of the barrier island. Many homes sustained roof and siding damage, debris is scattered everywhere. Siding, shredded wood, and roofing is especially scattered on the upper left of the photo on the furthest part of land away from the beach.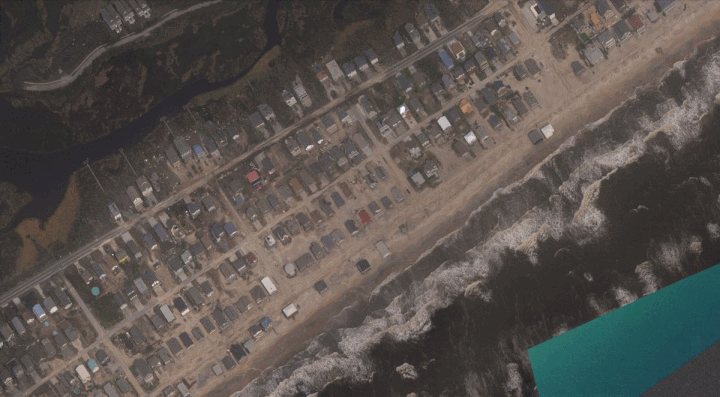 The beach is gone. Storm surge breached any small sand dunes in place beforehand and sandy water came rushing across the main roadway and into the recreation center across the street. Homes along the beach are now sitting ducks on a cliff -- since the battering waves chipped away at the beach. Part of their decks and wooden stairs to the beach did not survive the storm.. Across the street, note the parking lots covered by sand and the tennis court that is now partially gone. The Onslow County Parks & Recreation Beach Access Building was once at the start of the beach; it held public concessions, restrooms, showers and an observation deck. It's now sitting right at the edge of the water. The main roadway is still covered by sand & water after the immense amounts of beach erosion.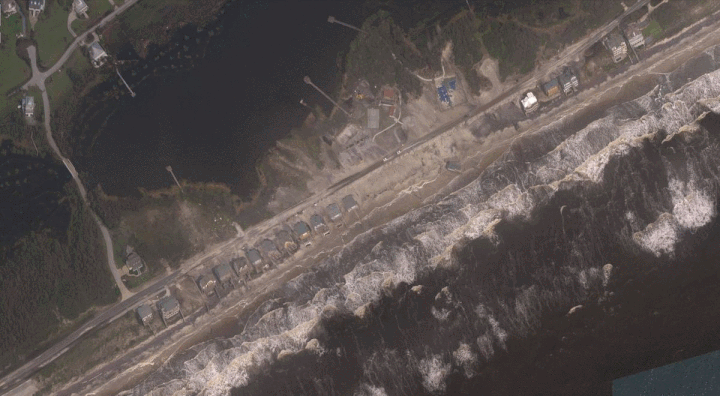 This photo shows the power of water. The entire shape of the coastline where the New River flows into the Atlantic Ocean has changed. Notice the large peninsula of sand that was there before Florence hit is now missing. Significant erosion has trimmed away at the left end of the island on the right side of the image. And the beach of the left island, where residents live, was also chipped away by continuous crashing waves and some storm surge.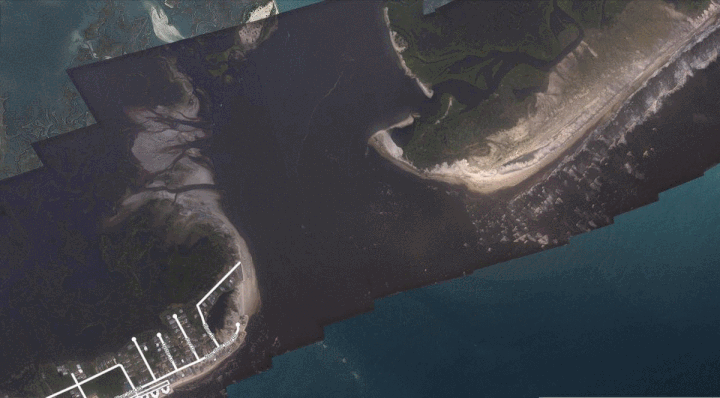 Photos: Florence Changes North Carolina Coastline