CAPE HATTERAS, NC (WVEC) -- Power has been been completely restored after last week's power outage. It was a difficult week for businesses and residents who were left in the dark.
In a Facebook post that began with "FINAL Update!" Cape Hatteras Electric Cooperative (CHEC) announced crews were able to supply the islands with power thanks to a newly constructed overhead transmission line near Oregon Inlet.
Each of the seven villages on Hatteras Island have been removed from generator power, and are now receiving power from the cooperative's transmission lines.
Dozens of tourists wait to cross Bonner bridge into Southern OBX after a week of mandatory evacuation. I'm live at 12! #13NewsNow pic.twitter.com/MIhIz6CkDF

— Steven Graves (@13StevenGraves) August 4, 2017
The completion is ahead of schedule, as a previous estimate had predicted restoration by early next week.
"It's been really tough because we didn't have any customers," said Laurina Masebiciute of Forbes Candy.
They lost thousands of dollars in sales due to the outage.
"It's just frustrating and sad because all the town is like dead," said Masebiciute.
The outage occured when construction crews accidentally cut two power lines during bridge construction. An estimated 50,000 tourists were evacuated while residents were forced to sit and wait.
"It's been a long week, its been hard, but we all come together, work together, its all we can do," said Joyce Waters.
Waters has been through outages before but the timing of this one was pretty inconvenient.
"Hot, humidity, I like to get in that cold shower," said Waters.
Her next door neighbor Molly Barnes was also sweating but not because of the heat, she was worried about her son who has muscular dystrophy and depends on machines to live.
"He sleeps in a hospital bed and needs to move it and so we had to manually move it every half an hour just to keep him comfortable so that was a lot of work," said Barnes.
However, there was at least one local who actually enjoyed the outage. He felt he got his town back.
"Everybody needs a break once in a while I loved it it was my favorite time of year down here," said Scott White.
PHOTOS: Power outages on the Outer Banks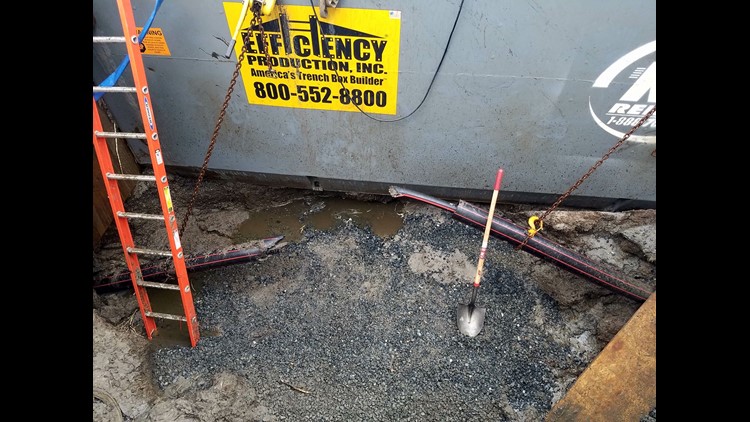 The outage drove thousands of vacationers off the islands and forced others to cancel trips before they arrived.
Following the restoration of transmission power, PCL issued the following statement:
Power has been fully restored to Hatteras and Ocracoke Islands. PCL Construction would like to thank CHEC, NCDOT, and New River Electrical, as well as all local and state government agencies for their support and tireless team effort in getting the power restored as soon as possible. PCL understands the inconvenience caused by the outage. We are working to provide assistance to those affected and more information will be available shortly. Additionally, we have been overwhelmed by the outpouring of support we have received and would like to sincerely thank the residents and businesses of the Outer Banks who have encouraged our workers during our repair efforts, it is greatly appreciated. PCL prides itself on being an employer of choice, a committed community member, and a respected builder."
The Associated Press contributed to this report.