NORFOLK, Va. — Even though "Shark Week" is still several months away, there seems to be a "shark-a-palooza" off the coast of North Carolina's Outer Banks.
Within the last week, OCEARCH's Shark Tracker showed five tagged great white sharks miles off the coast, ranging from the southern tip of the Cape Lookout National Seashore to the northern end of Hatteras Island.
Ormand, who is more than nine feet long, pinged off the Cape Lookout National Seashore at 9:18 p.m. Tuesday. He was tagged at St. Simons Island, Georgia, in November 2022 and has since slowly traveled up the East Coast, according to OCEARCH.
Jekyll, a great white shark more than eight feet long, pinged off the coast of Ocracoke Island at 10:20 p.m. Tuesday. He was first tagged at Jekyll Island, Georgia in December 2022 and has also made his way up the East Coast.
Not too far away, Martha pinged off the southern tip of Hatteras Island at 5:21 a.m. Wednesday. She was first tagged in Cape Cod, Massachusetts in August 2020 and has since traversed up and down the East Coast. She has pinged as far south as northeastern Florida and as far north as Nova Scotia in Canada.
Breton, a 13-foot great white shark who weighs nearly 1,500 pounds, pinged off Hatteras Island at 11:01 a.m. Tuesday. He was tagged in Nova Scotia in September 2020 and has pinged anywhere from Florida's East Coast to the shores of Bermuda since then.
Breton also pinged close to the shore of Cape Hatteras on Saturday at 12:16 p.m.
Simon, an eight-foot-long shark, pinged off Hatteras Island's northern end at 6:13 p.m. Tuesday. He was tagged at St. Simons Island, Georgia in December 2022 and has made his way north.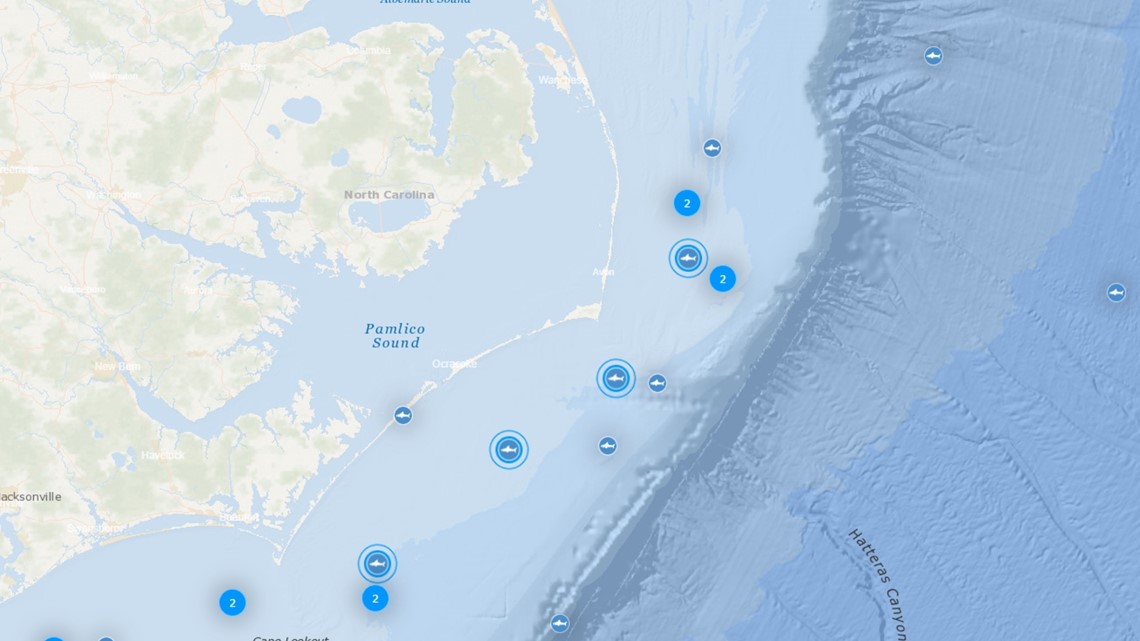 As Breton pings, some fake shark photos go viral
On the same day of Breton's first ping, a photographer from the Outer Banks known for creating doctored pictures shared a Facebook post of a massive great white shark he claimed washed up on a beach.
Alex Lex, also known on Facebook as "OBX Photos," wrote that people were "trying to push it back into the ocean."
The photos went viral, garnering more than 17,000 shares, 4,300 reactions and 5,600 comments. But despite the social media allure, the North Carolina Division of Marine Fisheries (NCDMF) said it didn't get any reports of a shark that washed ashore last weekend.
In reality, the NCDMF doesn't get those kinds of reports very often, according to David Behringer, a fisheries biologist with the agency. But he did say many shark species are found in the waters of the Outer Banks throughout the year.
"Some use North Carolina estuaries as nurseries, some use the sounds and nearshore (close to the beach) environments as feeding grounds, and others pass through the area during their annual migrations," Behringer wrote in an e-mail to 13News Now.
Behringer described the Outer Banks as a midway point for sharks migrating along the East Coast, as well as an area with plenty of prey.
"Many migratory shark species spend the warmer months in the Northeast in areas like Cape Cod, MA and Long Island, NY and migrate south beginning in the fall when the water temperature begins to drop," Behringer wrote.
Some of the common shark species common to the area include Atlantic sharpnose, blacktip, spinner, sand tiger, hammerhead, bonnethead, and sandbar sharks.
When it comes to misconceptions about sharks in the area, Behringer said many people are surprised to find out how common they are and how many species inhabit the waters of the Outer Banks.
"Some shark species will use the nearshore environment and North Carolina's estuaries while other species tend to be more oceanic and spend most of their time further offshore," Behringer wrote.
And if a shark does actually wash ashore, Behringer wants people to abide by state regulations and use caution.
"Rules for sharks include returning the sharks back to the water in a manner that ensures the highest likelihood of survival, except when you plan to legally harvest the shark," Behringer wrote.
Those who come across a shark that washed ashore and is alive are encouraged to call NCDMF, particularly for those not experienced in handling them. A full list of regulations can be found on the agency's website.