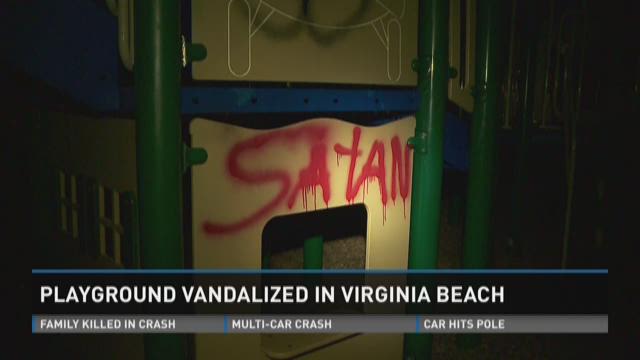 VIRGINIA BEACH -- People are upset after someone trashed the playground at Rosemont Forest West Park near Stumpy Lake.
Somebody painted foul words next to the slides and swings. The graffiti included Satanic signs, the word "Satan," and the phrase "Do drugs."
Giano Garcia and his sister, Izabella, play there a lot. They said they are disappointed to see the equipment destroyed like that.
"I just think it's inappropriate," said Giano.
Izabella said it makes her not want to play there anymore.
"It makes me feel uncomfortable to be on the swings and look at what they wrote. It just makes me feel like I shouldn't be there," Izabella told 13News Now.
Others who live nearby said the playground has actually improved over the years.
"They put in that beautiful playground, and the city really made it beautiful. They do a good job of taking care of it.," said Gary Breed. "All the little kids love that park and it's a great place for them to play during the day."
Giano and his sister have a message for whomever is responsible.
"I just want to say to everybody who is doing this that they should stop by now because it's not good for people like us who are at the park playing and having fun," he said.
13News Now reached out to Virginia Beach Police Department about the vandalism, but has not heard back from anyone yet.