VIRGINIA BEACH, Va. — Governor Ralph Northam said that public beaches in Virginia Beach -- including those at Chicks Beach, Sandbridge, the Oceanfront and First Landing State Park -- would open for some recreational activities starting Friday, May 22.
Northam said he had been working with Virginia Beach leaders to outline regulations for reopening the beaches safely.
Virginia Beach Deputy City Manager, Ron Williams, said they worked with Northam's office on the plan for three weeks.
"I think if another community wants to open and they have the opportunity to submit their plan for the governor to review and I'm sure he will take it in strong consideration," said Williams. "We [the city] impressed upon him that we were taking it seriously and that we had the ability and the resources in order to manage it."
Some recreational activities will be allowed in time for Memorial Day Weekend. It follows a period of "exercise-only" access.
However, he said if people ignore the rules of this phased reopening, the state government could roll back beach allowances.
"If people swarm these beaches and ignore social distancing rules, or the regulations the city has put into place, I will not hesitate to reinstate Phase One restrictions, or even close the beach outright if necessary."
He said his message to beachgoers was simple: "You must be responsible."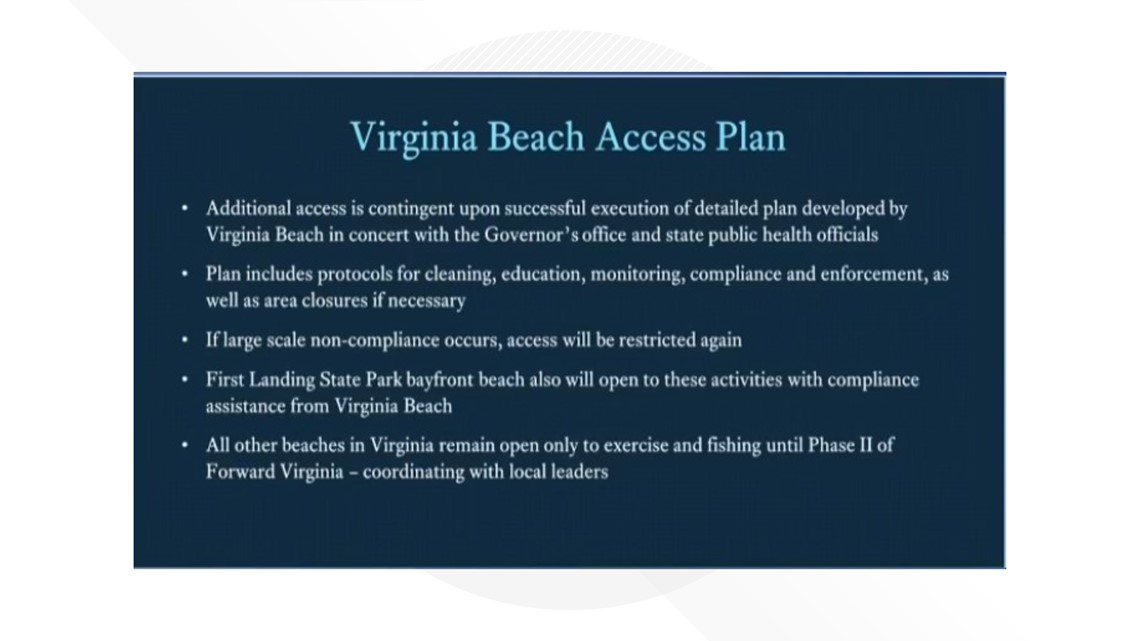 Sunbathing
Swimming
Fishing
Surfing
Here's what's not allowed:
Group sports (volleyball, football, frisbee, etc.)
Alcohol
Music Speakers
Large Coolers
Tents
Groups of umbrellas
In addition, no entertainment or programming that generates mass gatherings will be permitted. All beach playsets will remain closed.
Williams said Northam insisted on having all of those rules in place, to make sure the city's community follows Phase One rules. That means making sure there are no groups of more than ten people, and people stay people six feet away from each other during this pandemic.
About 150 Beach ambassadors will monitor the area for compliance
There will be more cleaning of high-touch areas
Beach parking will be capped at 50 percent capacity
"In order to disperse the crowd, we are lowering the density in the capacity in the garages. We are allowing free on-street parking on Atlantic Avenue," Williams said.
He stressed that it's going to take everyone following the temporary rules, to make sure Virginia Beach can keep beaches open during this pandemic.
"It is significantly important for our local economy," he said.
Virginia Beach Mayor Bobby Dyer echoed the governor's pleas for caution when enjoying newly regained opportunities to relax on the sand.
"We must not take this opportunity for granted, and everyone needs to be committed to being safe and proactive when visiting the beaches," Dyer said. "Let's remember, this is short-term inconvenience for long-term gain."
Dyer ended his address with a note of hope.
"Let's always remember that we all are one day closer to this terrible pandemic being behind us than we were yesterday."