EAST PALESTINE, Ohio — Residents of the Ohio village upended by a freight train derailment packed a school gym on Wednesday to seek answers on whether they were safe from toxic chemicals that spilled or were burned off.
Hundreds of worried people gathered to hear state officials tell them — as they did earlier in the day — that testing so far has shown that local air is safe to breathe and to promise that safety testing of the air and water would continue.
But residents had lingering questions over health hazards and they demanded more transparency from the railroad operator.
Norfolk Southern, the rail operator, did not join what was was billed as an open house gathering with local, state and federal officials because of safety concerns to their staff. In a statement, the railroad said there had been a "growing physical threat to our employees and members of the community around this event."
The meeting came amid continuing concerns about the huge plumes of smoke, persisting odors, questions over potential threats to pets and wild animals, any potential impact on drinking water and what was happening with cleanup.
Even as school resumed and trains were rolling again, people were worried.
"Why are they being hush-hush?" Kathy Dyke said of the railroad. "They're not out here supporting, they're not out here answering questions. For three days we didn't even know what was on the train."
"I have three grandbabies," she said. "Are they going to grow up here in five years and have cancer? So those are all factors that play on my mind."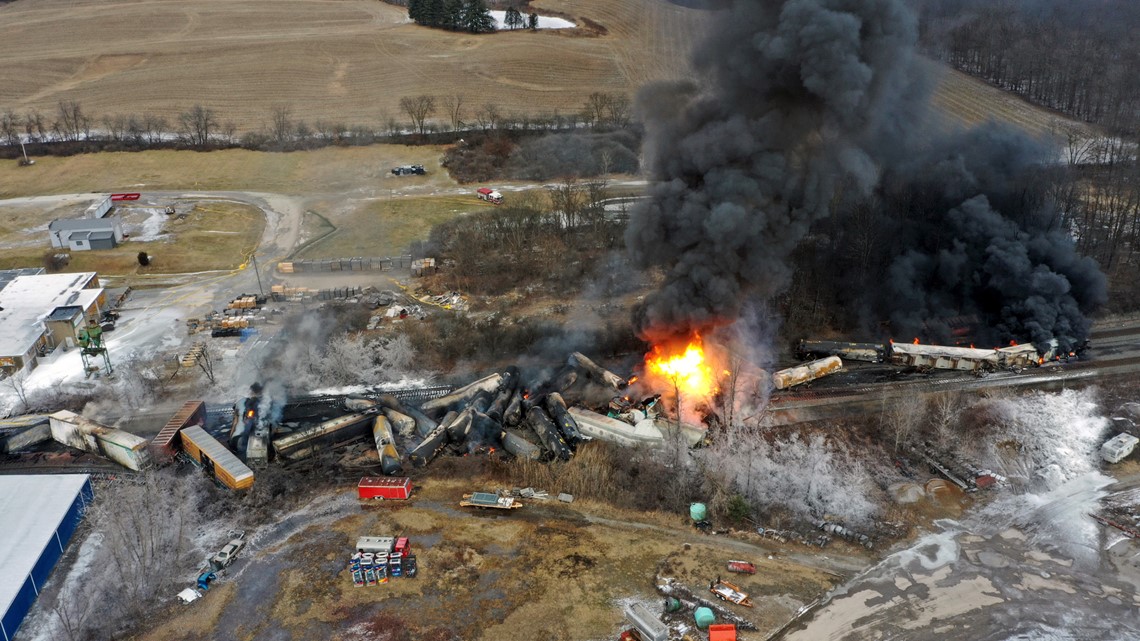 In and around East Palestine, near the Pennsylvania state line, residents said they wanted assistance navigating the financial help the railroad offered hundreds of families who evacuated, and they want to know whether it will be held responsible for what happened.
Ohio Attorney General Dave Yost advised Norfolk Southern on Wednesday that his office is considering legal action against the rail operator.
"The pollution, which continues to contaminate the area around East Palestine, created a nuisance, damage to natural resources and caused environmental harm," Yost said in a letter to the company.
The state's Environmental Protection Agency said Wednesday that the latest tests show water from five wells supplying the village's drinking water are free from contaminants. But the EPA also is recommending testing for private water wells because they are closer to the surface.
The Ohio Department of Natural Resources estimates the spill affected more than seven miles (11.2 kilometers) of streams and killed some 3,500 fish, mostly small ones such as minnows and darters.
There hadn't been any confirmed deaths of other wildlife, including livestock, state officials said.
Norfolk Southern announced Tuesday that it is creating a $1 million fund to help the community of some 4,700 people while continuing remediation work, including removing spilled contaminants from the ground and streams and monitoring air quality.
It also will expand how many residents can be reimbursed for their evacuation costs, covering the entire village and surrounding area.
"We will be judged by our actions," Norfolk Southern President and CEO Alan Shaw said in a statement. "We are cleaning up the site in an environmentally responsible way, reimbursing residents affected by the derailment, and working with members of the community to identify what is needed to help East Palestine recover and thrive."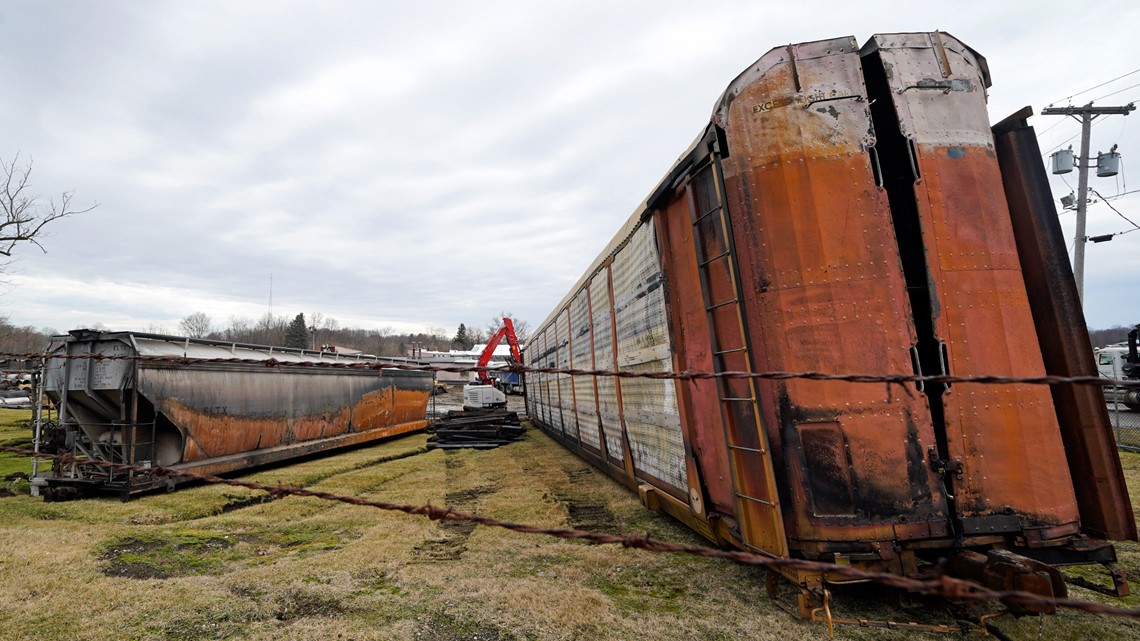 A mechanical issue with a rail car axle is suspected to be the cause of the derailment, and the National Transportation Safety Board said it has video appearing to show a wheel bearing overheating just beforehand. The NTSB said it expects its preliminary report in about two weeks.
Misinformation and exaggerations spread online, and state and federal officials have repeatedly offered assurances that air monitoring hasn't detected any remaining concerns. Even low levels of contaminants that aren't considered hazardous can create lingering odors or symptoms such as headaches, Ohio's health director said Tuesday.
Precautions also are being taken to ensure contaminants that reached the Ohio River don't make it into drinking water.