NORFOLK, Va. — After seven months on a scheduled deployment, the Sailors and Marines aboard the Kearsarge Amphibious Ready Group and 22nd Marine Expeditionary Unit returned home Thursday morning.
From new parents to friends and family, it's a sweet reunion for service members and loved ones.
"We've been starting to countdown ever since he left," said wife, Jasmine Lewis.
"It's great to be home," said Petty Officer First Class, Chad Blaine.
"We're excited to make up for lost time," added his wife, Ashley.
PHOTOS: Homecoming for USS Kearsarge and USS Alrington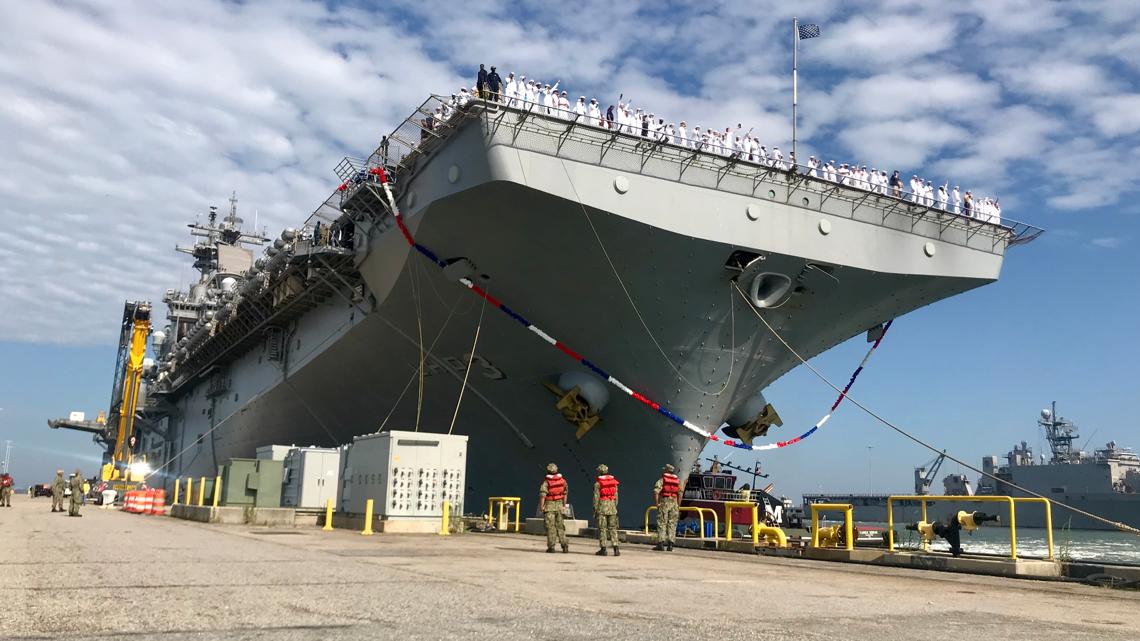 While deployed, the Navy-Marine Corps team supported maritime security operations, crisis response, and theater security cooperation. Crews also provided a forward naval presence in Europe, Africa, and the Middle East.
The Kearsarge ARG consists of the amphibious assault ship USS Kearsarge, the amphibious transport dock ship USS Arlington, the dock landing ship USS Fort McHenry, Fleet Surgical Team (FST) 2 and FST 8, Helicopter Sea Combat Squadron 26, Tactical Air Control Squadron 21, components of Naval Beach Group 2, and the embarked staff of Amphibious Squadron 6.
They are three major ships, the Commodore Captain Joseph O'Brien said were spread out. "You never cease to be amazed at the situations that come up and how you deal with them," said O'Brien.
The Commodore said what started with a water rescue of a British mariner in the Atlantic, continued with more work supporting maritime security operations and crisis response, in Syria, Afghanistan, and the Black Sea.
Earlier this year, they were even put on standby to possibly deploy to Iran amid tension with the country.
USS Kearsarge Commanding Officer, Jason Rimmer said, "The type of interactions we had with vessels from Iran were very much similar to what other ships have seen in the last 10 to 20 years."
Now the work around the world is over for these military men and women, it's time to rest and reconnect with familiar and new faces, while the ships stay in port for possibly two years.
"We do what we train to do, what we signed up to do. And the families get left to do all the hard stuff at home, you know?" said O'Brien.
Kearsarge and Arlington are home-ported at Naval Station Norfolk, Virginia. USS Fort McHenry is homeported at Naval Station Mayport, Florida, and the 22nd MEU is stationed in Camp Lejeune, North Carolina.