NORFOLK, Va. — As one U.S. Navy ship leaves for a new homeport, another is arriving for the first time.
The guided-missile destroyer USS Bulkeley (DDG 84) is departing Naval Station Norfolk on Thursday and relocating to Rota, Spain. The port shifting is part of the Navy's long-term plan to rotate ships based in Rota to different areas.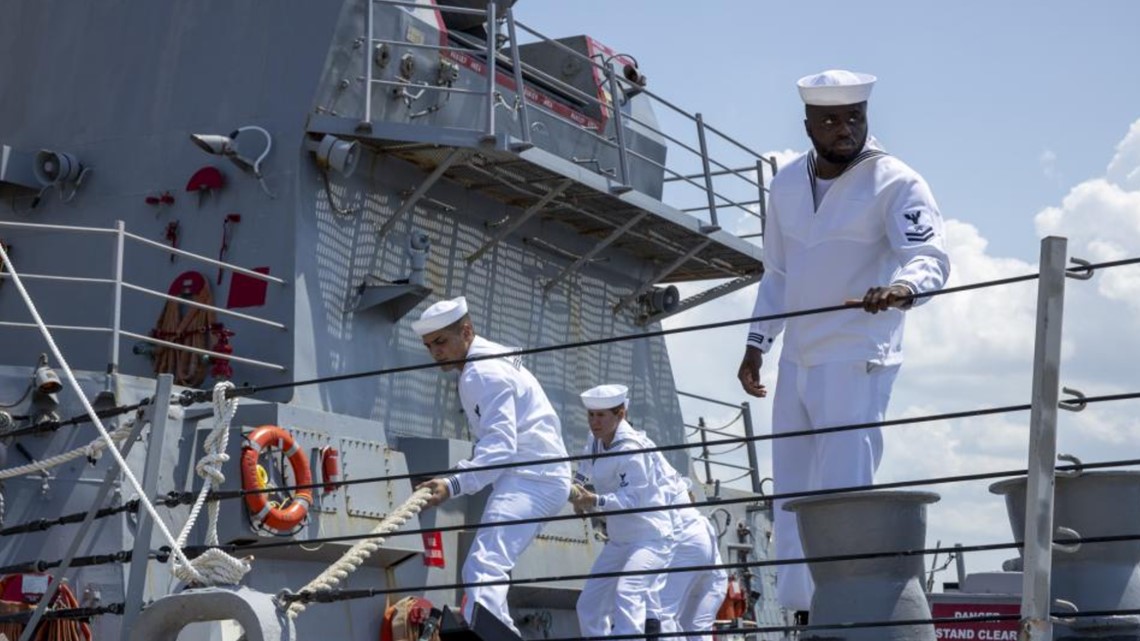 Meanwhile, the newly-commissioned USS Fort Lauderdale (LPD 28) is expected to arrive at Naval Station Norfolk on Thursday, where it will make Norfolk its homeport. The amphibious transport dock ship was recently commissioned in Fort Lauderdale, Florida, on July 30.
The USS Fort Lauderdale is the first Navy ship to bear the Florida city's name.
"I love you and I miss you so much," said Ariana Brown as she waited for her husband aboard USS Fort Lauderdale.
Those are the first words Brown told her husband when he and many other sailors arrived at Naval Station Norfolk Thursday morning. She said she's counted every day he's been gone, 396 days to be exact. With smiles and signs in hand, Brown and her children waited eagerly for him to step off the ship.
"My son will probably tackle him. He's ready to play. He's been talking about making a lemonade stand in our neighborhood, but he wanted to wait until daddy got home," Brown said.
Navy officials said this day is monumental because as sailors come home, so does the new ship.
"Really just a great Navy day to bring our nation's newest warship, LPD 28 USS Fort Lauderdale, here to her homeport Norfolk, Virginia," said Captain James Quaresimo, the commanding officer for USS Fort Lauderdale.
The mission is to embark the United State Marine Corps allowing them to project power anywhere.
"It's the first time we've had a San Antonio-class warship come in in a few years," said, Rear Admiral Tom Williams, the commander of Expeditionary Strike Group 2. "So, this is exciting. Added to my group Expeditionary Strike Group Two and we have more combat power here to defend the nation."
About 400 sailors are permanently assigned to the ship. It also can hold more than 600 marines.
"Here is where we're homeported," said Command Master Chief James Magee, the senior enlisted leader on board USS Fort Lauderdale. "This is where our families are at. This is where we're going to live every day. This is where we can get out and start the fight where we need to be."
Navy officials say USS Fort Lauderdale will remain at Naval Station Norfolk for a while as crews work on upgrades. Navy officials say it won't deploy anytime soon.