NORFOLK, Va. — After a 6-year-old boy intentionally fired a gun in the middle of a Richneck Elementary classroom, lawmakers are trying to figure out how to address this problem on the General Assembly floor.
"The situation that happened at Richneck and other situations that happen like this, there's not really a criminal code section that directly applies and I'd like there to be one," State Delegate Michael Mullin (D-93rd District) explained.
Mullin said he went to the scene at Richneck Elementary Friday night when he learned a 6-year-old student shot his teacher, Abby Zwerner, inside their first-grade classroom.
Newport News police said the student got the 9 mm handgun from inside his own home, but it's still unclear how he got ahold of it. Chief Steve Drew said the child's mother had the gun in the home after she legally purchased it in York County.
Mullin, who represents the Richneck area, said he wants to find ways to prevent guns from getting into children's hands.
"These kinds of situations don't just happen in a vacuum. No 6-year-old all of a sudden gets a firearm and we need legislative response," said Mullin. "We've had safe storage laws that are debated in the General Assembly in previous years and I think that's going to be an area that has robust discussion regarding firearms."
He also said he wants to provide more counseling services for students by hiring more people to take on this job in schools.
"We need to make sure that we have mental health professionals there every day to help our students and so much of that is Richmond putting the investments into our pre-K, K-12 and our high schools," Mullin said.
Virginia's Parent Teacher Association President Pamela Croom agrees change is needed, saying, "There's not a person I think in this state who was not touched over what just happened."
In a statement responding to the shooting, Croom, along with the Newport News Council Education Association, called for representatives to invest in the "Center for Firearm Violence Intervention and Prevention" to help bring agencies together to stop gun violence in its tracks.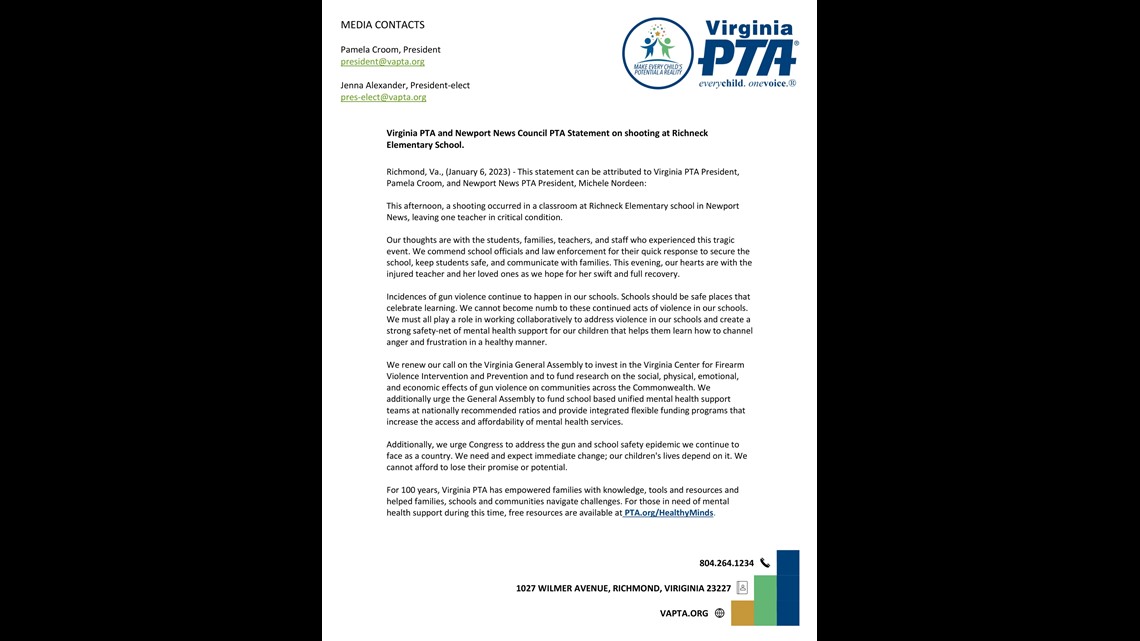 "The biggest piece is the facilitation for the Department of Justice to be a coordinating entity with the localities...to develop those comprehensive practices for addressing gun violence," said Croom. "Also, working in conjunction with the department of health and social services and the behavioral health department, as well. This, as we keep saying, is going to stake everybody at the table, but right now, we're working in silos."
Croom said some state leaders are already working with her on potential solutions, including providing more counselors for schools.
Police Chief Drew said his team of investigators is looking into exactly how the boy got his hands on his mother's gun.
The General Assembly convened Wednesday, where lawmakers gathered for the start of the 2023 legislative session. The session ends on February 25.