The storm system came through Thursday afternoon through early Friday morning, with a mix transitioning to snow over most of the region. Despite 10 hours of snow reported at Norfolk International Airport, the ground proved to warm for much to stick near the coast.
A milder marine layer kept coastal temps in the mid-30s, and the snow was too light to pile up in Virginia Beach and much of Norfolk and Portsmouth near the water. Folks in the western half of Hampton Roads and out towards Franklin are waking to snowfall of 3"-5". On the peninsula, several locations picked up 1"-2".
With the snow exiting early in the morning, Friday's skies will clear. The big news will be cold and windy weather across the region.
Highs will stay in the upper 30s. Winds are blowing 10-25 mph with gust up to 35 mph. The combination will produce wind chills in the 20s throughout the day.
It will be clear and cold tonight with lows in the mid-20s. We can look forward to more sunshine Saturday and Sunday with high pressure dominating our pattern. Highs Saturday will reach the lower 50s, and Sunday's highs will be in the mid-50s.
The snow is starting to wind down in Virginia, though one last quick burst is producing some moderate snow and a quick coating in some areas.
Across North Carolina, we are still seeing snowfall, although it is primarily rain near the coast and on the Outer Banks. Some minor additional snow accumulation will be likely south of the Virginia/North Carolina State line. Snow and rain will come to an end around sunrise.
Hey all, it's Tim. The forecast overall is working out well, the exception is our areas by the water. Many of you there are underwhelmed at this storm so far. After an initial push of moderate snow this afternoon we watched the system fail to maintain heavy snow bands across the area leading to light to moderate snow that did not overcome a warm ground and has had a hard time accumulating. Certainly, there are areas in the 13News Now viewing area that has seen several inches of snow already. We have scaled back our snowfall forecast for this storm to account for the lack of steady, heavy snow and warmer marine influence. Check it out below.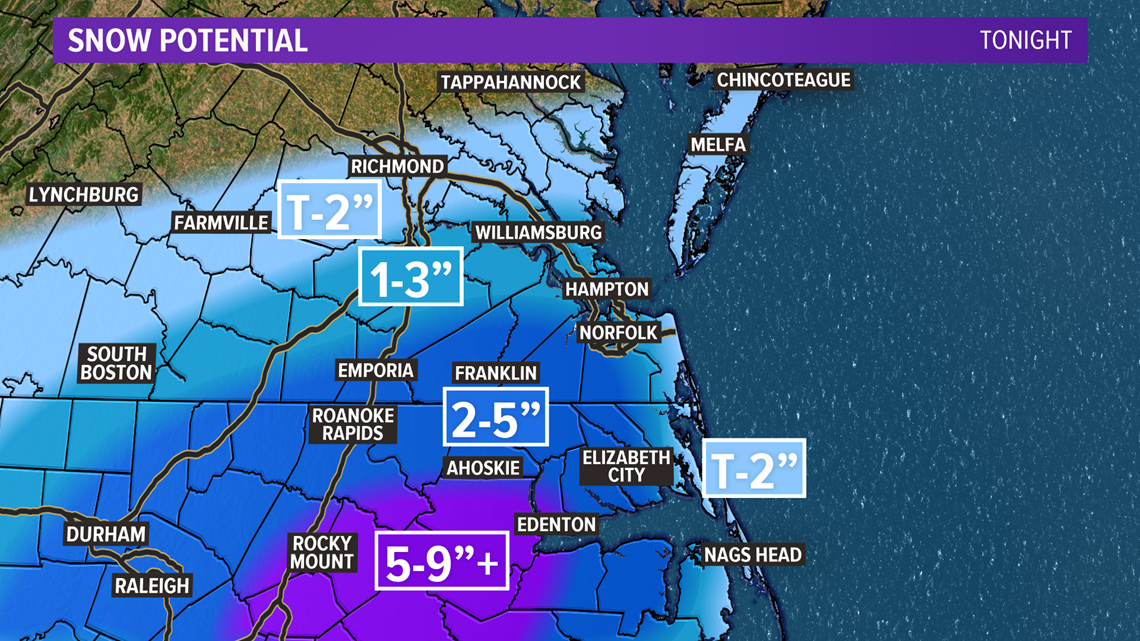 Roads are wet for most areas closer to the water but as northerly winds kick in and colder air drops south watch for those wet roads to become icy roads. It looks like the real jackpot totals will be down in NC where heavier snow bands have been able to organize and be sustained leading to over a half foot. Those are the big changes for now.
Snow is falling across much of the area, though locations closer to the coast are still seeing mainly rain with some occasional snow mixing in. Now that the sun has set, we should start to see more in the way of accumulating snow in areas that just have a dusting on cars, decks, and mulch.
Hi all, Evan here! It's 4:00 p.m. and Tim is going on the air with the latest on the snow. We are getting lots of reports of snow starting to accumulate on grass, cars, and mulch. Roads are still in pretty good shape. Once we go past sunset and temperatures drop a bit more, I do expect snow to start sticking to the roads.
We are still expecting 1 to 3 inches of snow to the north, with 3 to 7 inches for much of Southside. Places in northeastern North Carolina could see 6 to 9 inches of snow.
Hey, it's Tim, it's 2:30 p.m. Thursday afternoon, here's an update on our winter storm!
Upgraded winter storm alerts came down earlier this morning. This means that accumulating snows are now imminent and will impact our evening commutes today and our morning commute on Friday. Winter Storm Warnings cover the majority of our area, exclusions include the Eastern Shore, Mathews, and Gloucester, those areas are under a Winter Weather Advisory.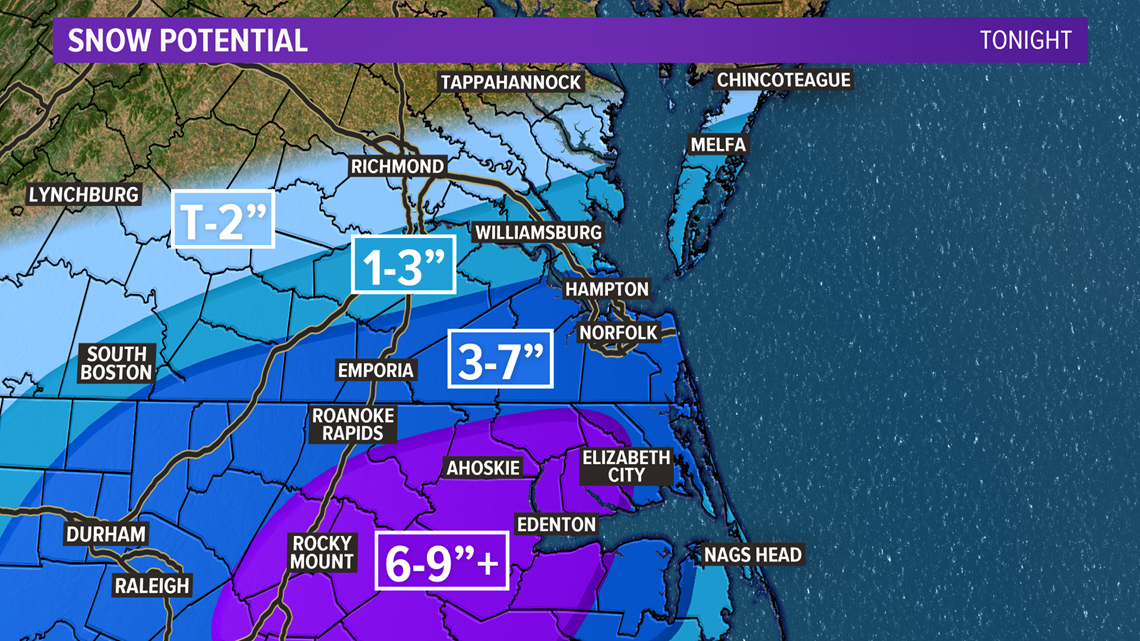 We're seeing a lot of action on the radar, this can be misleading in this type of setup. The radar beam originating from the National Weather Service office in Wakefield, VA shoots out at an angle and gains elevation the farther the beam travels from the site. Therefore the radar is picking up on precipitation higher up in the sky before it evaporates, not reaching the surface. This is something called virga. As precipitation continues to fall and evaporate it will also begin to help drop our temperatures and eventually enough will fall to saturate the atmosphere. As the precipitation picks up in intensity it will also draw down colder air from aloft giving a boost to already falling temperatures and enhancing the snow event.
It has been 709 days since Norfolk International Airport has had an inch of snow.
In terms of timing, as I mentioned above we are already seeing rain and a wintry mix. However, tonight, as the sun sets the snow will become heavier and the majority of our accumulations will occur. Road conditions will deteriorate, especially elevated bridges and overpasses. Snow is expected to taper off by sunrise on Friday morning. Road conditions will still be hazardous but skies will be clearing.