VIRGINIA BEACH, Va. — Many neighbors in Great Neck and Broad Bay have told 13News Now they knew when to take cover Sunday night because of wireless emergency service alerts that pinged on their cellphones.
However, some in the path of the storm and in other parts of Virginia Beach are wondering why nothing popped up on their devices.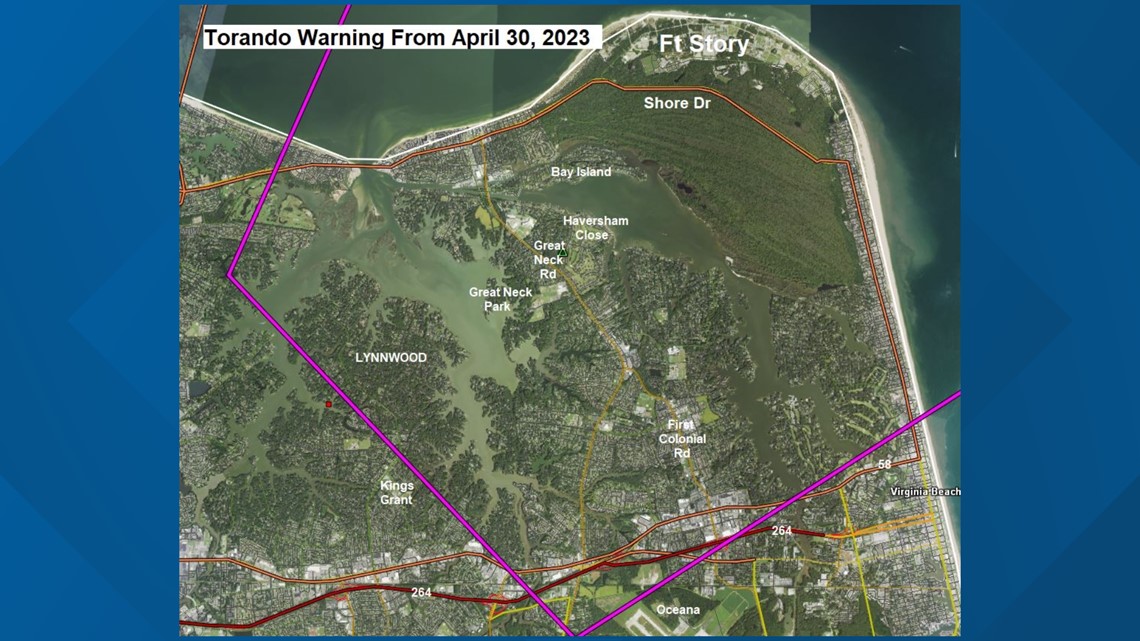 The map outlines a polygon. Orrock said only people within the purple lines should have gotten the loud emergency alert Sunday evening — including areas near Great Neck Park, Haversham Close, Bay Island and Fort Story.
Teams at NWS are in charge of sending wireless emergency alerts, like a tornado warning, at the earliest chance possible.
"So, it's originating from us and then relayed to the different cell phone providers," said Orrock.
Resident Richard Hagen said he lives almost exactly one mile from the disaster zone. He recalled getting the alert Sunday evening.
"Both my wife and I just got that loud, I don't know, beep, buzz, whatever you want to call it — that really 'Woah, something's wrong,'" Hagen said.
Lifelong Great Neck-area resident Erika Oakley was out celebrating her birthday on Shore Drive when the storm hit.
"Having dinner for my birthday with my family and the weather got really bad. Then everybody's phones went off in the restaurant with the tornado warning and the lights went out," said Oakley.
Meanwhile, Jerry and Barbara Jones live within the "purple lines," but were out at Sandbridge Sunday night.
"We did not receive the alert at all," said Barbara.
"And we usually get everything across our phones, but we didn't get nothing like that," Jerry added.
"If you're located outside where we issued the warning, you really should not receive the alert," Orrock told 13News Now.
Nonetheless, the Joneses said they would have preferred to receive a heads-up.
Orrock mentioned how the agency does not want to over-warn, explaining how the focus is on people in the direct path of the storm.
That said, Orrock said some homeowners who were hit are reporting they did not get the alerts. He said NWS has reached out to cellphone carriers, to look into any possible breakdowns.
AT&T said its broadcast was successful, according to Orrock. They are waiting to hear back from other providers.
However, there could be other reasons cellphones did not alert.
"If you're actually talking on the phone at the time, it may not alert you, depending on the device... If you're home and you switch your cellphone to Wi-Fi only, you will not receive a wireless emergency alert. The same thing, obviously, with airplane mode," said Orrock. "People can also opt-out."
Orrock recommended going into your general phone settings and double-checking to see if your emergency alerts are turned on.
If you are one of the homeowners who live in the disaster zone and did not get an emergency alert Sunday night, Orrock is asking you to email NWS Wakefield at akq.webmaster@noaa.gov with your experience and carrier information.
Additionally in Virginia Beach, there is a notification system called VBAlert.
Texts from VBAlert, in the case of a tornado event like Sunday night, would only supplement the emergency alerts from NWS. So, it will not produce the same loud noise in the case of a high-end weather incident, but city spokespersons still stressed it as a helpful resource.