We saw some much warmer weather across our viewing area today. Under a partly cloudy sky, we reached highs in the mid to upper 50s today. We sure hope you took advantage though! We will see a sharp drop in temperatures come the next few days as we track yes another round of wintry weather. This time though, it'll come in two waves.
As an arctic cold front comes through tomorrow, we will see rain showers develop with chances of winter weather as colder air sweeps in during the afternoon and evening. From north to south, we will first see developing showers that then transition into a mix before completely turning into snow on the back end. By tomorrow night, we could see up to an inch and a half across Hampton Roads. Lows will be in the mid to upper 20s.
Hampton Roads will also be under a Winter Storm Watch that will last through Saturday morning.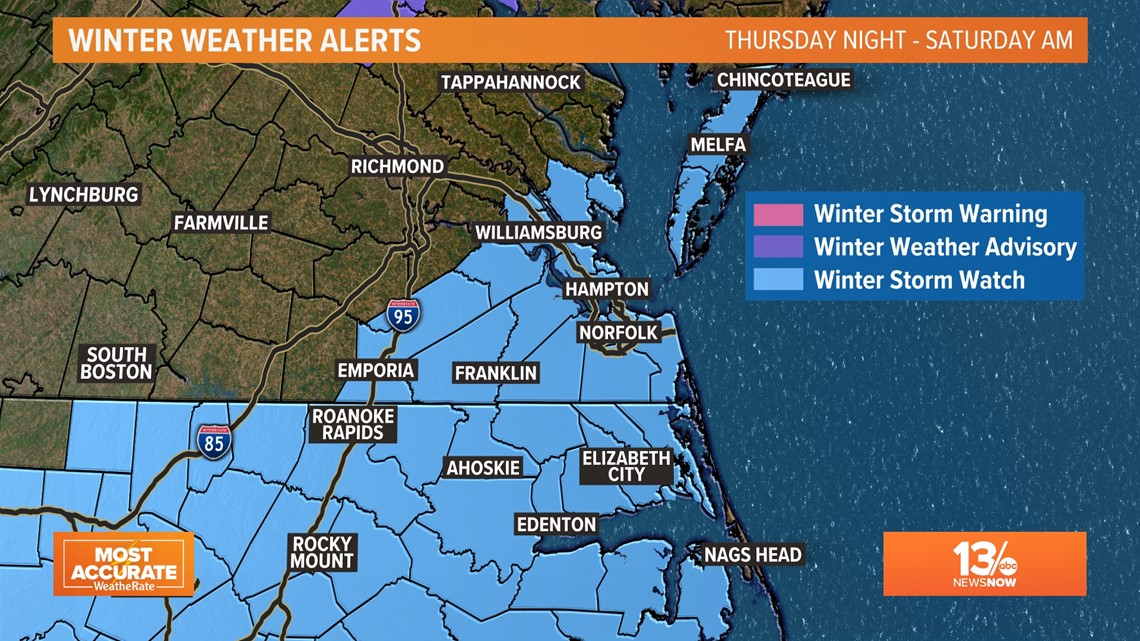 The greatest chances for accumulation comes during the second wave. This comes Friday and will last through Saturday morning.
An area of low pressure is forecast to develop and ride along the cold front up the Eastern Seaboard. As moisture gets drawn north and west into the cold air, we will likely see another round of snow. The models are calling for several inches and a general range of 2-6" seems reasonable. Amounts will depend on the track of the low and the position of the cold front, but accumulating snow is looking more and more likely Friday into Friday night. Things will continue to change and evolve, so stay tuned for updates throughout the week!