DOWNLOAD: 13News Now App
DOWNLOAD: 13News Now Hurricane Guide
The rain and wind have subsided, but flooding remains an issue for much of Hampton Roads and northeastern North Carolina, as high tide kept waters rising to about 4 p.m. Friday. Now, those waters are receding.
As for Dorian, it is no longer in our path but is expected to produce hurricane conditions in Nova Scotia and Newfoundland later today and tonight, according to the National Hurricane Center.
As of 8 p.m. Friday, Hurricane Dorian is back in the open Atlantic, about 275 miles south-southwest of Nantucket, Massachusetts, and is moving northeast at 24 mph. The storm is maintaining maximum sustained winds of 90 mph with higher gusts, making it a Category 1 hurricane.
All hurricane and tropical storm warnings have been discontinued. Water levels in North Carolina are expected to continue to recede Friday night.
Dorian made landfall at Cape Hatteras at 8:35 a.m. Friday.
On the forecast track, the center of Dorian will continue moving away from the coast of North Carolina. The center should move to the southeast of extreme southeastern New England tonight and Saturday morning, and then across Nova Scotia late Saturday or Saturday night.
RELATED: NC Governor: Hundreds stranded on Ocracoke Island
Ocracoke Island resident Leslie Lanier says some residents on the thin strip of land on North Carolina's coast have had to climb into their attics because of high water from Hurricane Dorian.
Lanier said via text message Friday morning that some first floors have been flooded. But she added that the water level has started to drop. Lanier owns a bookstore on the Outer Banks island. She said she's OK but "nervous and worried."
The storm's strong winds and heavy rains early Friday knocked out power to about 194,000 homes and businesses in North Carolina.
PowerOutage.US reports 160,000 outages remain in South Carolina after Dorian scraped that state's coast Thursday.
RELATED: Power outages reported in North Carolina, Virginia as Hurricane Dorian barrels along the East Coast
Authorities haven't reported any major damage, but were waiting for daylight to make a more comprehensive assessment.
The center of the storm has remained off the North Carolina coast. A weather station on Cape Lookout recorded winds of 75 mph as the eye of Dorian passes less than 10 miles away.
As of 6 a.m., a report from Cedar Island, North Carolina reported a sustained wind at 65 mph and wind gusts of 96 mph.
Sustained, hurricane-force winds are battering the southern Outer Banks, a 200-mile-long chain of low-lying barrier islands and spits off North Carolina. The center of the storm is around 25 miles east of Cape Lookout and 55 miles southwest of Cape Hatteras, further north in the Outer Banks.
Top sustained winds are near 90 mph and the storm is moving northeast at 14 mph.
As Hurricane Dorian blows off the coast, forecasters are predicting high storm surges and drenching rains that could trigger flooding and unleash environmental hazards in areas still recovering from last year's Hurricane Florence.
The National Weather Service said on the storm's forecast track, the center of Dorian will move over or near the coast of North Carolina on Thursday night and Friday. The storm is expected to weaken during the next few days.
At least 30 people dead in its wake in the Bahamas, Dorian swept past Florida on Wednesday at a relatively safe distance, grazed Georgia overnight, and then began hugging the South Carolina-North Carolina coastline with more serious effects.
RELATED: TROPICS LIVE BLOG: Evacuations begin to be ordered ahead of Dorian
RELATED: Know Your Zone: Virginia's Hurricane and Storm Evacuation System
It's not the Category 5 storm it once was, but it's still dangerous. About 1 million people in the two states were warned to evacuate.
"Get to safety and stay there," North Carolina Gov. Roy Cooper said. "This won't be a brush-by. Whether it comes ashore or not, the eye of the storm will be close enough to cause extensive damage in North Carolina."
Dare County released a statement at 8 p.m. on Thursday that said, "The time to safely evacuate has passed and Emergency Management is advising those in Dare County to shelter in place until the storm passes. Conditions will deteriorate overnight and remain hazardous through Friday afternoon."
National Hurricane Center
At least three deaths were reported on the U.S. mainland, two in Florida and one in North Carolina, all involving men who were trimming trees or otherwise getting ready for the storm.
The National Hurricane Center's projected track showed Dorian passing near or over North Carolina's Outer Banks on Friday, lashing the thin line of islands that stick out from the U.S. coast like a boxer's chin. Dorian was then expected to peel away from the shoreline.
"I think we're in for a great big mess," said 61-year-old Leslie Lanier, who decided to stay behind and boarded up her home and bookstore on Ocracoke Island on the Outer Banks, making sure to move the volumes 5 to 6 feet off the ground.
"We are thinking maybe we should have moved the books higher because of storm surge," Lanier said. "But we're kind of to the point where we can't do much more."
The National Hurricane Center forecast as much as 15 inches of rain for the coastal Carolinas, with flash-flooding likely for North Carolina and Virginia.
PHOTOS: Tornado Damage in Emerald Isle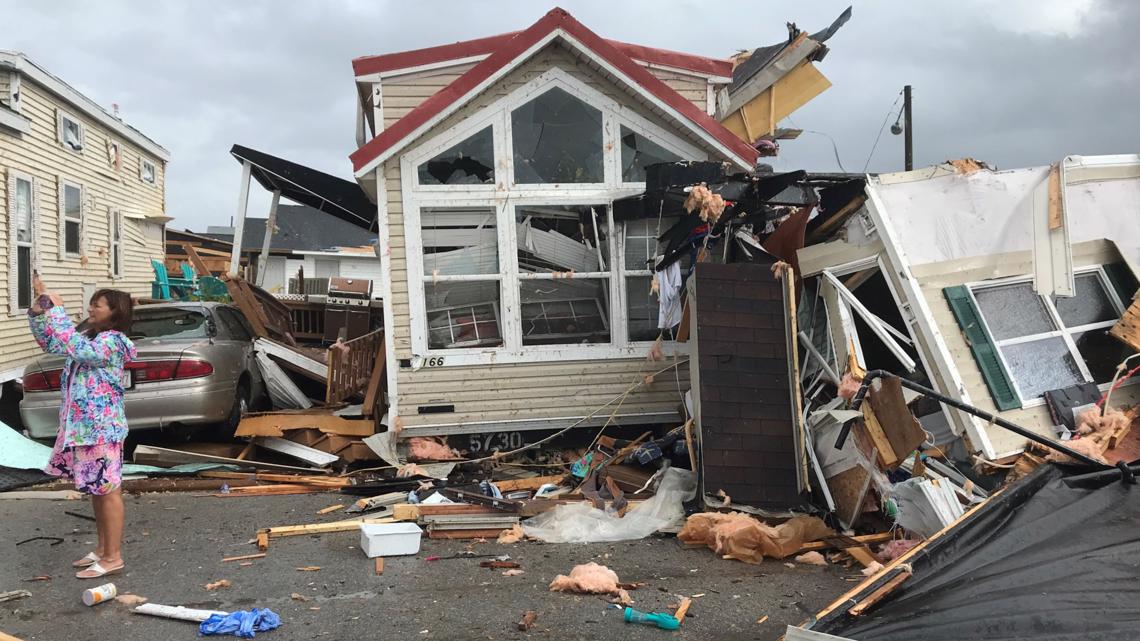 In Charleston, South Carolina, a historic port city of handsome antebellum homes on a peninsula that is prone to flooding even from ordinary storms, Dorian toppled some 150 trees, swamped roads and brought down power lines, officials said.
Dorian apparently spun off at least one tornado in North Myrtle Beach, South Carolina, damaging several homes, and another twister touched down in the beach town of Emerald Isle, North Carolina, mangling and overturning several trailer homes in a jumble of sheet metal. No immediate injuries were reported.
In coastal Wilmington, North Carolina, just above the South Carolina line, heavy rain fell horizontally, trees bent in the wind and traffic lights swayed as the hurricane drew near.
RELATED: Possible tornado slams Emerald Isle, NC as Dorian heads up Carolina coast
At 6 p.m. EDT, Dorian was just offshore Myrtle Beach, South Carolina. Hurricane-force winds extend about 60 miles from its center.
A Storm Surge Warning is in effect from South Santee River, S.C. to Poquoson, Virginia including Pamlico and Albermarle Sounds, the Neuse and Pamlico Rivers, and Hampton Roads.
Local Impacts
A TORNADO WATCH has been issued for parts of southeastern Virginia and eastern North Carolina. The watch continues through 7 a.m. Friday.
As rain and storm bands from Hurricane Dorian move onto land (and encounter the friction of land vs open waters), we hold the potential for spin-up tornadoes. Tornado warnings may need to be issued for areas in the watch...and the watch itself may need to be updated depending on how the storm moves.
If a warning is issued, take shelter and tune in to 13News Now for updates.
13News Now
The storm is heading toward our region. Hampton Roads, northeastern North Carolina, and the Eastern Shore can expect impacts in the form of storm surge, high winds, as well as coastal and inland flooding.
Currently, there's a Hurricane Warning in effect for coastal North Carolina, including the Albemarle and Pamlico Sounds.
A Tropical Storm Warning is in effect for Hampton Roads all the way up to Chincoteague and a Storm Surge Warning has also been issued for Hampton Roads all the way up to Poquoson.
13News Now
However, Hampton Roads, the Outer Banks, and the Eastern Shore won't start to see impacts from the storm until Thursday into Friday.
Starting late Thursday, Sept. 5, parts of northeastern North Carolina, including the Outer Banks, will start to see direct impacts from the storm when it nears the N.C. coastline. Winds will increase through the overnight and heavy rain will increase from the south.
Through the night the rain will eventually overtake Hampton Roads into Friday morning. Heavy rain will occur over North Carolina and Southside Hampton Roads.
There will likely be a sharp drop off from the heaviest rain to much lighter amounts somewhere across the region and we are still working to determine where that drop off will occur. Stay tuned to updates throughout the day.
RELATED: How you can help the Bahamas and people affected by Hurricane Dorian
RELATED: Forecasters now monitoring 4 other tropical disturbances
Hampton Roads and the Eastern Shore can anticipate wind gusts ranging from around 20 to 30 miles per hour, as well.
Wind gusts will then start to pick up overnight into Friday morning when Dorian gets closest to our area.
Areas like Elizabeth City will see gusts at 25 miles per hour, while the Outer Banks will see winds ranging from 50 to 90 miles per hour. The storm is forecast to move directly over Hatteras Island, which could see gusts between 70 mph and 90 mph.
While the Outer Banks will take the brunt of the higher wind gusts, Hampton Roads and the Eastern Shore will feel gusts between 20 mph and 70 mph Friday morning into Friday afternoon.
RELATED: Virginia Task Force 2 has K9s on the ground in Florida
RELATED: VDOT prepares for potential Hurricane Dorian impacts
The entire region could also see anywhere between four to eight inches of rain once Dorian nears our area.
Dorian is expected to start moving away from our area Friday evening, and we'll see gusts and storm surge diminish around that time.
Governors Roy Cooper and Ralph Northam have declared a state of emergency for both North Carolina and Virginia ahead of Dorian's impending arrival in order to obtain resources and equipment necessary for response and recovery efforts.
RELATED: North Carolina Governor Roy Cooper declares a state of emergency
RELATED: Governor Northam declares State of Emergency in advance of Hurricane Dorian
PHOTOS: Outer Banks businesses prepare for impact from Hurricane Dorian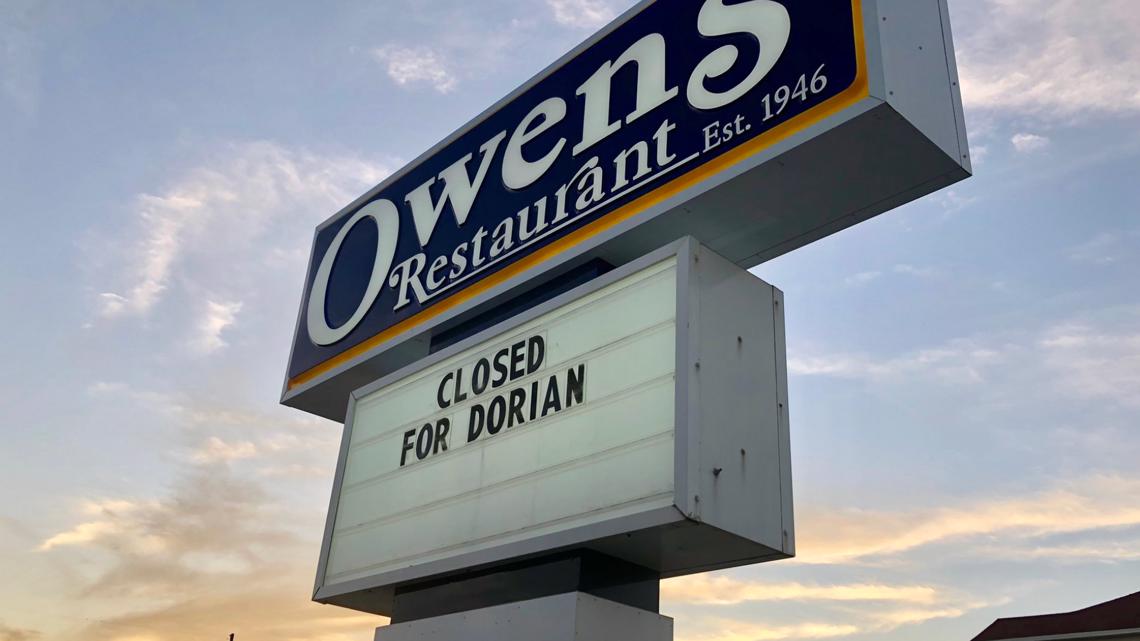 Mandatory evacuations are also in effect for parts of the Outer Banks including Currituck, Dare and Hyde counties.
RELATED: ODU's Office of Emergency Management prepares campus ahead of Hurricane Dorian
RELATED: Corolla horses will take cover when Hurricane Dorian hits NC coast, rescue fund says
RELATED: Concerns over 'psychological damage' to hurricane victims after Dorian wreaks havoc