VIRGINIA BEACH, Va. — 13News Now meteorologists have been tracking an area of low pressure developing off the east coast of Florida that will bring windy, unsettled weather and strong rip currents to area beaches through the Memorial Day weekend.
As the low pressure intensifies, it will reach the Carolina coast on Saturday. Persistent onshore winds will result in a high risk of rip currents and large breaking waves in the surf zone through Memorial Day.
Waves in the surf zone will run around 5 to 7 feet on Friday, and likely increase to 8 or more feet for Virginia Beach and the Outer Banks on Saturday.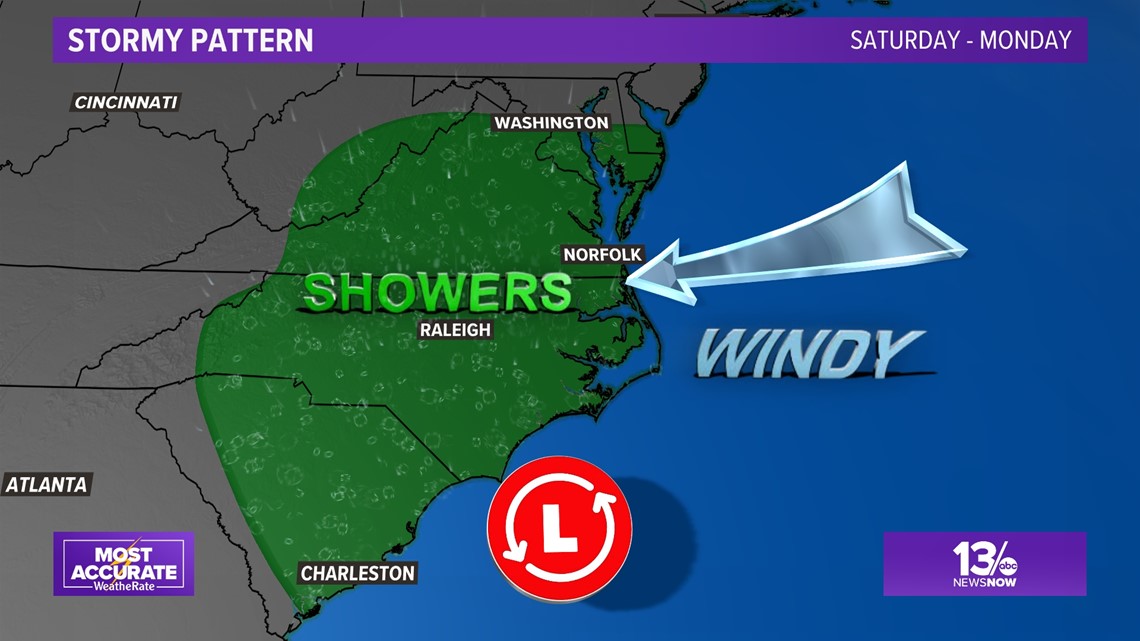 Red flags will be posted at area beaches, meaning dangerous rip current activity is expected. The rip currents will likely be stronger and more frequent and it is recommended to stay out of the water.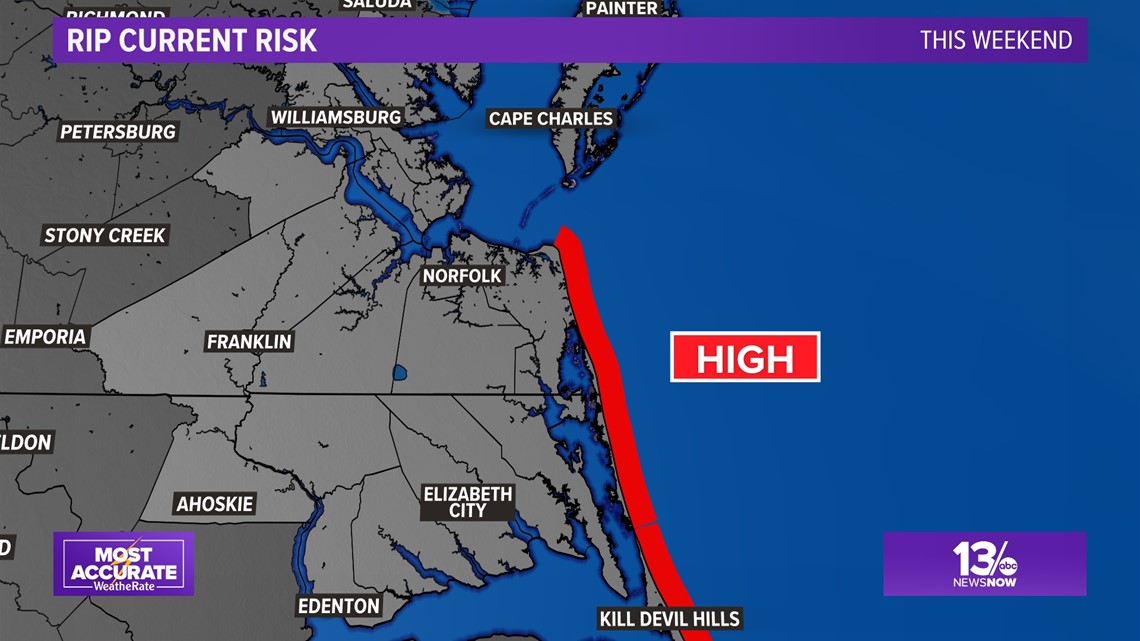 What is a rip current?
A rip current is like a shallow channel of water on the surface of the ocean. Rip currents are strong and can pull you out, away from the shore even if you are a good swimmer
If you are caught in a rip current, the first thing to do is remain calm and not fight it. The best escape is to turn parallel to the shore, and wade or swim until you are out of the rip current. Then move back toward shore at an angle away from the rush of water.
If you can float, you might even just relax and "go with the flow." Rip currents do not usually go out very far. Let the rip current carry you until it slows down a short distance offshore. Then swim toward the beach away from the rip current.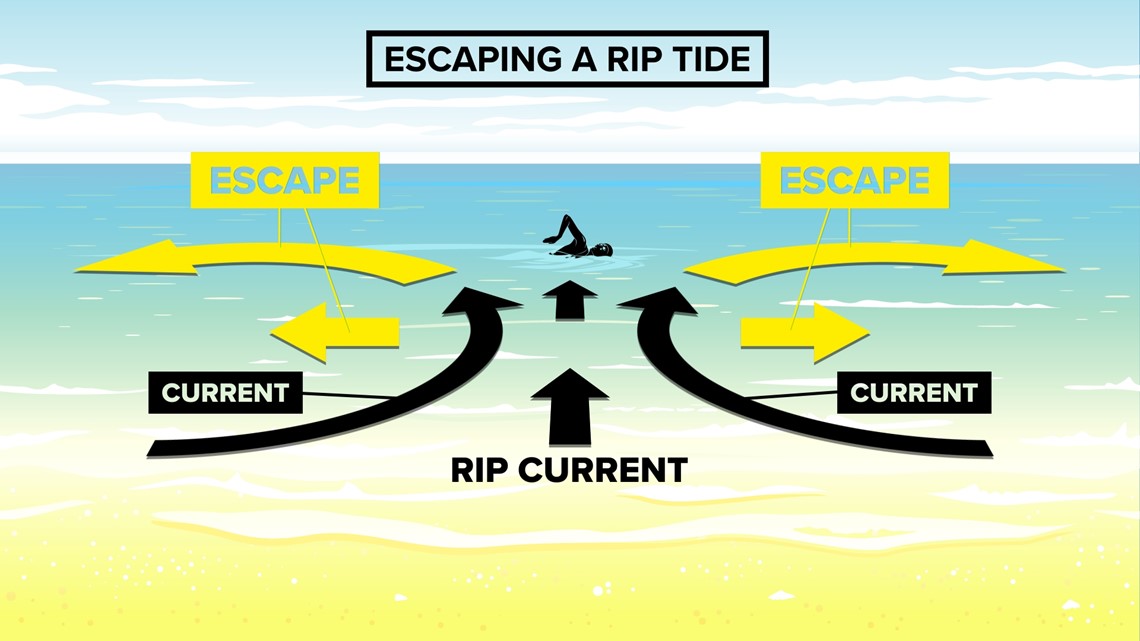 "If you look at the water and you think this looks really dangerous, it really is and don't get in it. Just don't," Chief of the Virginia Beach Lifesaving Service Tom Gill told 13News Now.
He said while rip currents are definitely a concern this weekend, the bigger concern to him is how rough the water will be in general because of the weather pattern coming through.
"It's not so much the rip currents, so much as getting swept off your feet and going laterally down the beach and, at some point, you're going to run into a pier or a jetty and that's when you're going to get into real trouble."
Virginia Beach lifeguards and firefighters have already had to make one rescue this season when three people were swept off a jetty into the water on Mother's Day weekend.
The National Weather Service said that the rip current threat will likely continue up and down the coast through the weekend.
"Today was to the point where it was so windy out there, we really couldn't even put lifeguards in lifeguard stands, we just put more people out on patrol," Gill said. "When you go out to the Oceanfront and there is big surf like that, but it's really rough and there's no surfers out there, you know that it's a tough day and you should not be entering the water."
While most area beaches will be staffed with lifeguards, staffing at some will still be at off-season levels, with only a roving patrol.
System to bring rain, gusty winds to Virginia
Wind will bring rain to the region as low pressure builds along the southeast coast of the United States. There will be a low risk of a shower Friday for North Carolina, but more showers are expected Saturday and into the holiday weekend.
The developing nor'easter will drift to the north and northwest. The question is how fast, and what exact track it will take.
Rain will spread north Saturday morning through North Carolina, then will enter Virginia and Hampton Roads.
Showers will likely arrive by the early afternoon on the Southside, by late afternoon to early evening on the Peninsula and up towards the Northern Neck and Eastern Shore.
Highs on Saturday will be in the upper 60s as well. Along with the clouds and the rain, it will be windy. Winds will gust from the northeast up to 40 mph.