ST. PETERSBURG, Fla. — Hurricane Bonnie is still chugging along in the Pacific Ocean as a Category 2 storm and continues to bring dangerous rip currents and rough surf to parts of southern Mexico's coastline.
As of 8 p.m. Wednesday, the National Hurricane Center said Bonnie was about 425 miles south-southwest of the southern tip of Baja, California, and packing sustained winds of 100 mph – with higher gusts. The storm was continuing its trek west-northwest at 14 mph.
While the storm has weakened some, little change in strength is expected through Thursday. Gradual weakening is forecast to resume Thursday night and continue through Friday.
Bonnie made landfall the night of July 1 as a tropical storm near the border of Nicaragua and Costa Rica, inundating the region with heavy rain. Bonnie is currently at Category 2 hurricane strength. As of right now, there is no threat to Florida or the United States from this system.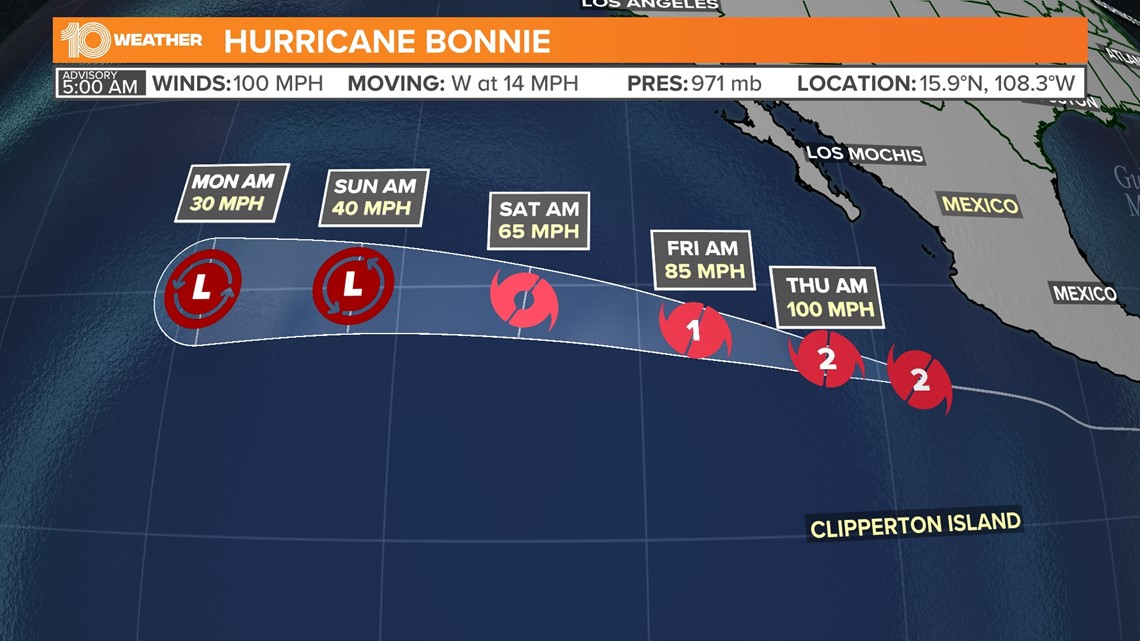 While people living along the southern and southwestern coasts of Mexico are being asked to keep an eye on the storm, there are not yet any watches or warnings in effect.
Hurricane-force winds are extending up to 25 miles from the eye of the storm, with tropical-storm-force winds reaching as far as 90 miles from the center.
In the next few days, Bonnie is expected to keep heading to the west-northwest but slow down slightly.
Early this week, Bonnie's outer rain bands could drench parts of southern and southwestern Mexico.

Bonnie is the second named storm of the Atlantic hurricane season. Bonnie is now in the Pacific but kept its Atlantic name because the storm held its circulation as it crossed over.