ST. PETERSBURG, Fla. -- Soggy days are ahead for a state known for its sunshine, and it could be the first time this year National Hurricane Center forecasters deal with something brewing in the tropics.
The bottom line: don't worry!
Forecasters, along with the 10News meteorologists, are keeping a close watch on a low-pressure system in the Gulf of Mexico. It's this broad area bringing Florida the mess of showers and storms, and it'll continue to do so over the next couple of days.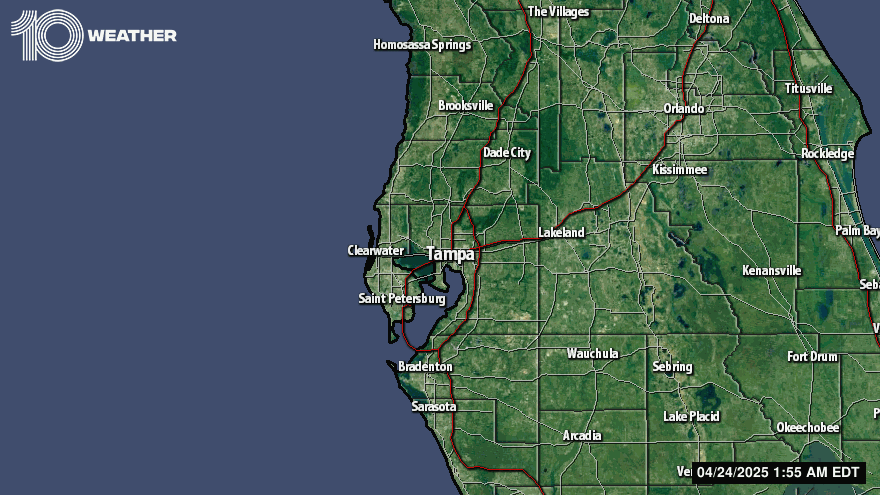 The hurricane center pegs the system at a 30-percent chance of development over the next two days and ups the chance to 40 percent through the next five days. That's not a high probability, but it's enough to talk about and watch.
Why? If it becomes a tropical storm -- and that's a big if -- with winds in excess of 39 mph, it will be named Alberto.
Related: 2018 hurricane names — is your name on the list?
More: Ahead of hurricane season, check your supplies, evacuation zone and more
More: Get severe weather alerts when they happen. Download the 10News app
10Weather
One of the key ingredients going against tropical development is the water temperature. For systems to flourish, forecasters want to see a temperature around 80 degrees at least.
Water temperatures in this area are about 75 degrees or less right now. If this system were to develop, it could become subtropical and not tropical in nature.
We're now talking inside baseball some but know this: the main impact from this system will be rain, some of it heavy at times on Monday, followed by rain chances throughout the week. In addition to showers and storms, this system could also bring periods of gusty winds.
10News meteorologist Grant Gilmore says that rainfall totals in Tampa Bay for the entire week will likely range between 2-4 inches. Most of the rain will fall on Monday and Tuesday with more widely scattered afternoon showers and storms through the second half of the week.
►Make it easy to keep up-to-date with more stories like this. Download the 10 News app now.
Have a news tip? Email tips@wtsp.com, visit our Facebook page or Twitter feed.