TAMPA, Fla. — Tropical Storm Alex officially formed in the Atlantic Sunday morning, now on its way to passing near or just north of Bermuda on Monday.
Miami firefighters responded to multiple calls for cars stuck in the water Saturday, as now Tropical Storm Alex pushed heavy rain across South Florida.
Meteorologists now expect it to continue with further acceleration to the northeast before gradually turning to the east-northeast and east between Monday and Tuesday.
Tropical Storm Alex is likely at its peak strength as it moves into an unfavorable environment. Expect weakening to start within the next 24 hours.

In the meantime, freshly upgraded Tropical Storm Alex is moving significantly faster than before, heading toward the east-northeast at nearly 28 mph. As of 11 p.m., it was packing maximum sustained winds of 70 mph.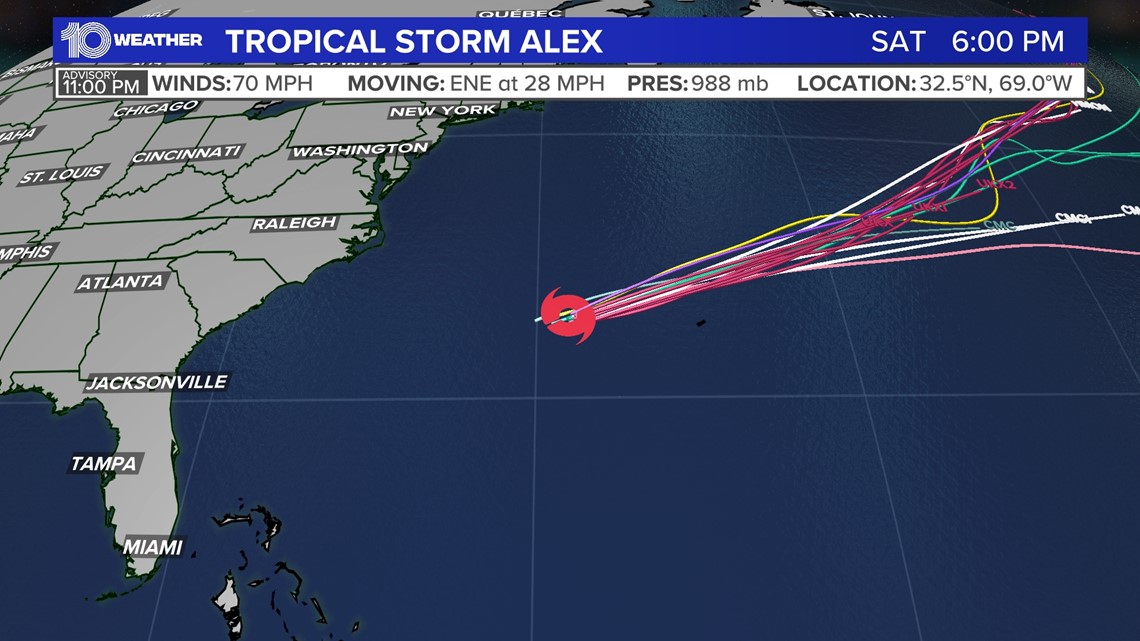 Tropical Storm Alex stems from the remnants of Hurricane Agatha.
The National Hurricane Center is still collecting data and doing additional model runs to get a better understanding of the system. The system is expected to bring heavy rainfall across Bermuda through Monday, producing 2 to 3 inches of rain.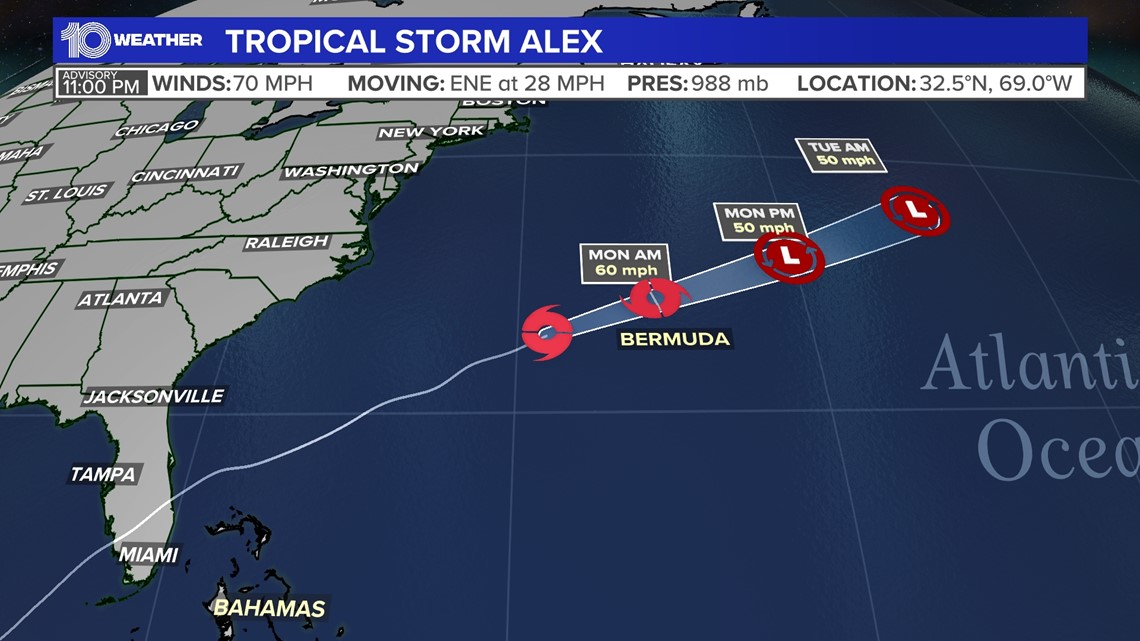 Videos out of Miami show cars stuck in the rainwater on the streets Saturday.
Watches and Warnings:
Tropical Storm Warning issued for:
Several precautions were taken ahead of time.
For instance, the U.S. Coast Guard on Friday set Port Condition Whiskey for maritime ports around Tampa. That signaled gale force winds (greater than 39 mph) were possible this weekend. In the Fort Myers area, some parks were closed and camping sites cleared out and evacuated.
Forecasters at Colorado State University updated their 2022 hurricane season forecast this week, calling for a "very active" season.
The updated forecast calls for 20 named storms, 10 of those being hurricanes and 5 of those being major hurricanes.
As we navigate through the start of what will possibly be another busy season, 10 Tampa Bay wants you to be prepared. Head to your Hurricane Headquarters at 10TampaBay.com/tropics for everything you need to know. And, download the free 10 Tampa Bay app for Roku and Fire TV for access to our Hurricane Hacks series to better prepare your family for a storm.