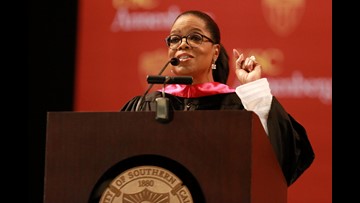 Leon Bennett, Getty Images
Oprah Winfrey is urging 2018 graduates to "be the truth" and "exemplify honesty."
The media mogul passed on these words of wisdom and more during an impassioned commencement speech for the University of Southern California's Annenberg School for Communication and Journalism Friday, which took aim at fake news.
"Everything around us, including and in particular the Internet and social media, is now being used to erode trust in our institutions, enter fear in our elections and wreak havoc on our infrastructure," she said. "It enables misinformation to run rampant, attention spans to run short and false stories from phony sites to run circles around major news outlets."
The good news, Winfrey said, is that upcoming leaders, like the graduates in the audience, have the power to change things.
"You will become the new editorial gate-keepers, an ambitious army of truth-seekers who will arm yourselves with the intelligence, with the insights and the facts necessary to strike down deceit," she said. "You can answer false narratives with real information and you can set the record straight."
More: Mindy Kaling confirms Oprah gives the most epic baby gifts, ever
More: Reese Witherspoon, Kerry Washington head to Hulu for 'Little Fires Everywhere'
She continued, "Use what you've learned to challenge the left, challenge the right and the center. When you see something, you say something. And you say it with the facts and the reporting to back it up."
She also urged the graduates to "see through" and "transcend" hysteria.
"That's how you overcome the sniping at one another, the trolling, the mean-spirited partisanship on both sides of the aisle, the divisiveness, the injustices, the out-and-out hatred," she said. "Use it. Use this moment to encourage you."
Watch the full video in the clip above.
Oprah Winfrey through the years
Who knew back in 1986 the world was witnessing the beginning of the 'Oprah Effect?' Oprah Winfrey, who could read and write before age three, was tapped to read the news on WVOL radio station by her senior year in high school in Tennessee. Here she hosts 'The Oprah Winfrey Show in its first season, 1986.
1/62
Already a newsmaker, Oprah Winfrey poses for USA TODAY in 1986. Her many successful pursuits in media, film, education, philanthropy as consumers and political clout helped propel her to become first African-American woman billionaire.
2/62
Television talk-show host Oprah Winfrey relaxes in her studio office following a morning broadcast in Chicago, in this Dec. 18, 1985 file photo. Winfrey came to Chicago in 1984 to WLS-TV's morning talk show, 'A.M. Chicago.' A month later the show was No. 1 in the market. A year later it was renamed "The Oprah Winfrey Show.'
3/62
Oprah also gets a starring role as the fiesty Sofia in the 1985 blockbuster 'The Color Purple.'
4/62
Oprah Winfrey is shown in her Harpo Productions office with USA TODAY newspapers in a 1987 file photo. Seriously she got a lot of USA TODAY ink in those days, a real newsmaker!
5/62
In ABC's Barbara Walters' 20th anniversary retrospective, she shares her best, worst and most unique moments with some of the world's most intriguing personalities. Walters interviewed of Oprah Winfrey on April 11, 1988. Winfrey has often said that Walters was a role model for her as a broadcaster.
6/62
Winfrey has always been open about her weight challenges. The world has watched her go up in down in her 25 years of broadcast. In this Nov. 15, 1988 Winfrey shows off her new figure during taping of her show in Chicago after she lost 67 pounds following a liquid diet and exercise.
7/62
Oprah Winfrey doesn't shy away from controversial hot topics. She gestures to the crowd at the Southwestern High School in Baltimore on Nov. 29, 1988, for quiet during the taping of her show on school violence.
8/62
Winfrey stands next to a Stairmaster exercise machine during her talk show in Chicago on Nov. 15, 1989. Although Winfrey said she's managed to keep most of her weight off by adhering to an exercise routine, she acknowledged she has regained 17 of the 67 pounds she lost the prior year.
9/62
The broadcaster continues to keep her acting chops in play as a shown in character in the ABC mini series 'The Women of Brewster Place.'
10/62
Oprah hams it up for the cameras after winning an Emmy for the outstanding talk/service show host during the 1992 Emmy Awards in New York.
11/62
She gets the big guests. Michael Jackson points out the sights to talk show host Oprah Winfrey at Jackson's ranch outside Los Olivos, Ca., in this Feb. 1993 file photo. Jackson was under investigation for sex-abuse allegations that he fondled a 13-year-old boy.
12/62
Oprah Winfrey is a mother raising her family in the hazardous world of a Chicago housing project and Maya Anjelou (left) is her mother, a precious representative of a generation that is not about to give up to fear and doubt, in 'There Are No Children Here.' Through the years Angelou remained a mentor and friend to Winfrey.
13/62
A thin again Oprah clutches her Daytime Emmy Award for outstanding talk show host, on May 25, 1994. Winfrey has won 17 Daytime Emmy awards. After winning the Lifetime award she withdrew her name from further considerations.
14/62
Winfrey talks with guests in Chicago during the Aug. 30 1995 taping of "The Oprah Winfrey Show" to launch her tenth season on national television.
15/62
Oprah Winfrey and her longtime companion Stedman Graham arrive at the 67th annual Academy Awards in Los Angeles. Winfrey has never been married.
16/62
Oprah Winfrey extends her top-rated talk show to cyberspace on Oct. 2, 1995 on America Online. The new service, "Oprah Online," features a live auditorium with Oprah answering questions from viewers.
17/62
Then First Lady Hillary Clinton, right, makes an appearance on Winfrey's television show on May 16 1995. The First Lady told the Chicago, Illinois audience that parents in particular and society in general must get more involved in child-rearing.
18/62
Ellen DeGeneres, left, playing character Ellen Morgan, discusses her fears about coming out as a lesbian with her therapist, played by Oprah Winfrey, during a taping of the show "Ellen" in this March 14, 1997 file image provided by Touchstone Television, DeGeneres herself came out as gay in an interview on Winfrey's talk show earlier in the year.
19/62
Schmoozing with Presidents is nothing new for (she met Richard Nixon while in high school) Oprah Winfrey shakes hands with President Bill Clinton after a program called The Presidents' Call to Action held at Independence Hall. Former President Gerald Ford (left), former President Bush and Nancy Reagan joined in. Nancy Reagan is at right.
20/62
When Oprah speaks people listen. Winfrey celebrates after a jury ruled in her favor in Amarillo, Texas, Feb. 26, 1998. A jury rejected a lawsuit by Texas cattlemen who claimed Winfrey's televised comments about mad cow disease caused the beef market to plummet and cost them millions of dollars.
21/62
Bill Cosby, right, hams it up with children on "The Oprah Winfrey Show" on Jan. 14, 1998, in Chicago. They were gathered to discuss Cosby's latest childrens books, "The Meanest Thing to Say," "The Treasure Hunt," and "The Best Way to Play."
22/62
Kimberly Elise and Oprah Winfrey in a scene from Touchstone Pictures 1998 film 'Beloved."
23/62
Muwaaaaaaah Republican presidential candidate Texas Gov. George W. Bush kisses Oprah Winfrey on Sept. 19, 2000,
24/62
'O The Oprah Magazine' inaugural issue hit the newstands for May/June 2000. Yes, she's featured on every magazine cover.
25/62
Oprah Winfrey is greeted by fans when she arrives at the last stop on her "Your Best Life" tour.
26/62
In this Dec. 6, 2002 image former South African President Nelson Mandela, right, and Oprah embrace during a ground breaking ceremony for the Oprah Winfrey Leadership Academy for Girls in Meyerton, South Africa.
27/62
On Dec. 22, 2002 Nelson Mandela is being briefed by his wife Graca Machel-Mandela, right, on the stampede that occurred during a Christmas party held by Mandela held at his home village of Qunu, in the Eastern Cape province. The party turned chaotic resulting from the stampede. Oprah Winfrey, center, expresses her concerns as she was jointly responsible in handing out the Christmas gifts together with the former President Nelson Mandela. The stampede led to many children being treated at Mandela's home as others were evacuated to a local hospital. Winfrey's best friend Gayle King looks on in the background.
28/62
Oprah's Book Club book titled "A Million Little Pieces" by James Frey, the discredited author who claimed the book non-fiction memoir account of his addictions, is displayed at a Borders Book store Sept. 26, 2005 in Norridge, Ill. Oprah has once again began to name living authors in her book club as the importance of having an Oprah book club logo on one's book is extremely good for sales.
29/62
Oprah Winfrey accepts the Bob Hope Award at the 54th Emmy Awards in 2002.
30/62
Oprah Winfrey, left, is escorted by fellow talk show host David Letterman to the opening night of Winfrey's Broadway play "The Color Purple" in a Dec. 1, 2005 photo, in New York, during the taping of "Late Show with David Letterman." The two buried the hatchet after a rift that lasted more than a decade. It is said that Oprah did not like being he butt of his jokes about her weight, book club wealth and mad cow comments.
31/62
Winfrey is inducted into the NAACP Hall of Fame at the 36th NAACP Image Awards at the Dorothy Chandler Pavilion on March 19, 2005 in Los Angeles.
32/62
Who can forget the moment Tom Cruise, expresses his love for Katie Holmes during a 2005 taping of the Oprah Winfrey show by leaping on her couch? Cruise had long been a crush of Winfrey's.
33/62
Oprah Winfrey and students cut the ribbon at the official opening of her Leadership Academy for Girls School at Henley-on-Klip, South Africa, on Jan. 2, 2007. Winfrey opened the world class school for poor but talented South African girls fulfilling a long-cherished dream and a promise to her hero, Nelson Mandela.
34/62
The 'Oprah Effect' goes into political action as Democratic presidential hopeful, Sen. Barack Obama, D-Ill., speaks and Oprah Winfrey reacts in support at a rally in Manchester, N.H. on Dec. 9, 2007.
35/62
Democratic presidential hopeful, Sen. Barack Obama, D-Ill.. gets a hug from Oprah Winfrey as his wife Michelle, left, looks on during a Dec. 8, 2007 rally, in Des Moines, Iowa.
36/62
Oprah makes a visit to Tom Cruise at his home in Telluride, Colo., on April 25, 2008, where Winfrey taped a one-on-one interview with Cruise for "The Oprah Winfrey Show."
37/62
Recipients of the 2010 Kennedy Center Honors, including from left, Bill T. Jones, Paul McCartney, and Oprah Winfrey, react to the President Barack Obama's introduction to McCartney, during a reception in the East Room of the White House on Dec. 5, 2010.
38/62
President Barack Obama and first lady Michelle Obama are pictured with Oprah Winfrey during a taping of 'The Oprah Winfrey Show' at Harpo Studios on April 27, 2011.
39/62
Kimberly Adams waits outside the Harpo Studios before the final taping of "The Oprah Winfrey Show" in Chicago, on May 24, 2011.
40/62
Oprah Winfreyis teary eyed as she receives her Honorary Doctorate in the faculty of Education from the University of Bloemfontein on June 24, 2011.
41/62
Rosie O'Donnell, left and Oprah Winfrey walk together outside Harpo Studios before the unveiling of a new sign outside Harpo Studios welcoming "The Rosie Show," to the studio on Sept. 15, 2011, in Chicago. "The Rosie Show" premiered on the Oprah Winfrey Network. Winfrey has tapped numerous experts in their field and given them a platform on her network, another extension of the 'The Oprah Effect.'
42/62
Oprah Winfre dances as she celebrates with students of the first graduating class at her South African girls' academy on Jan. 13, 2012, in Henley on Klip. Winfrey founded the $40-million school for girls in 2007.
43/62
Remember the first car giveaway on 'The Oprah Winfrey Show' when the audience went bananas as she shouted 'You get a car!' 'You get a car!' 'You get a car!' Everyone received a Pontiac G6 in Sept. 2004. It became a pop culture must see moment. Guess what's behind the scrim for final Ultimate Favorite Things edition of 'The Oprah Winfrey Show?' Volkswagen revealed the design silhouette of its all-new 2012 Volkswagen Beetle and then shocked her audience by giving each of them a 2012 Volkswagen Beetle.
44/62
Oprah Winfrey talks with Bobbi Kristina, daughter of the late singer Whitney Houston during an interview in Atlanta, Ga. The exclusive interview aired on the OWN network, Sunday, March 11, 2012.
45/62
A combo picture made on Jan.15, 2013 in Paris, shows Oprah Winfrey cycling champion Lance Armstrong. Lance Armstrong's reported admission to Oprah Winfrey that he used performance-enhancing drugs likely means he will go down in history as the most brazen drug cheat the sport has ever seen. The disgraced American cyclist's comments, reported Jan. 14, 2013 by USA Today, rewrite 14 years of deception and repeated denials that he used banned substances to win scores of international races, including the Tour de France seven times. His years of dominance in the sport's greatest race raised cycling's profile in the United States to new heights and gave Armstrong a platform to promote cancer awareness and research.
46/62
Oprah Winfrey, left, and Tyler Perry, executive producers of "Precious: Based on the Novel 'Push' by Sapphire," pose with Gabourey 'Gabby' Sidibe singer Mary J. Blige, right, onstage at the "Precious: Based on the Novel "Push" by Sapphire" screening introduction during the Toronto International Film Festival, on Sept. 13, 2009, in Toronto, Canada.
47/62
Oprah Winfrey as Gloria Gaines, left, and Forest Whitaker as Cecil Gaines in 'Lee Daniels' The Butler,' which led the field in the SAG awards nominations.
48/62
Oprah Winfrey, left, and "The Butler" director Lee Daniels share a laugh at the THR's celebration of power 100 women in entertainment breakfast, on Dec. 11, 2013, in Beverly Hills, Calif.
49/62
Oprah walks with Prof. Henry Louis Gates in the procession during commencement ceremonies at Harvard University in Cambridge, Mass., on May 30, 2013. Winfrey later received an honorary Doctor of Laws degree.
50/62
Oprah Winfrey plays Annie Lee Cooper in a scene from the motion picture "Selma."
51/62
'Selma' Director Ava DuVernay and Oprah hug it up at the Film Independent Spirit Awards at Santa Monica Beach, on Feb. 21, 2015, in Santa Monica.
52/62
Oprah Winfrey, along with members of the cast of 'Selma' walk down Broad St. towards the Edmund Pettus Bridge accompanied by thousands of participants in honor of Rev. Martin Luther King Jr. Day on Jan. 18, 2015 in Selma, Ala. In 1965, King led thousands of nonviolent protestors on a march through Selma to the state capitol in a historic Civil Rights demonstration.
53/62
Usher, center, appears with Oprah Winfrey as Will Smith, second right and Tom Cruise, right, celebrate during a star-studded double-taping of "Surprise Oprah! A Farewell Spectacular," on May 17, 2011, in Chicago. "The Oprah Winfrey Show" is ended its run May 25, after 25 years, and millions of her fans waited to see how she would close out a show that spawned a media empire.
54/62
Winfrey becomes emotional as Kristin Chenoweth performs and graduates of Moorehouse College who were sponsored by Oprah's largess stood on stage during the taping of the third to last Oprah Winfrey Show at the United Center on May 17, 2011. It's a wrap up production of her wildly popular daytime television program after a 25-year run.
55/62
Oprah Winfrey is embraced by her best friend Gayle King, left, and Maria Shriver on stage.
56/62
Another award for Oprah! Former President Bill Clinton applauds at left as President Barack Obama awards to Oprah Winfrey the Presidential Medal of Freedom, on Nov. 20, 2013, during a ceremony in the East Room of the White House.
57/62
Two mega successful entertainment producers Oprah Winfrey, center left, and television producer and writer Shonda Rhimes, right, embrace on stage during the W.E.B. Du Bois medal award ceremonies, on Sept. 30, 2014, on the campus of Harvard University, in Cambridge, Mass. The DuBois Medal is Harvard's highest honor in the field of African and African American Studies. Winfrey and Rhimes both received the medal.
58/62
Oprah Winfrey presents for Best Adapted Screenplay at 87th Academy Awards at the Dolby Theatre.
59/62
Banners hang outside Oprah Winfrey's Harpo Studios on March 4, 2015 in Chicago. Winfrey announced that she would be closing the facility which once housed her talk show but lately had been used for production of some of Winfrey's OWN network shows. The closing will eliminate about 200 jobs in Chicago as the existing production will migrate to the West Coast.
60/62
Executive producers Oprah Winfrey and David Shadrack Smith speak at the OWN: Oprah Winfrey Network premiere of the landmark seven-night television event "Belief" at The TimesCenter on Oct. 14, 2015 in New York. The series explores people and their diverse faiths.
61/62
Oprah Winfrey and Weight Watchers join forces as it's announced Winfrey purchased 10% share of the weight loss company on Oct. 19, 2015.
62/62
Copyright 2017 USATODAY.com