NORFOLK, Va. (WVEC) — The Catholic Diocese of Richmond said a well-known priest in Norfolk was on leave after he was accused of violating a code of conduct. The diocese said the allegations against Father Joseph Metzger, the pastor of Blessed Sacrament Catholic Church, did not involve sexual abuse.
On Sunday, a letter from Most. Rev. Barry C. Knestout, Bishop of Richmond, was read to the parish community.
The letter stated that Metzger agreed to take a leave of absence as pastor from the parish due to complaints received by the Safe Environment Office concerning his interactions with young people.
Knestout made it clear that no allegations of child sexual abuse have been made, The complaints did involve interactions that were not in keeping with the Code of Conduct with Minors that can be found in the Diocesan Safe Environment Regulations, but his exact actions that prompted the complaints were not reported.
The pastor at Holy Trinity Church in Ocean View, Very Reverend W. Daniel Beeman, V.F., was assigned as a temporary pastor to oversee Blessed Sacrament. Knestout also explained that the Diocesan Review Board and the priest personnel board will perform a careful assessment and consultation to determine Metzger's return to active ministry and in what capacity.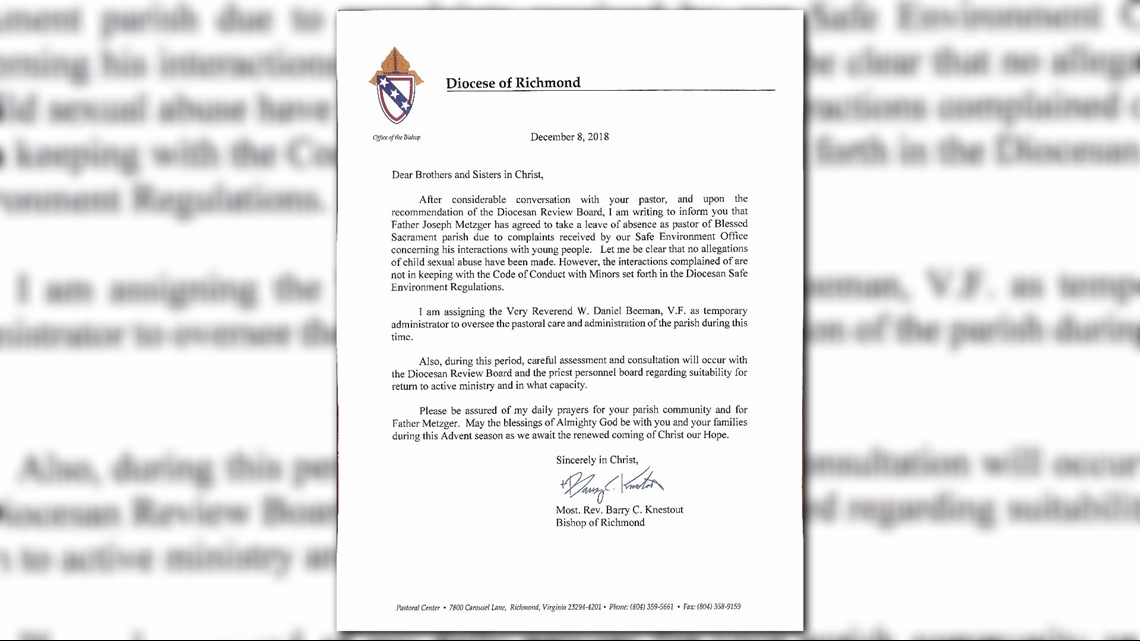 The Diocesan Safe Environment Regulation's Code of Conduct with Minors that Knestout mentioned in the letter provides chaperoning guidelines and states that during overnight retreats children should be supervised but their privacy respected. The code of conduct also mentions that physical contact with minors should be public, appropriate and nonsexual and that exposing a minor to sexually oriented or morally inappropriate materials is prohibited.
The code states that no form of physical discipline is acceptable. The full Diocesan Safe Environment Regulations including the Code of Conduct with Minors can be read below.