Just another day living in the tropics, I mean Hampton Roads. It feels like the tropics though, doesn't it?! Dew points today were once again well into the 70s and when you factor in air temperatures in the lower 90s we dealt with heat indices in the triple digits.
Those dew points indicate lots of available moisture in the atmosphere and when we get daytime heating forcing that hot, humid air to rise we typically get thunderstorms. With no big steering mechanism in the vicinity this leads to what storms do develop to be ones that slowly move. Of course, as we've seen the last several days this leads to the flash flooding potential.
Many areas have seen several inches of rain in the past week, this leads to saturated grounds and increases our risk even more. The threat will carry into this afternoon and even into Thursday as well. Here's a look at the excessive rainfall outlook for both today and tomorrow.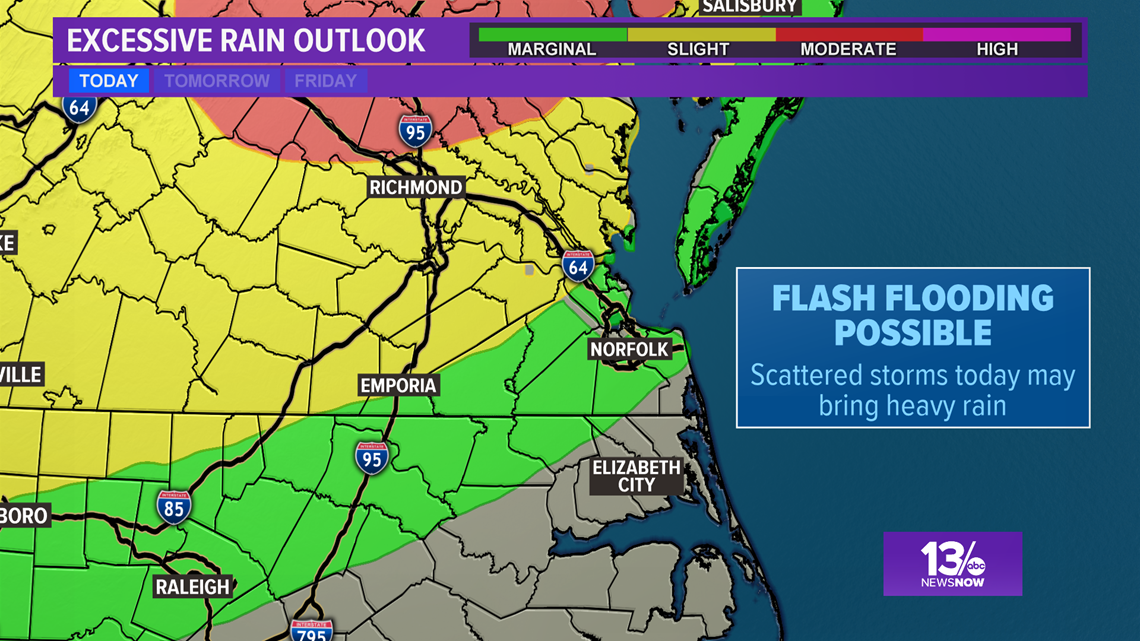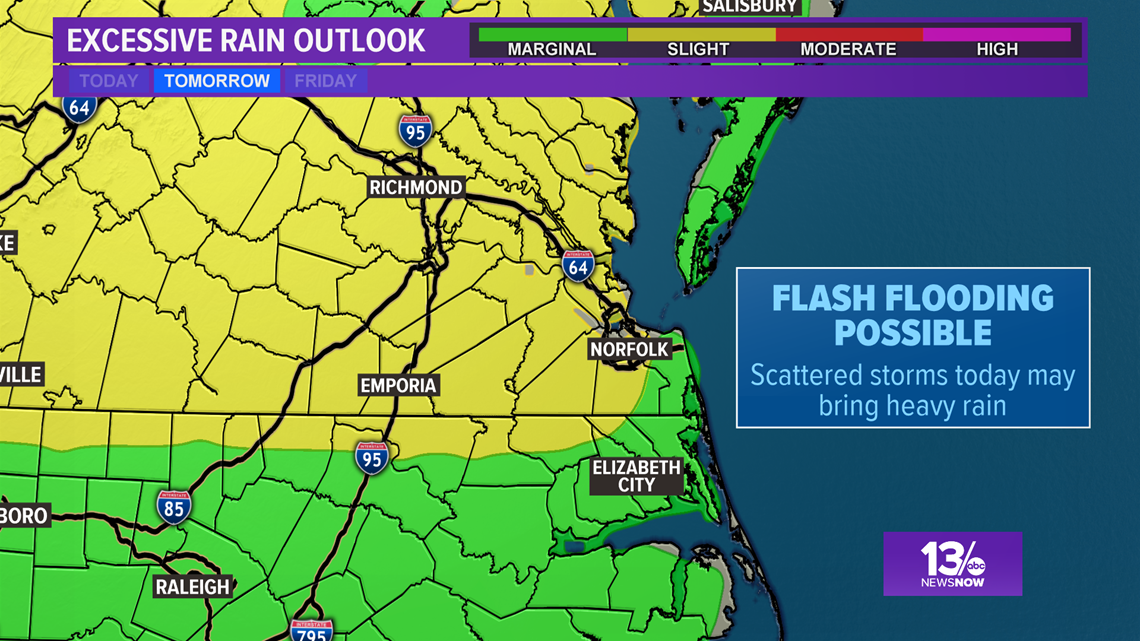 As the sun sets each evening we can expect any activity that does flare up to diminish quite rapidly. Overnight conditions will be very mild and extremely muggy. Areas that do see rain can look for some fog to develop as well by sunrise.
Thursday will be similar to today, hot and humid with more widespread afternoon storm chances. As mentioned above a slightly greater risk of flash flooding is possible.
By the weekend we keep the afternoon shower and storm chances in the forecast but air temperatures will be a little closer to average. This time of the year that average is 86°.
The tropical Atlantic features one system we are keeping our eyes on. Tropical Depression #11 which will soon be named Tropical Storm Josephine. It is forecast to strengthen and track north of the Leeward Islands this weekend. Right now, this does NOT look like a threat to the United States East Coast. Why? The storm's interaction with a front offshore will re-introduce wind shear and also lift the system north and eventually shove it east and well out to sea.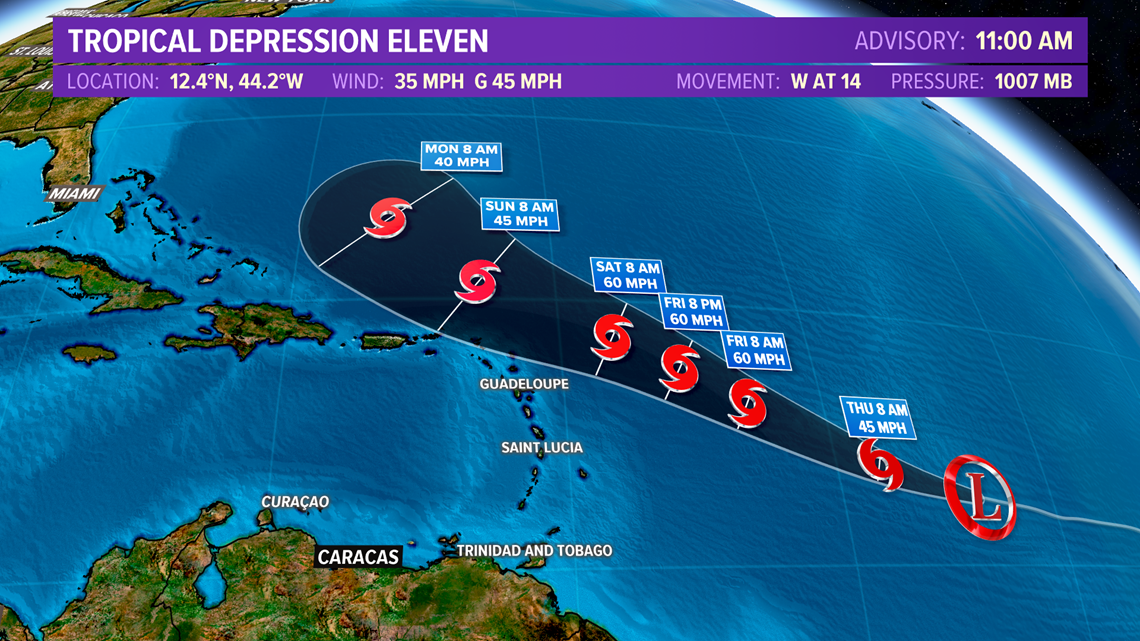 Models are hinting at this interaction already.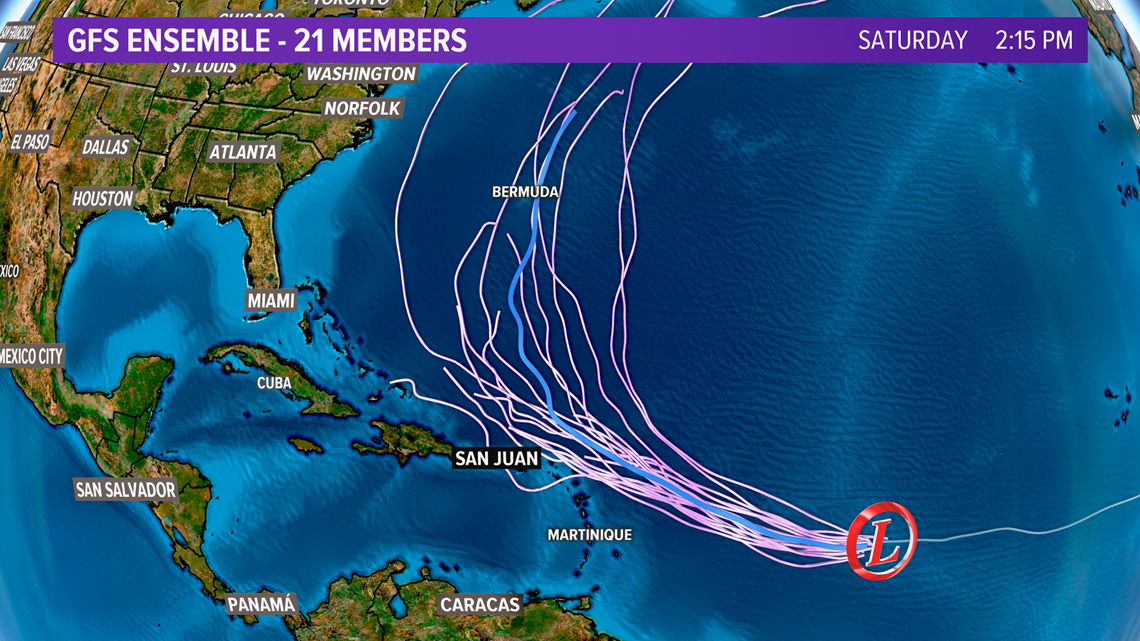 Despite a rather quiet basin at the moment we can look to the Eastern Pacific for a glimpse of what is to come. A large uptick in activity can be attributed to the enhanced phase of the Madden Julian Oscillation propagating through. This introduces large scale rising motion essentially making the environment much more conducive for storms to develop. This enhanced phase will pivot eastwards in the coming weeks and be in the Atlantic by the end of the month. We can look for an increase in activity there by then.