WASHINGTON, D.C. (WVEC) — Unite the Right demonstrators were largely outnumbered by counter-protesters at Sunday's rally in Washington D.C.
As roughly two dozen Unite the Right rally participants walked onto Lafayette Square, they were met by thousands of counter-protesters and loud chanting.
Counter-protesters and Unite the Right members stood across from each other, but law enforcement made sure there was plenty of distance between them.
Dozens of law enforcement and metal fences prevented any outbreaks of violence. Those opposing white supremacists chanted things like "shame," "Nazis go home," and "You're not welcome here."
Although counter-protesters shouted obscenities, the two opposing side were kept separate from beginning to end.
'People were too scared' | Unite the Right attendees vastly outnumbered by counter-protesters
The Unite the Right rally was scheduled to begin at 5:30 p.m. and last two hours, but the small group of demonstrators was in and out of the park. The rally was over within minutes of their arrival. Earlier in the day, Jason Kessler, the organizer of the Unite the Right rally boarded a train to D.C. with other demonstrators at the Vienna Metro Station in Virginia.
"Whether it's 15 or 1,500, I'm here to show that the First Amendment is not gonna die on my watch," said Kessler.
One counter-protester, Kan Zinn, lives in D.C. and decided to attend today to show white supremacists that their beliefs won't be tolerated.
"They're not welcome here. Their message of hate is not welcome here and the only thing we can do is stand up and say that they're not welcome and fight back," said Zinn.
PHOTOS: Unite the Right 2 rally in DC
Unite the Right 2 rally in DC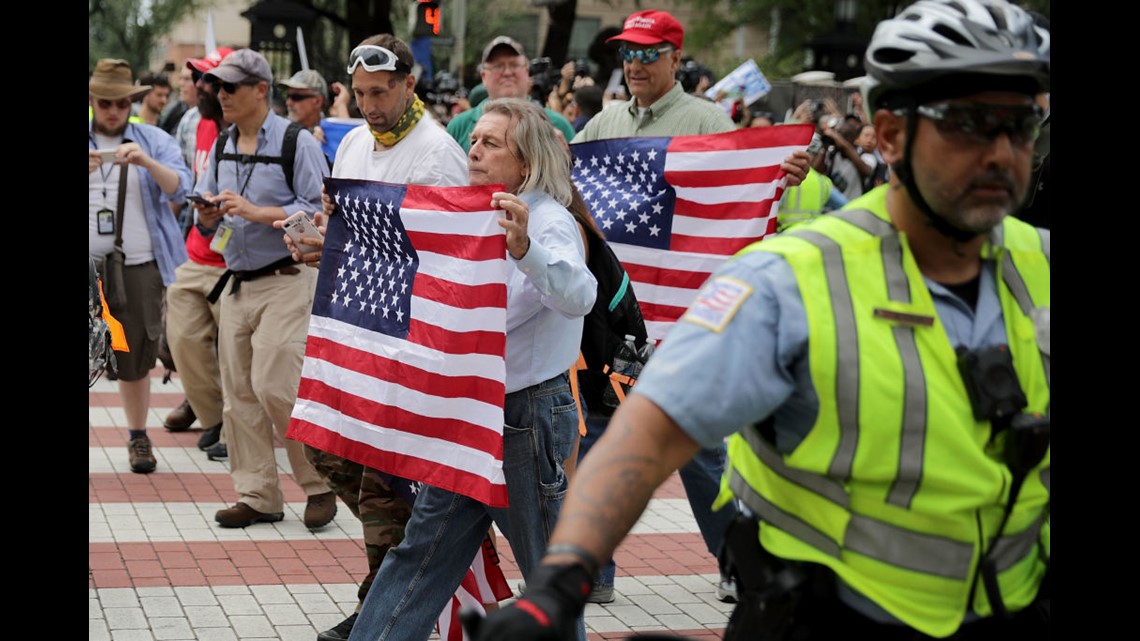 Another counter-protester, "Visto," said he was there for unity.
"Racism today... I'm personally out here just to show that I'm a part of togetherness and love and peace."
Another counter-protester Elizabeth McHale wore a helmet because she feared for her safety ahead of today's rally. Last year's violent rally in Charlottesville made her worry about how today would turn out.
"It's sad I'm coming out here to do the right thing and my mom and my husband and my aunts, they're worried about me dying today and I had to say goodbye to my daughter on the phone," said McHale.
But no injuries were reported. After severe lightning and rain hit the area, prompting many to begin leaving. And after Unite the Right demonstrators left in vans, counter protesters began celebrating as most of them cleared out.