NORFOLK, Va. — This year, this month, and this day specifically mark 13News Now's 70th anniversary.
For seven decades, WVEC-TV has served Virginia's Hampton Roads region and northeastern North Carolina with passion for people, in our product and in the community. It's been an honor to cover the big issues and events affecting the lives of our community.
As we look forward to the future, we'll continue to inform, connect, serve and celebrate the community of Hampton Roads, a place that has been so special for so many people. For those who have followed along over the years, here's a look at where we've been and where we're going.
1953: WVEC Channel 15 goes on air for the first time as an NBC affiliate
On Sept. 19, 1953, WVEC-TV was granted a license to broadcast on Channel 15, operating as an NBC affiliate. The station was founded by Thomas P. Chisman, a Hampton businessman who also owned WVEC-AM.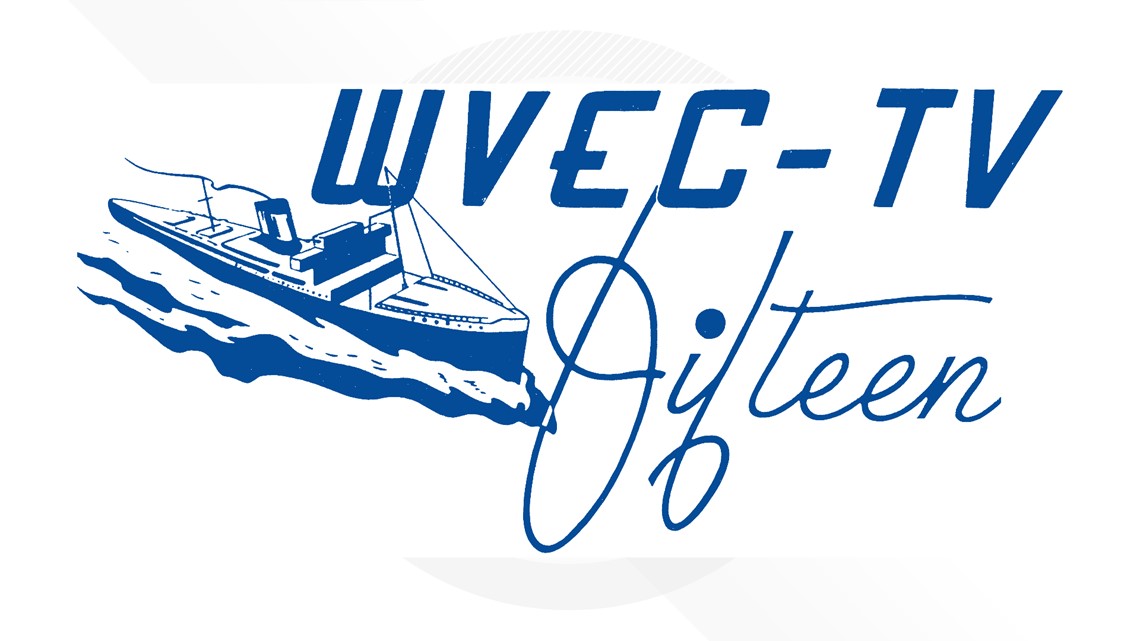 1959: WVEC begins broadcasting on Channel 13 as an ABC affiliate
On Nov. 13, 1959, WVEC Channel 13 officially signed on from administrative offices and studios on Pembroke Avenue in Hampton, making the move from Channel 15.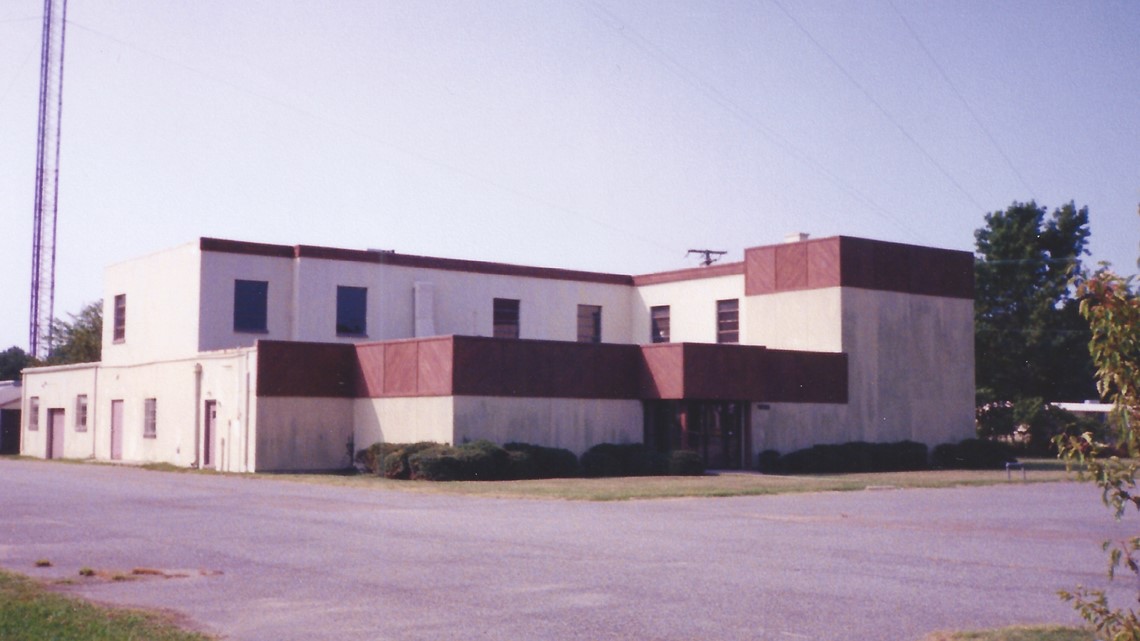 1959 was also the year that Bungles the Clown debuted on WVEC, a favorite with local kids until 1973.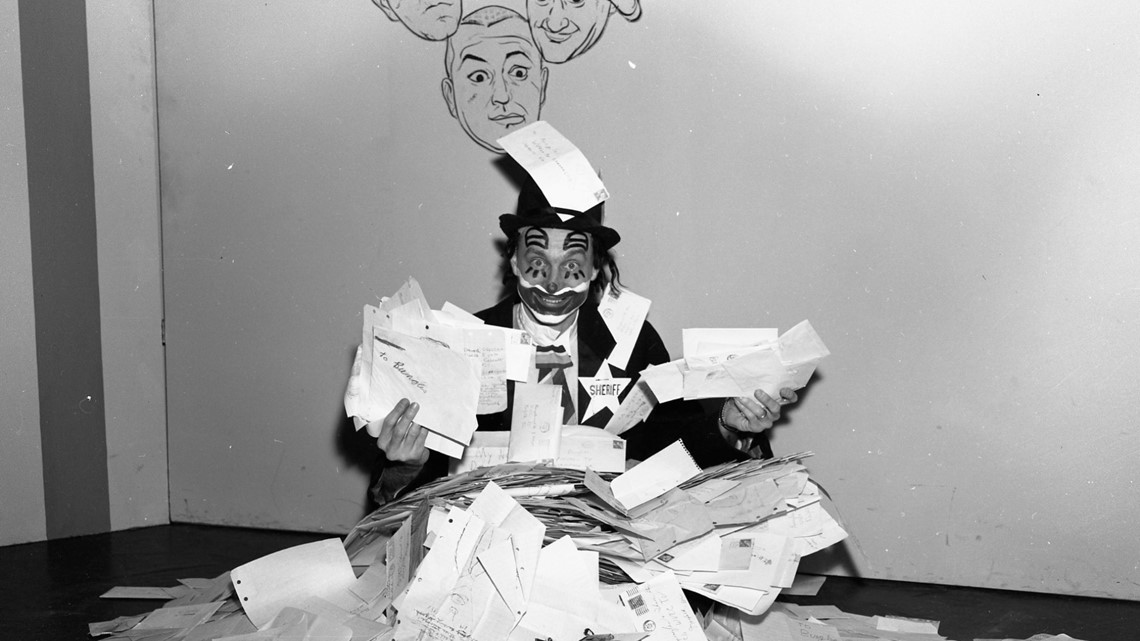 Jerry Sandford aka Bungles the Clown
1964-65: WVEC begins broadcasting in color, expands to cable
The 60s were a time of change at WVEC-TV as color television and cable were expanding. To continue providing our viewers with the best product and service, we began to broadcast in color and became available on cable.
1980-84: A change in ownership
WVEC had a few changes in ownership in the first half of the 1980s. Corinthian Broadcasting bought WVEC in 1980, and four years later, the Belo Corporation bought the station from Corinthian.
1997: WVEC launches "Local News on Cable"
From 1997 to 2010, the channel offered 24-hour local news from WVEC and the Virginian-Pilot, in partnership with Cox Communications. It started out on Cox Channel 4 before moving to Channel 5.
"Weekdays from 7 a.m. to midnight, LNC also provides weather updates every half hour with live radar images from WVEC-TV's powerful SkyMAX 13 system and forecasts from the station's expert meteorologists," the 1999 version of the LNC website reads.
1998: WVEC.com makes news content available on the internet for the first time
Less than a decade after the invention of the World Wide Web in 1989, WVEC embarked on a journey using a medium that forever changed how people get their news. While the internet was more limited in 1998 than it is now, WVEC.com took the outlet's news beyond the television screen and onto the computer screen for the first time.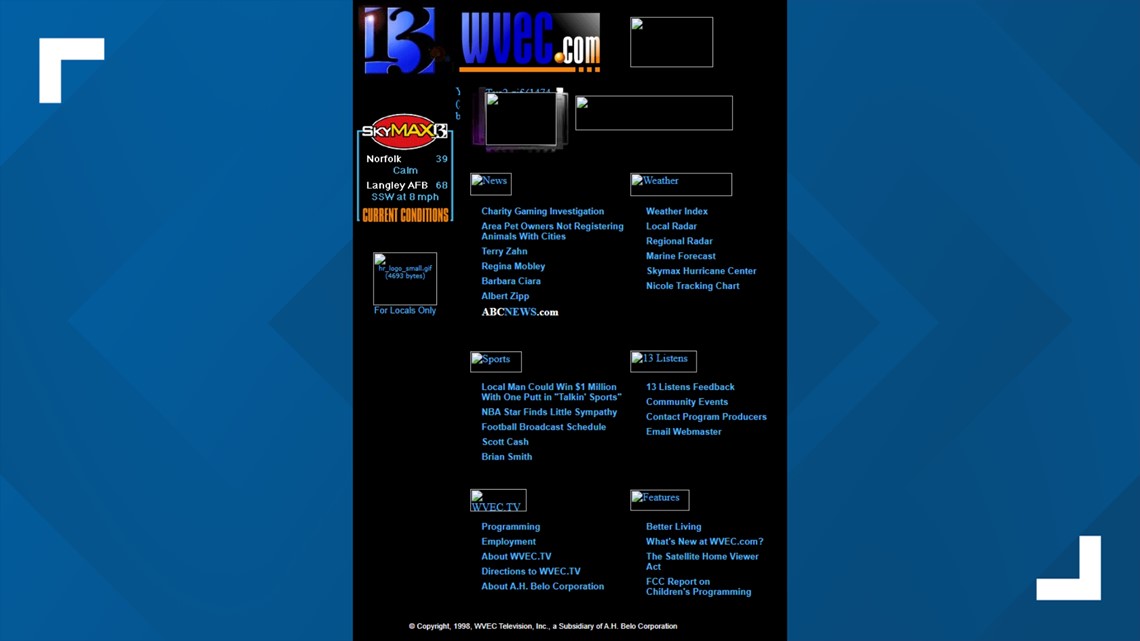 2008: WVEC begins broadcasting newscasts in widescreen
WVEC moved from 4x3 to 16x9 video to adapt to high-definition digital television screens that were taking off at the time. But this change wasn't true high definition. That didn't come until 2013.
2010: WVEC launches an app for mobile devices
While the rise of the internet in the 1990s was big, the 2007 launch of the Apple iPhone, and the subsequent launch of the App Store a year later, paved the way for news outlets big and small to reach people in new and pocket-sized ways. WVEC joined the mobile app revolution in 2010, allowing people to access local news, weather, traffic and more on their smartphones.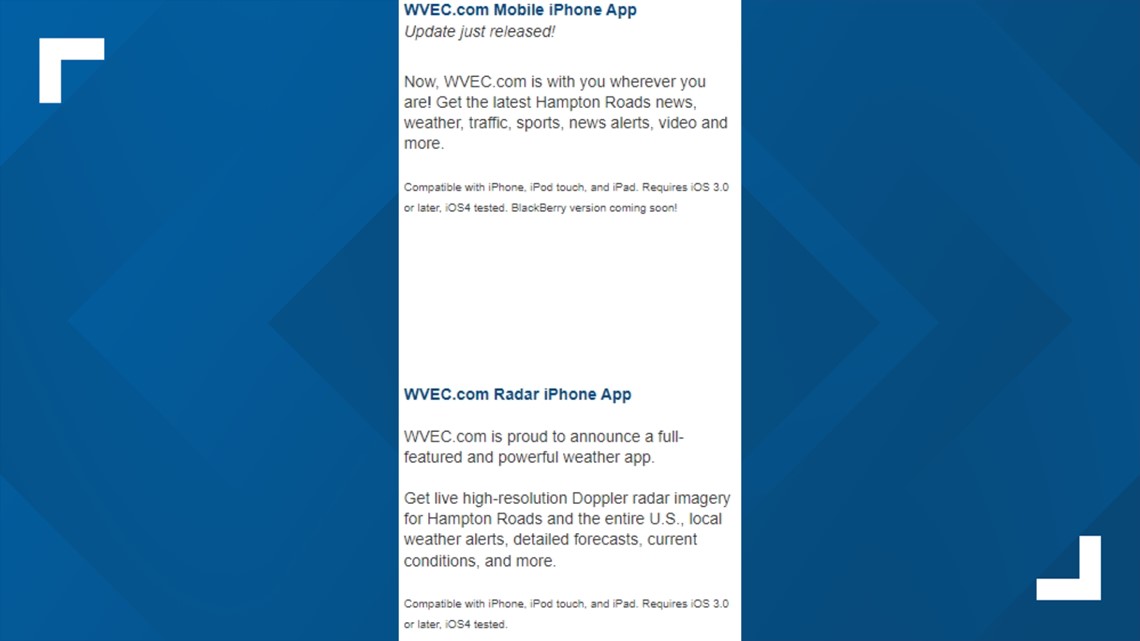 2013: WVEC brands itself as 13News Now
Around this time, WVEC was bought by Gannett, the company best known for owning the national newspaper USA Today along with local newspapers and television stations across the country, at the time. Two years later, Gannett spun off its broadcast branch into a new company, TEGNA, which WVEC is still a part of today.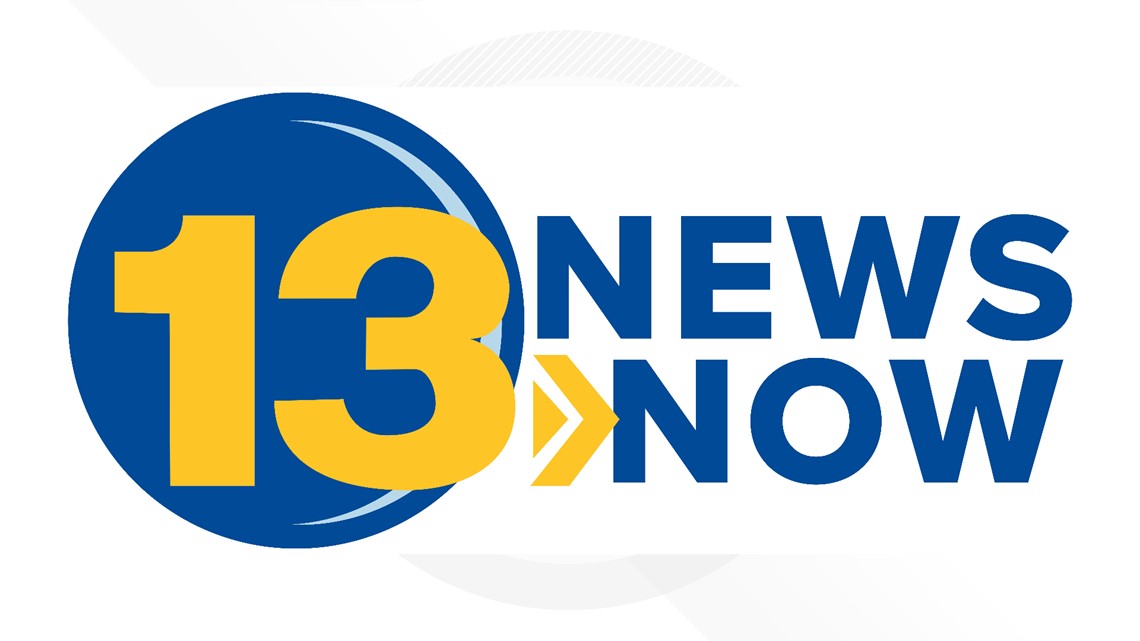 2020: 13News Now adjusts to remote newscasts amid the COVID-19 pandemic
Social distancing, newscasts produced from home and anchors doing shows from home...these are some of the ways 13News Now, and the news industry as a whole, had to adapt as COVID-19 swept the world in 2020. The pictures below show 13News Now's Philip Townsend anchoring from his living room and Dana Smith reporting on air from her home.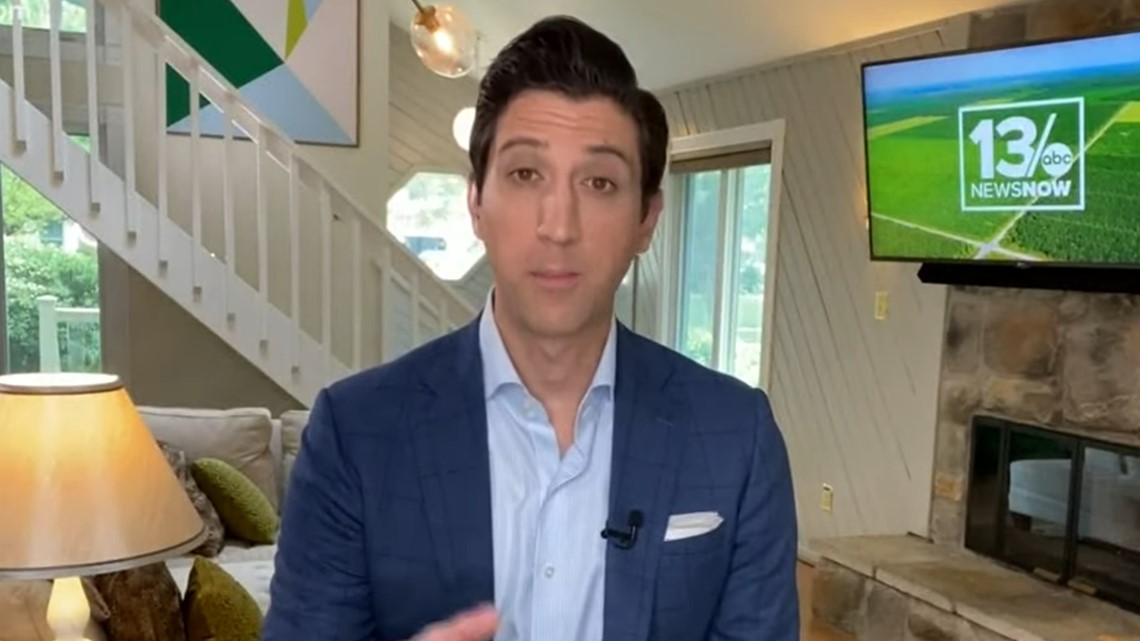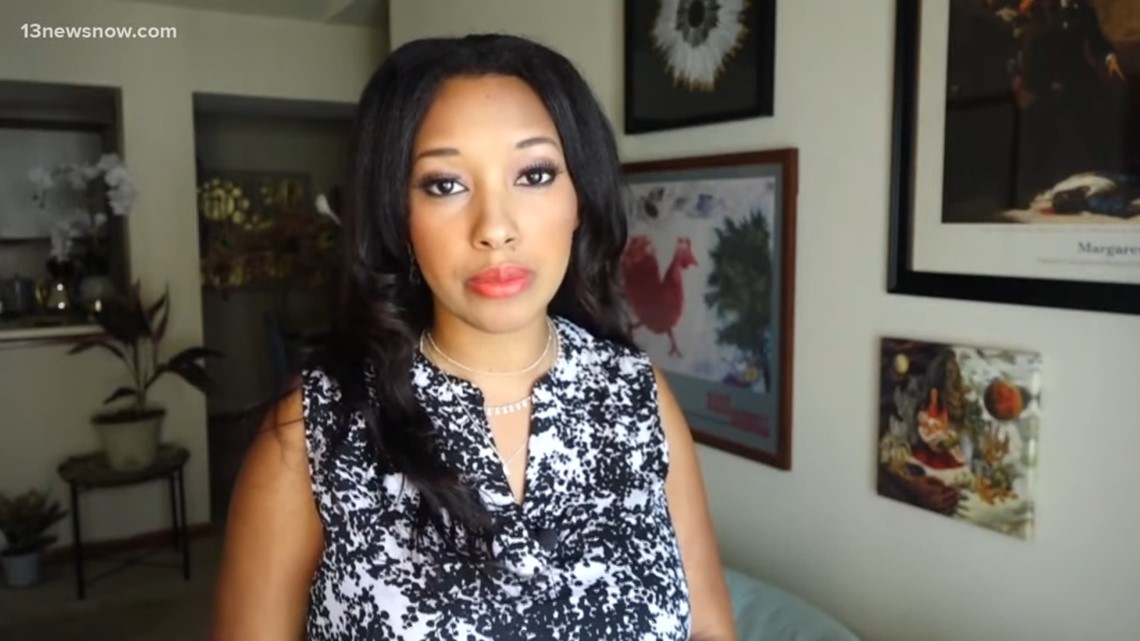 2023: 13News Now celebrates 70 years on the air
The world has changed so much since 1953, and we've been there every step of the way, recording the history-making moments in the place we call home, but none of this would be possible without you. Without loyal viewers watching and sharing with us, we wouldn't have been able to tell the stories from then to now.
WVEC Technology through the years