​VIRGINIA BEACH, Va. (WVEC) -- A supervisor with Virginia Beach Animal Control said a dog that attacked a woman in her 90s on May 31 was euthanized. The woman died.
The supervisor told 13News Now that the Patterson family signed paperwork surrendering "Blue" the Pit Bull to animal control.
Police said June 8 that they executed a number of search warrants on June 7 related to the case. They did not say where officers and members of the Virginia Beach Enforcement Unit executed the warrants or what they hoped to find.
Officers received a report about the attack on Bunker Hill Lane in Pembroke Manor shortly after 7:30 p.m. on May 31.
When police got to the neighborhood, they found the victim who had life-threatening injuries.
The woman's granddaughter, Amber Patterson, told 13News Now the attack was gruesome and bloody. She said her grandmother was walking into her room when the dog pushed her over and mauled her.
The attack lasted about five minutes. Patterson said her mother tried hitting the dog with a hammer to get him to stop, but that didn't work. It wasn't until her grandmother stopped screaming and crying that the dog stopped attacking.
Patterson told 13News Now her grandmother went through several surgeries, including an arm amputation, Wednesday night. She said the family thought she'd survive after the operations.
"To know she just adopted a dog and it turned out to be this vicious to her, that was very shocking," said Lydia Walther, Patterson's neighbor.
Walther has known her neighbor for 15 years.
"Very nice lady. She's very independent and even goes out for her exercise everyday with her walker," said Walther.
Just spoke to victim's granddaughter-she says attack lasted about 5 mins, but it was extremely gruesome #13NewsNow https://t.co/3VbgLxWQQk

— Chenue Her (@ChenueHer) June 1, 2017
Blue was a 1-year-old American Pit Bull Terrier that weighed 50 pounds.
Patterson told 13News Now they were able to see and play with Blue prior to his adoption from Forever Home Rehabilitation Center and that he seemed like a good fit for the Pattersons. Blue showed no aggressive tendencies. It was when they brought him home and took off his shock collar that he attacked.
Granddaughter says they adopted the dog yesterday...no signs it was aggressive until they took the shock collar off. #13NewsNow

— Chenue Her (@ChenueHer) June 1, 2017
Victim's granddaughter showed me adoption page of the dog...this is the description on the website. #13NewsNow pic.twitter.com/ok3dSS5J1a

— Chenue Her (@ChenueHer) June 1, 2017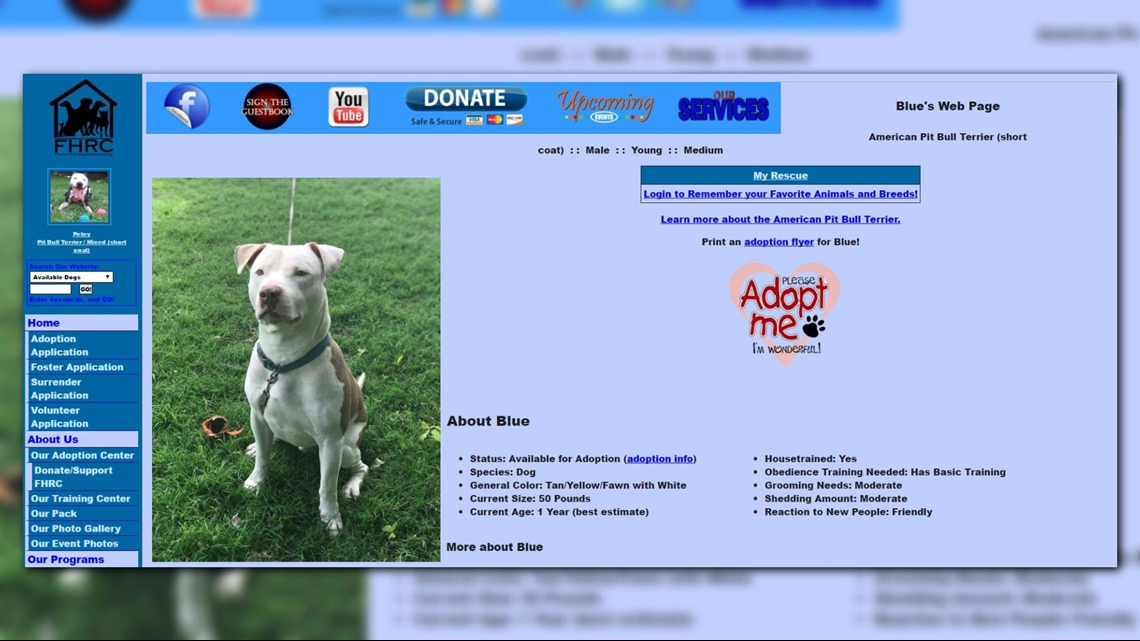 Forever Home Rehabilitation Center provided 13News Now with this statement:
We send out our deepest condolences to the Patterson family who adopted Blue. Blue went through our 3 month board and train program, and was a favorite amongst all of the staff members and volunteers. Blue loved other dogs, and didn't know a stranger. He never showed any aggression while at our training facility, and passed his final evaluation with flying colors before being adopted out to the Patterson family. Trainers spent yesterday morning checking over Blue's new home and going over training with Blue's new owner. There were 2 other dogs in Blue's new home, who Blue immediately bonded with. We do not know what events transpired in the moments before this tragedy occurred with Blue's owners mother, and none of us could have ever predicted this horrible event. We are devastated for the Patterson family and our thoughts and prayers go out to them.