Virginia Beach Human Rights Commission member announces he'll resign after special meeting
After city leaders said it's no longer appropriate for him to serve, Human Rights Commission member Kenick El said he'll resign after the Oct. 31 special meeting.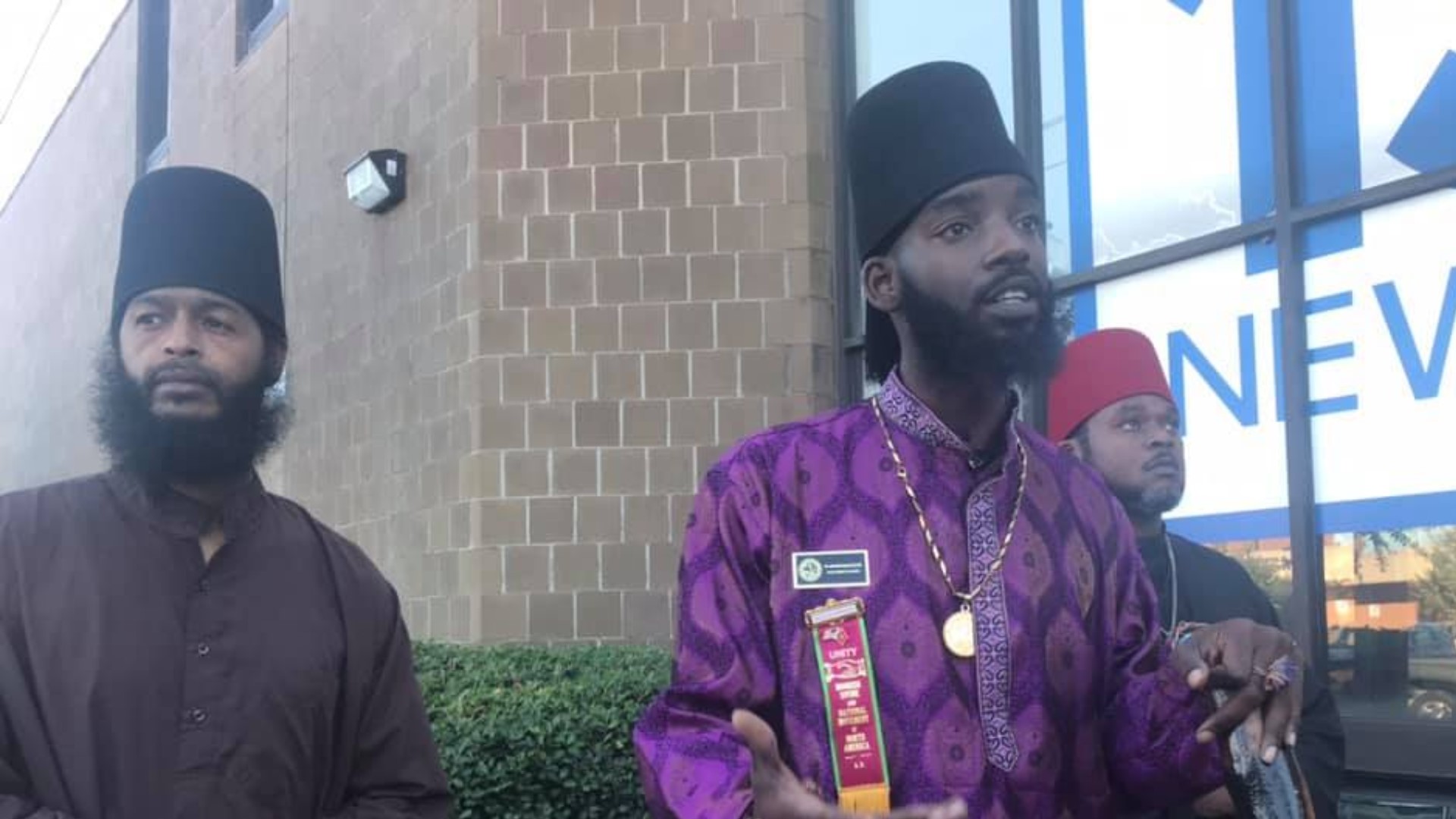 After a week of controversy, a human rights commission member announced he will step down following a special meeting.
A representative for Kenick El told 13News Now that El decided he will resign after a special meeting scheduled for Thursday, October 31.
The announcement comes after calls from LGBTQ+ groups, city leaders and Congresswoman Elaine Luria called on El's resignation or removal from the commission.
Here's how it all played out:
Tuesday, Oct. 22
:
Story breaks
13News Now broke the story on Tuesday that El, a member of the Virginia Beach Human Rights Commission made comments and posts on his personal Facebook page calling homosexuality a "mental illness" and an "abomination."
The posts came after the Human Rights Commission recommended that Virginia Beach City Council members should ask the state general assembly to ban gay conversion therapy.
The posts and comments came after he shared a news story about a transgender woman convicted of sexual assault of a 10-year-old girl in a bathroom.
The initial post said, in part:
This is why we need to stop giving men in dresses passes. I have daughters and I won't accept them sharing a restroom with a grown man suffering from this mental illness. Men trying to be women and women trying to be men is really confusing our children and I'm tired of seeing this nonsense promoted to our children.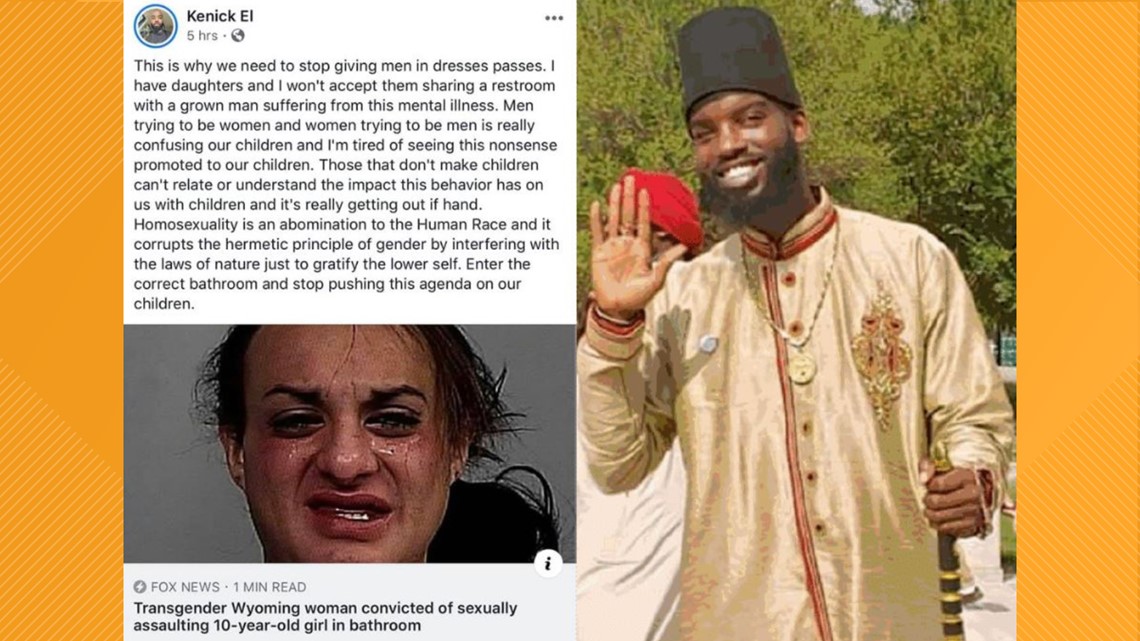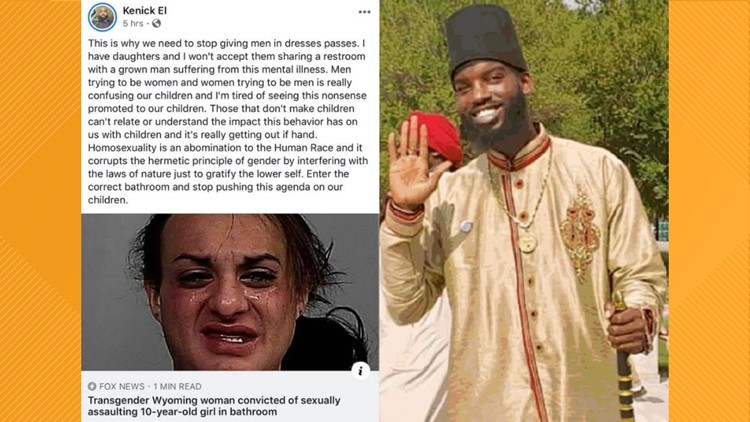 After people challenged his post he wrote "Homosexuality is a mental illness and should be treated as such."
El added, "Homosexuality is an abomination to the Human Race and it corrupts the hermetic principle of gender by interfering with the laws of nature just to gratify the lower self."
In a phone interview with 13News Now on Tuesday, El said the posts were his "personal views" and do not reflect the position of the Virginia Beach Human Rights Commission.
He said he "loves everyone" even though he may "disagree" with another person's sexual orientation.
Human Rights Commissioner Posts About Homosexuality and Transgender Community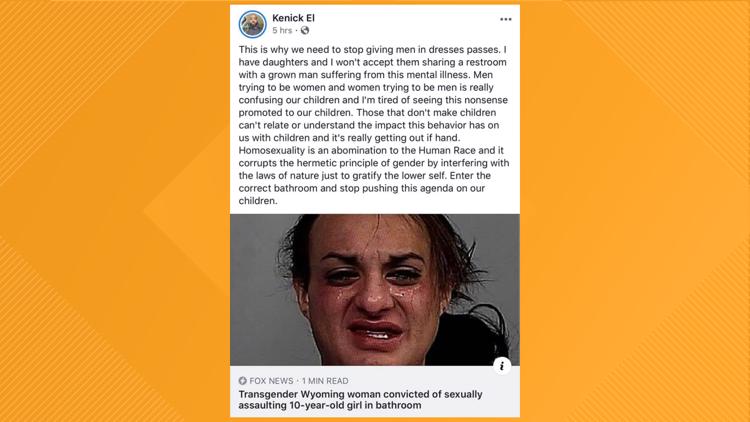 Sylvia Nery-Strickland, Chairwoman of the Virginia Beach Human Rights Commission, said in a statement:
Brother Kenick El is speaking as an individual and does not speak on behalf of the Human Rights Commission (HRC). We are a commission, appointed by and serving at the pleasure of City Council. The HRC is a very diverse group of individuals who come together for the common good and equality for all. However, each commissioner has individual beliefs, and we do not always agree. I personally do not agree with the postings and other commissioners have contacted me and they do not agree as well, but rather support and value our fellow LGBT commissioners, family members, friends and supporters.
But LGBTQ+ groups in the community immediately denounced his statements and asked for him to step down.
On Tuesday, Hampton roads Pride sent the following letter to Virginia Beach City Council.
Wednesday, October 23
:
LGBTQ+ Groups call for resignation
On Wednesday, more groups began to call for El's resignation, but he stood firm that he could still protect the Human Rights of all people.
El said the situation had been "blown out of proportion."
"I don't intend on quitting or resigning. I definitely understand people's different perspectives and their right to express their views and communicate how they feel," El said.
The LGBT center called for El's removal from the commission with the following statement.
LGBT Life Center CEO Stacie Wall said his comments were "hurtful" to many people.
"I do feel like the leadership of Virginia Beach should remove him from the Commission," she said. "I am confused about how somebody who has those personal beliefs is appointed to a commission whose primary mission is to show dignity and respect to the citizens of Virginia Beach."
Even more call's for his resignation came from the LGBTGAI Interfaith Group, Hampton Roads Business OutReach and PFLAG Hampton Roads.
Hampton Roads LGBTQAI Interfaith Group wrote a letter to Mayor Bobby Dyer.
"We believe that the statements and opinions expressed by Commissioner El, personal or not, if left unchecked without consequence, will contribute to and foster a climate of folks in our LGBT+ community feeling unsafe and unable to trust in our elected and appointed leaders," the letter read. "Therefore, we call for the immediate resignation of Commissioner El from the VBHRC and/or upon you, as our elected and trusted Virginia Beach City leaders, to remove Mr. El from the Commission."
A similar call came from Hampton Roads Business OutReach.
The group issued a statement which said:
We call on the VBHRC to remove Kenrick El from the commission in an effort to restore legitimacy in the organization.
The statement said in full:
Mayor Dyer also received a letter from David Dorbad of PFLAG Hampton Roads that said:
Congresswoman Elaine Luria stands by the LGBT+ community.
In a statement, she said:
I reject these abhorrent and regressive views, and I stand with our LGBT community. This rhetoric is not reflective of the values of Virginia Beach. To the children of Hampton Roads forced this week to feel shame for who you love and how you identify: Please know your Congresswoman stands with you.
Thursday, Oct. 24
:
City Council, LGBTQ+ groups hold press conference
On Thursday, city leaders and LGBTQ+ groups held a press conference calling for El's resignation and denouncing his comment.
Mayor Dyer read a statement signed by all but two members of city council that said it was "no longer appropriate" for El to serve on the commission.
Sabrina Wooten and Louis Jones were the two councilmembers that did not sign the letter.
13News Now asked Councilmember Wooten why she didn't sign the letter. She responded with the following statement:
It was my understanding that there would be a scheduled meeting on Tuesday, October 29 to discuss this very unfortunate circumstance and bring a permanent resolution to this matter. Hence, I felt it would be premature (with 3 business days prior to the City Council meeting amid fueling additional social media chatter) to sign a statement without addressing all of the necessary parties to include the Human Rights Commission, Mr. Kenick El and my colleagues on City Council. In the same manner, I did not want to let my initial reaction dictate my response rendering a knee jerk reaction. History has demonstrated to us that this is not always the best way to respond. Accordingly, I look forward to conferring with my colleagues on City Council on Tuesday, October 29 to provide an official response to Mr. Kenick El as this is a confidential personnel matter that requires a consensus of the body.
Thank you for your kind consideration. I appreciate your patience in this matter.
Dyer also called on the Human Rights Commission to hold a special meeting on October 31 to discuss El's future on the commission.
After the press conference, El sent a statement to 13News Now that said:
Sometimes it's better to listen and learn the perspectives of others. Those two things make us better servant leaders. The concerns and feelings expressed by so many I am committed to serve do weigh very heavy on me tonight.
I hear our communities and I remain committed to serve and to human rights, as I always have been. I look forward to talking about this commitment tomorrow and appreciate everyone's feedback. Please know I am listening, and hope it will make for a better dialogue moving forward.
Friday, Oct. 25
:
El announces plan to resign
On Friday, it seemed El changed his mind. The representative for El told 13News Now on the phone that El said he would resign following the special October 31 meeting Mayor Dyer called for on Thursday, October 24.
From its inception, the Virginia Beach Human Rights Commission had these duties, powers, and functions:
To institute, conduct and engage in educational and informational programs for the promotion of mutual understanding and respect among citizens, and the fulfillment of human rights.
To serve as a forum for the discussion of human rights issues, and to conduct studies and propose solutions for the improvement of human relations in the City.
To provide assistance to persons who believe their rights have been violated by identifying the appropriate federal, state or local agency to address the complaint and referring such persons to that agency.