NORFOLK, Va. (WVEC) — A new report revealed some stunning information less than a week before Election Day. Researchers looked at every state in the country and found Virginia is the second most difficult state, in which to vote.
The in-depth study examined 20 years' worth of data about laws, dating back to the 1996 presidential election. The researchers concluded 48 other states make it easier than Virginia for voters to cast their ballot.
Voting is a guaranteed right of being a U.S. citizen, so you think it would be easy to cast your ballot and make your voice heard. In some states, that's the case; in recent years, legislators have worked to change laws to make it easier to vote.
According to researchers, Virginia is not one of them.
"Virginia has fallen as far as the ease," said Michael Pomante, who is the co-author of the Cost of Voting Index. "They are now the second most difficult state to vote in."
He explained some of the factors in the Commonwealth's ranking include:
Voters needing to be registered about three weeks before the general election
There's no early voting in the state
You need an acceptable excuse to vote absentee
You're required to show a photo I.D. to vote in-person.
"We find that states that have more difficult or more costly voting policies, fewer individuals actually show up to vote," Pomante relayed.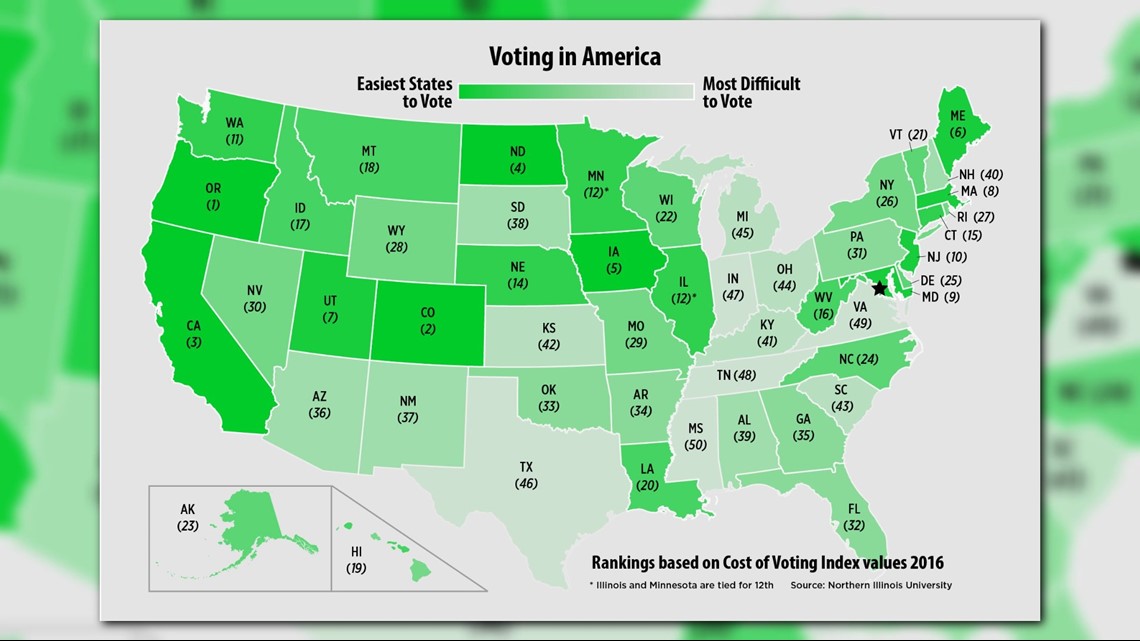 For those who vote in North Carolina, the Tar Heel State came in at 24, but one law could have drastically brought down that rank.
"In 2016, North Carolina tried to pass a strict voter I.D. law that was struck down as unconstitutional," Pomante told us. "Had that law gone into place, the voting in North Carolina would have become more difficult."
The study reported there are real consequences for this issue.
"Our legislators only listen to the groups of individuals that show up on Election Day," Pomante explained. "So, if you're not showing up on Election Day, you don't have a voice and your legislators aren't going to listen to what you want."
Virginia did get credit for implementing online registration back in 2013. Pomante added it is possible for the state to move up in the ranks, if new laws are passed to make voting easier.