NORFOLK, Va. — A new report details Coastal Virginia's risk and susceptibility to future hurricanes as a result of changing weather patterns due to climate change.
The Worsening Winds report, published by First Street Foundation, is a risk assessment report that aims to quantify and measure how climate change impacts on hurricane winds 30 years into the future will impact local communities across the country.
The two primary factors it looks at and compares across cities and counties nationally are percent increases in experiencing certain wind speeds, as well as estimating the Average Annual Loss (AAL) for a certain locality.
"The largest increase in maximum wind speeds will impact states in the Mid-Atlantic. The Mid-Atlantic will see the largest increase in maximum wind speeds in CONUS over the next 30 years, with some areas increasing in maximum wind gust speeds by 37 mph. Additionally, some areas within this region can anticipate relatively large increases in the probability of experiencing a Category 1 hurricane or higher over the next 30 years when compared to today, with many areas expected to see an additional 1% annual probability."
"There is a circulation featured over the ocean that affects where hurricanes track in this region, called subtropical high pressure. When you have oceans warming, you have the center of that high pressure shifting to the north," said Kris Bedka, a scientist at NASA Langley.
"With future climate scenarios with a warming climate, that circulation pattern, instead of hooking off to the east it's more likely for them to come up from the south," he added.
Hampton Roads localities rank high in some of the report's metric rankings. One example is the counties and cities "will likely face the great absolute increase in their annual likelihood of experiencing Category 1 hurricane wind conditions."
By 2053, the highest counties are:
Gloucester
Isle of Wight
York
Mathews
Poquoson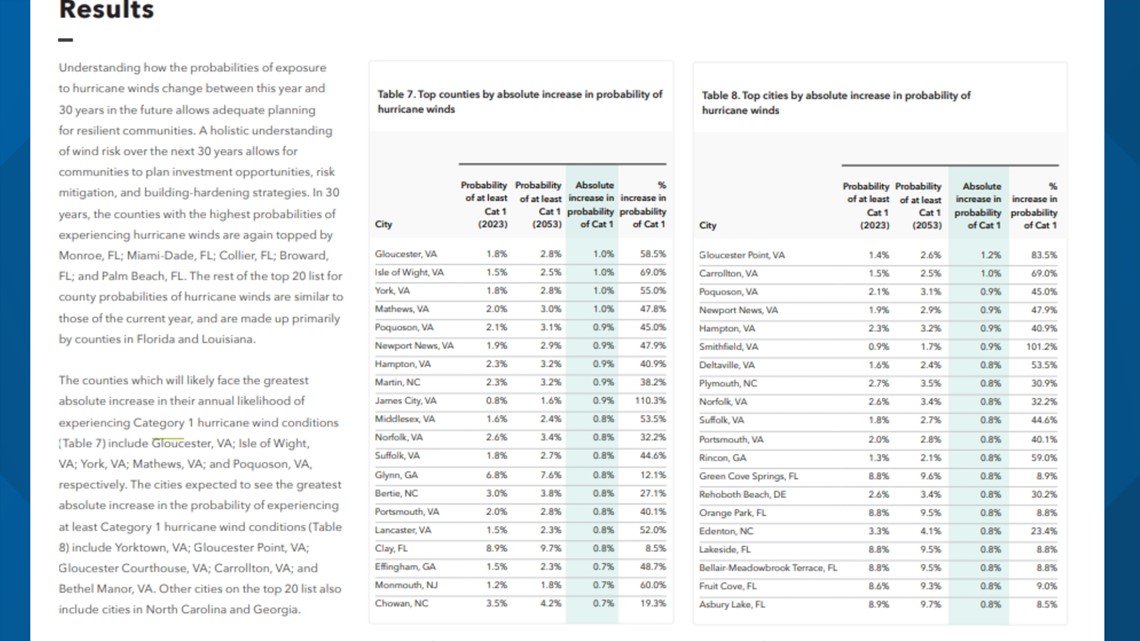 Virginians may already remember how devastating a major hurricane could be for the area. In 2003, Hurricane Isabel's destruction across the Commonwealth resulted in roughly $2 billion in financial losses, as well as more than 10,000 homes either destroyed completely or damaged. Total debris accumulated to the equivalent of 200,000 football fields, according to the Virginia Department of Emergency Management.
All of the seven cities rank in the top 20 for percent increases in estimated AAL over the next 30 years.
Newport News—$8,400,000 (157%)
Suffolk—$3,00,000 (124%)
Hampton—$12,200,000 (117%)
Portsmouth—$4,900,000 (105%)
Chesapeake—$8,600,000 (105%)
Norfolk—$15,300,000 (85%)
Virginia Beach—$52,100,000 (66%)
Michelle Hamor, chief of planning for the Army Corps of Engineers Norfolk office, added that hurricanes can show local communities where they are most vulnerable and help them become more resilient moving forward.
"After Hurricane Sandy, we did have some studies that were spawned, we did a re-evaluation of Willoughby Spit, and were able to get [beach nourishment] authorized. We're partnering with Hampton on flood risk management from Hurricane Sandy," Hamor said.