RODANTHE, N.C. — The beaches in one Outer Banks town are in danger of disappearing.
Rodanthe is eroding up to around 12 feet a year, according to some estimates. Many residents are now begging for beach nourishment, arguing it's the best way to save their homes and their town.
Jeff Carroll bought a home on South Shore Drive in February 2022. He's already making plans to have his home moved further up his property line and away from the ocean.
"I love the location. I love that it's right on the water. But it shouldn't be this right on the water," Carroll said.
Carroll lives a few houses down from where three Rodanthe homes collapsed into the Atlantic Ocean last year.
Some of the debris from the fallen homes later washed ashore and damaged parts of the house belonging to his neighbor, Cindy Doughty.
She and her partner, Scott Twentyman, just paid about $150,000 out of pocket to have their South Shore Drive home moved about 100 feet up the beach.
"There was really no choice, we wanted to save it," Doughty said. "We could never replace it."
Rodanthe community calls for beach nourishment
Carroll and Doughty join a chorus of other Rodanthe residents calling for beach nourishment. It's when sand is dredged from miles offshore and pumped onto the beach.
Dare County Commission Chairman Bob Woodard told 13News Now that a beach nourishment project in Rodanthe is not out of the question.
But there is one lingering hangup: the price tag.
"We're not turning our back on them, we just have major issues and processes that we have to go through in order to make this come to fruition if at all," Woodard said.
A beach nourishment project in Rodanthe would likely cost more than the other areas because of the town's high erosion rate.
"We're estimating right now if we do a project in Rodanthe that it'll cost about $30 million," Woodard said.
County officials said they don't have the money for a $30 million project.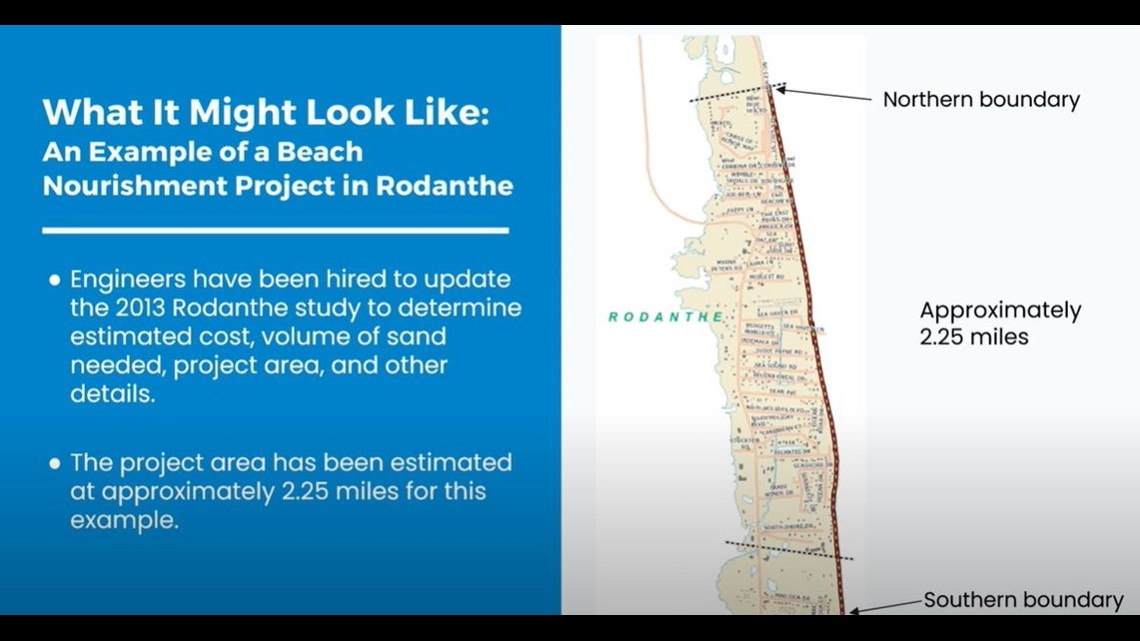 Hundreds of concerned citizens attended in person or online as Dare County officials explained their predicament and then listened to public comments.
"This is going to affect not just Rodanthe but the entire Hatteras Island," one attendee said.
Some residents said they would pay more taxes in return for a bigger beach.
"I don't mind, increase my taxes," one resident said. "We need to save Rodanthe, it's that simple."
But the tax base in the town of 200 people is so small that it would take decades of increased property taxes to raise enough money to support beach nourishment, according to County Manager Bobby Outten.
Woodard said finding and securing a funding source is the main holdup right now.
"Talk to your senator," Woodard told the crowd. "It's not 'cause we haven't tried. I can't tell you how many times our board has gone to DC and talked to our federal legislators without any success whatsoever."
Right now, Dare County is awaiting the results of a feasibility study to determine the estimated cost, the volume of sand needed, the project area and other details.
Another complicating factor in Rodanthe is the fact Cape Hatteras National Seashore and the National Parks Service (NPS) own some of the eroding beaches in question.
Some residents think NPS should take responsibility for funding beach nourishment, but there are 424 National Parks competing for federal maintenance funding from the Department of the Interior, according to Cape Hatteras Superintendent Dave Hallac.
Hallac said they've asked for funding for some Hatteras Island erosion hot spots where transportation can be hindered, including the north end of Ocracoke Island where a mile of highway is sandbagged.
"It is hard to invest in a beach nourishment project that would only last 3-5 years when there are these other problems that are out there in which an investment would last for a long period of time," Hallac said during the town hall.
Are federal leaders addressing beach erosion?
Without an influx of state or federal funding, officials said no new beach nourishment projects are possible in Dare County, so 13News Now checked with both North Carolina U.S. Sen. Thom Tillis and Congressman Greg Murphy.
Representatives for both men responded to our request and said they are aware of the issue.
"[Tillis] is working with local, state and national stakeholders on solutions," a spokesperson told 13News Now.
Rep. Murphy's office issued the following statement:
"Congressman Murphy has been to Rodanthe to see this issue firsthand. He has checked with USACE and has been informed there is no beach nourishment project planned. Additionally, neither Congressman Murphy nor the USACE have received any requests for permits or funding from Dare County to perform a beach nourishment project. The issue is that this is not a 'one-and-done' fix. Even if federal funds are tracked down for a multi-million-dollar project, the expectation is that it would not be a lasting solution. That is why he is awaiting the results of the Dare County feasibility study to determine the most efficient solution going forward."