SUFFOLK, Va. — There's a major partnership in play between Hampton Roads and powerhouse e-commerce company Amazon.
Governor Ralph Northam was at Old Dominion University's 'VMASC,' building in Suffolk on Tuesday; where he unveiled plans to build two new Amazon facilities in both Chesapeake and Suffolk.
"To come back here [to Hampton Roads] and to really build on the economy and to be able to diversify the economy, it's exciting. So, good things are happening here in Hampton Roads," Northam said.
The facility in Chesapeake will be a 650,000 square-foot processing center with 500 workers, who will process bulk goods and break them down into smaller orders.
While Suffolk will be home to a multi-story robotics fulfillment center with more than 1,000 workers.
Those Suffolk employees will pack and ship smaller-sized customer orders like books, toys and home goods alongside robotics.
Officials also say workers at these centers will get paid $15 an hour, with opportunities to earn more, and receive benefits. Both centers are expected to open in 2021, but city officials say they're already grateful.
"We're so thankful to Amazon being here," said Chesapeake Mayor Rick West.
"I would like to thank you again for your confidence and your patience and for all that is taken to make this happen today," said Suffolk Mayor Linda Johnson.
Ardine Williams is the Workforce Development Vice President for Amazon. She said she's excited to expand the company to the community of Hampton Roads.
"These [new buildings] represent many first for us and also for Hampton Roads, the community," Williams said. "You get, really, the power of a community working together to create that environment and to create the workforce that's so important to Amazon's success."
Amazon confirmed with 13News Now that the company purchased more than 80 acres of land in Suffolk just off Northgate Commerce Parkway back in December.
"Virginia has proven itself to be a prime destination with the business climate, infrastructure, global access, trained workforce, and talent pipeline that Amazon needs for its continued growth here," said Governor Northam. "With an existing workforce of more than 10,000 full-time employees across our Commonwealth, Amazon's economic impact in Virginia cannot be overstated. We celebrate the addition of two new, high-tech facilities in Suffolk and Chesapeake that will positively benefit the entire Hampton Roads region."
As part of the announcement, Amazon released data showing the economic impacts of the company's investments across Virginia.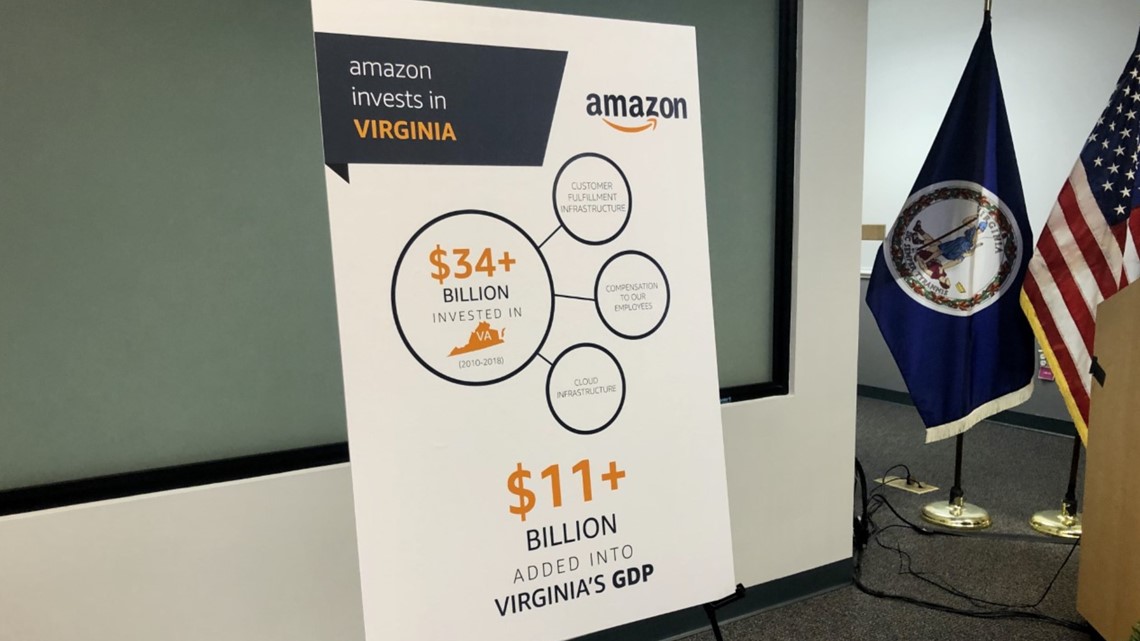 Virginia is already home to ten Amazon centers in various localities like Sterling, Ashland, Petersburg and Richmond.
Virginia Beach, Suffolk and Hampton were once contenders for the Amazon HQ2 headquarters a couple of years back. The company ended up choosing northern Virginia to be its HQ2 site.