SOUTHAMPTON COUNTY, Va. — Wesley Hadsell is accused of killing his 18-year-old stepdaughter, Anjelica 'AJ' Hadsell. Investigators found Anjelica's body in April 2015.
Trial Update, Wednesday, February 26:
The judge in the case declared a mistrial Wednesday afternoon.
Prosecutors had asked for the mistrial. The judge explained the mistrial was because the defense and prosecuting attorneys could not agree on what evidence the jury would be allowed to hear.
That evidence involved what media recordings and criminal records could be used in the case. Wesley Hadsell's lawyer, James Ellenson, said that changed a lot for prosecutors especially.
"Because of that, the Commonwealth's attorney had to change a good degree of their evidence that physically could not be accomplished in a day. Now what we'll have to do is have a bunch of pre-trial motions and argue probably every single phone call, every single piece of evidence," said Ellenson.
Ellenson said the mistrial is also because the two legal parties could not agree in court about a stipulation they had reached prior to the trial beginning. Ellenson said Hadsell changed his mind about the stipulations after his ex-wife, Jennifer Hadsell, took the stand.
"We sort of had an agreement and then Wesley changed his mind and that's his right. He heard Jennifer testify and Wesley sort of realized that parts of his criminal history would come out and he felt uncomfortable about that. He didn't feel comfortable going on with the agreement the way that we had made it," said Ellenson.
The judge dismissed the jurors. A new jury will be seated once the defense and the Southampton Commonwealth's Attorney's Office agree on a date for the new trial.
One juror who did not want to be identified said she was disappointed.
"I wanted to see more, I wanted to hear more, I wanted to hear the defense. Things were not adding up to me from what had been presented already," said a juror.
A hearing is scheduled for Friday for the attorneys to pick a new trial date. Ellenson said it will most likely be set for November.
Trial Update, Tuesday, February 25:
Day 2: In opening statements to the 14 selected jurors, the Commonwealth and defense lawyers laid out their arguments as to why Wesley Hadsell should or should not be found guilty of murder.
Court documents reveal that authorities gathered evidence that was central to the investigation like Wesley Hadsell's truck, which had dirt residue, a shovel, gloves, duct tape, and a GPS inside.
The address in the GPS led them to the home where Anjelica's body was found in a shallow grave. A key witness who took the stand was the sergeant who found Anjelica's body first on April 9, 2015. The sergeant explained how investigators found and removed Anjelica's body while jurors viewed graphic pictures.
The sergeant testified that Anjelica's body was face-down with her pants pulled down halfway and her boots sticking out of the dirt. The sergeant said at the scene there was duct tape and markings in the dirt from a shovel.
The same sergeant went to the medical examiner's office where they discovered the shorts she wore beneath her pants were also pulled down.
The medical examiner ruled her cause of death as homicidal violence and acute heroin poisoning. The medical examiner also noted that AJ had "control" injuries on her arms, blunt force trauma to her chest and neck, as well as bruising around her chin and jaw, and they could not rule out strangulation.
Wesley Hadsell's defense lawyer, James Ellenson, said the Commonwealth must prove murder beyond a reasonable doubt and alluded to Anjelica possibly being suicidal. Ellenson showed a slideshow collage that Anjelica allegedly posted the day before she died titled "Suicide is my father."
Ellenson also showed jurors texts between Anjelica and an ex-boyfriend. Those messages reportedly describe how Anjelica discovered the medication she was taking for headaches, was an anti-depressant.
Ellenson stated the drug was prescribed to Anjelica by current Governor Ralph Northam. Ellenson also stated that Northam will testify at some point in the trial.
Anjelica's Longwood College roommate took the stand and said that she believed Anjelica was not suicidal and that Anjelica never had or used drugs in the dorm room they shared. The roommate also said that Anjelica was usually busy with intramural softball or field hockey and focused on graduating college a year early.
Anjelica's little sister took the stand and also stated that Anjelica never had or used drugs in the bedroom they shared growing up in Norfolk.
"Anjelica was pure, loving, everything you want in a big sister," she testified. "She wanted nothing more than for me to be protected. She was so bright, so positive, and so full of love."
Anjelica's sister said the last time she saw Anjelica was when they hugged goodbye on the morning of March 2. She stated that when she got home from school, she was surprised to see Anjelica was gone. She testified that the lights in the home were on, laundry sat half folded in a basket, the back door was unlocked and that Anjelica's speaker was still turned on. She said Anjelica's wallet sat on the couch and that when she texted Anjelica as to her whereabouts, Anjelica texted back that she was "with friends."
When cross-examined, Anjelica's mother, Jennifer, stated that she never saw or knew of her daughter using drugs. Ellenson questioned why she never spoke to Anjelica about writings in her journal which he alluded to have suicidal meanings, and Jennifer stated that she saw them as poems of a teenage girl and not suicidal in nature.
Jennifer said that if she had believed Anjelica was suicidal, she would have spoken with Anjelica about it.
Jennifer said that when she got home on March 2, she was surprised Anjelica wasn't there. Jennifer testified that on the day her daughter disappeared, she texted back and forth with Anjelica into the early hours of the next morning.
Jennifer testified that the texts did not seem like her daughter and that the messages she simultaneously received from Wesley Hadsell's phone came and went at similar times.
The Commonwealth Attorney stated that investigators discovered through cell towers that Anjelica and Wesley Hadsell's phones hit at the same location most of the afternoon she disappeared.
Trial update for Monday, February 24:
Commonwealth prosecutors and the defense team started with 72 potential jurors and narrowed the number down to 12, with two alternative jurors available. After the jurors were selected, they were strictly told not to talk about the trial or watch anything about the trial in the news.
It took more than three years to bring charges against Wesley Hadsell, who will be tried for first-degree murder, non-capital murder and felony concealment of a dead body.
A medical examiner determined that Anjelica died by heroin poisoning.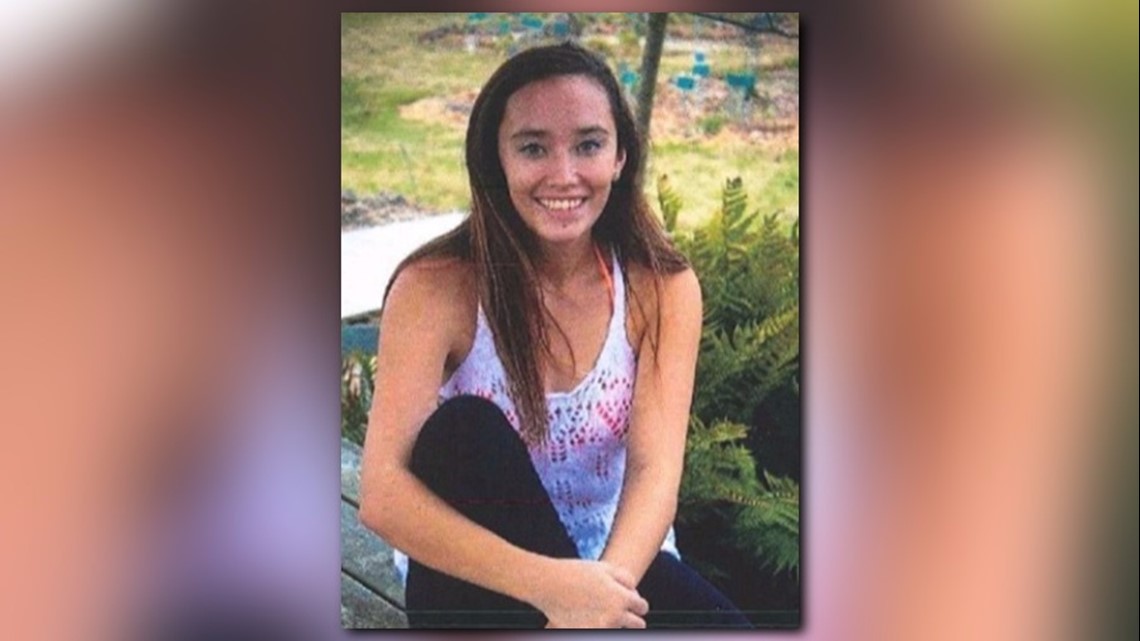 Hadsell appeared in court for a pre-trial last month where his attorney claimed evidence that would be used in the main trial was false.
Hadsell pleaded not guilty to all the charges last February and requested a trial by jury. He's already in prison after being convicted for a weapons violation that's unrelated to this murder case.
A judge has also subpoenaed Governor Ralph Northam, who is set to testify in this case since he was Anjelica's primary physician at the time of her death.
Anjelica was a freshman at Longwood University when she vanished during spring break in 2015. It took weeks for authorities to locate her body, which was found behind an abandoned home in Southampton County.
The murder trial could last up to three weeks.