NORFOLK, Va. — Mark Talbot got a big pay raise this week when he jumped from the Hampton Police Division to the Norfolk Police Department.
Chief Talbot, who earns a $220,000 annual salary, is now one of the highest-paid police chiefs in all of Virginia. According to public records, he will make roughly $27,000 more than he did in Hampton and about $32,000 more than his predecessor in Norfolk, Larry Boone.
Talbot's offer letter lists other compensation, including $25,000 to relocate, a $5,000 one-time signing bonus, and a $6,000 annual car allowance.
Government salaries are public record, and we filed public records requests to see how Talbot's salary stacks up to his peers in Virginia's largest cities.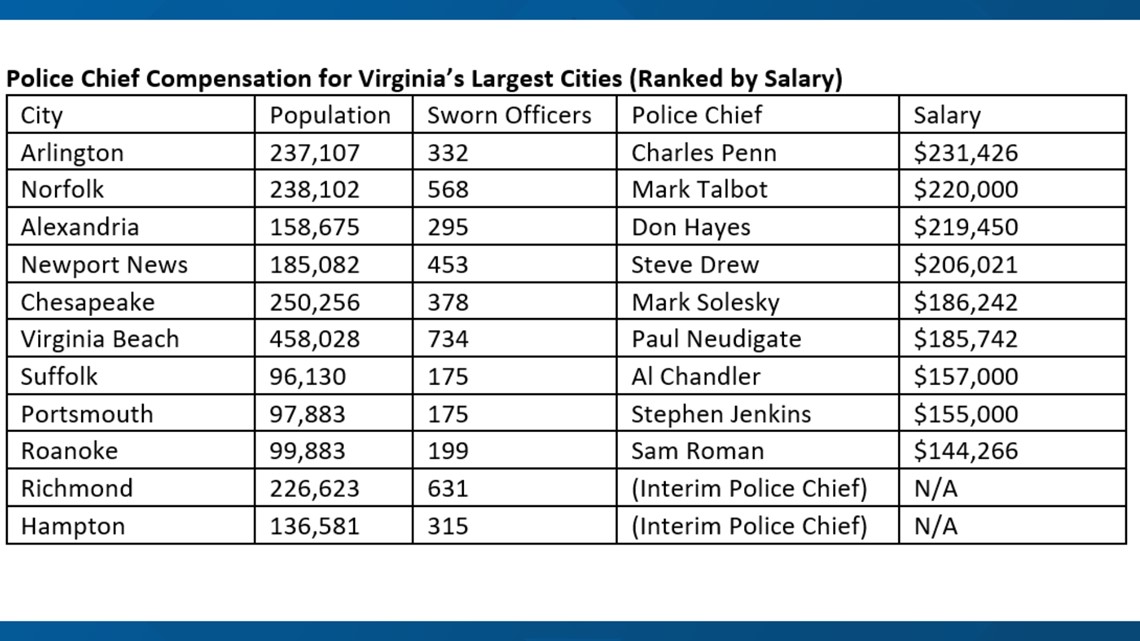 Arlington's Top Cop is the highest paid at $231,426 a year. Chief Talbot's $220,000 salary makes him the second-highest-paid police chief among Virginia's largest cities.
Alexandria's police chief is a close third, making $219,450.
Newport News Police Chief Steve Drew earns $206,021, while Chesapeake Police Chief Mark Solesky brings in $186,242.
Virginia Beach Police Chief Paul Neudigate, who leads the largest municipal law enforcement agency in Virginia in the state's largest city, earns $185,742 annually.
Hampton city leaders are still searching for Talbot's replacement.
The Norfolk Police Department spent almost a year under interim leadership before hiring Talbot.