VIRGINIA BEACH, Va. — An action sports festival from Canada is making its U.S. debut in Virginia Beach for a weekend of fun and competition.
The Jackalope Festival is taking place at Neptune's Park at the Virginia Beach Oceanfront from June 2 to 4. Hundreds of athletes will compete in different types of action sports, including street skateboarding, for $20,000 worth of prize money.
The festival will also have food trucks, open skate sessions, live music, beach skydiving and more. And it's free to the public. Here's what you need to know.
2023 is Jackalope's first year in Virginia Beach
The Jackalope Festival got its start in Montreal, Canada, in 2012 and has since blossomed into the country's biggest action sports festival, founder Micah Desforges told 13News Now in an interview Thursday.
Desforges said around 6,000 people attended the first edition of the festival, but it has grown to 15,000 to 20,000 attendees. He described the festival as the "next X Games on the block."
Desforges landed on bringing the festival to Virginia Beach after he bumped into people who work for the city government at a restaurant, which led to conversations about why the city would be a good choice.
"You could feel an appetite, and an opportunity to bring a major event here," Desforges said. "We're not as known as X Games or Mountain Dew Tour, but the play here is that we're young, and in 10 years we think we will become the next 'X Games.' It's a vision here to work together to build it from the ground up."
Most events on the Jackalope festival schedule are free
Jackalope festival announced their full schedule of events on Friday, May 26th. Most events are free and open to the public, but there's a handful of events that are closed and require passes. See the full schedule for Friday, Saturday, and Sunday on their site.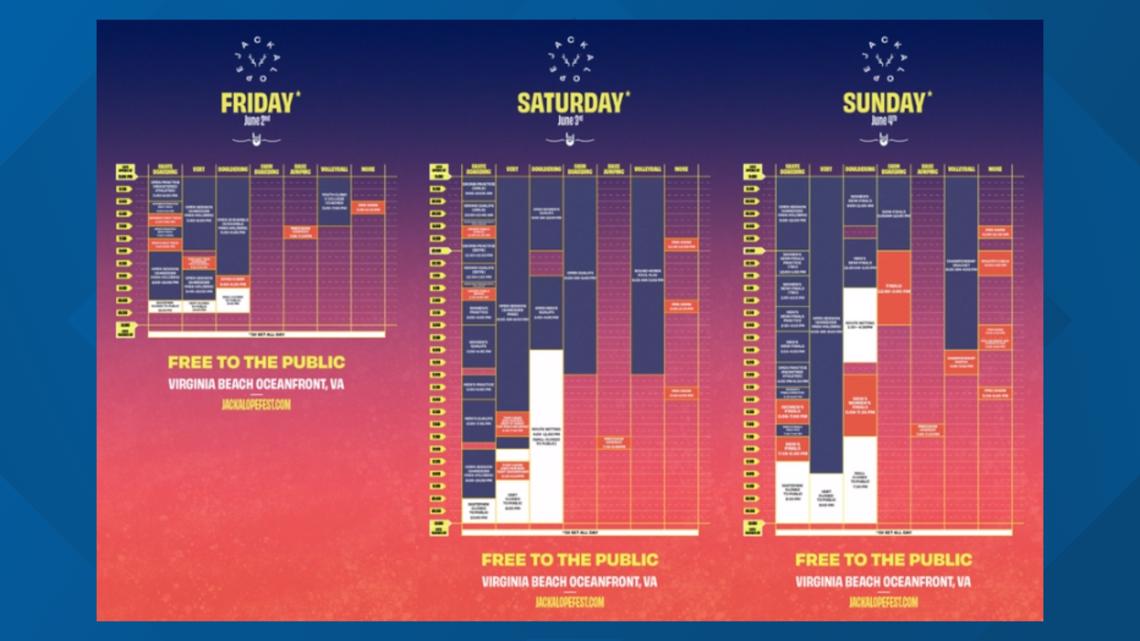 Jackalope festival is building a high-quality park for skate competition
Festival organizers got some help from California Skateparks to build a unique skatepark themed after Neptune, king of the oceans.
The company has built skateparks for some big events, including the Street League Skateboarding circuit, X Games and the qualification events of the Olympics, organizers said.
The skatepark will be on the beach but will be constructed with concrete "to ensure a perfect pop and good speed."
The competition will take place in groups of two or three and riders will be judged based on difficulty, originality, style, consistency and how the park is used.
Skate legend Tony Hawk, other pros will be at Jackalope Virginia Beach
Professional skateboarder Tony Hawk and his crew will be at the festival to give a demo for the "Vert Showdown," which will take place on the second night from 8:30 to 9:15.
The festival said other athletes in attendance include Mitchie Brusko, Collin Graham, Reese Nelson, Tom Schaar, Elliot Sloan and Bucky Lasek.
Skating won't be the only action sport at Jackalope
The festival will also have bouldering, base jumping from the top of the Hilton Hotel, skimboarding, freestyle motocross and beach volleyball.
"It's really a celebration of the action sports culture that we have here in Virginia Beach," Desforges told 13News Now.
Photos from Jackalope Festival 2023 at the Virginia Beach Oceanfront