NORFOLK, Va. (WVEC) — FIND YOUR EVACUATION ZONE HERE
Governor Ralph Northam issued a mandatory evacuation for people living in Zone A of the state hurricane evacuation zones.
Northam made the announcement as part of a news conference Monday afternoon. The evacuation order affects roughly 245,000 people.
The State of Emergency declaration was approved by President Trump on Tuesday. It will allow federal emergency response assets to mobilize and pre-position resources for hurricane response.
"We requested this federal declaration to bring additional federal resources for response and recovery efforts across the Commonwealth," said Governor Northam. "This declaration will also help ensure we're better able to respond to the effects of the storm. I appreciate the willingness of our federal partners to join in our coordinated emergency response efforts."
Federal emergency declarations supplement state and local or Indian tribal government efforts in providing emergency services, such as the protection of lives, property, public health, and safety, or to lessen or avert the threat of a catastrophe.
Tuesday morning, Rear Adm. Charles Rock, commander of Navy Region Mid-Atlantic authorized an emergency evacuation for active duty Navy and civilian personnel, dependents of active duty service members and reservists on active duty residing in Hampton Roads and Virginia Zone A.
"The safety of our personnel and their families is my top priority right now," said the Rear Adm. Rock. "I ask that everyone traveling please keep safety in mind and remember to muster with their chain of command when they reach safe haven."
There are four hurricane evacuation zones in Virginia. One emergency management official said the state considered Zone B in issuing the evacuation order but had not included that as of Monday afternoon. If Zone B is told to evacuate, an additional 300,000 people would be affected.
In addition to the online map, you can also call 2-1-1 to learn what evacuation zone you are in.
PHOTOS: Know Your Zone Images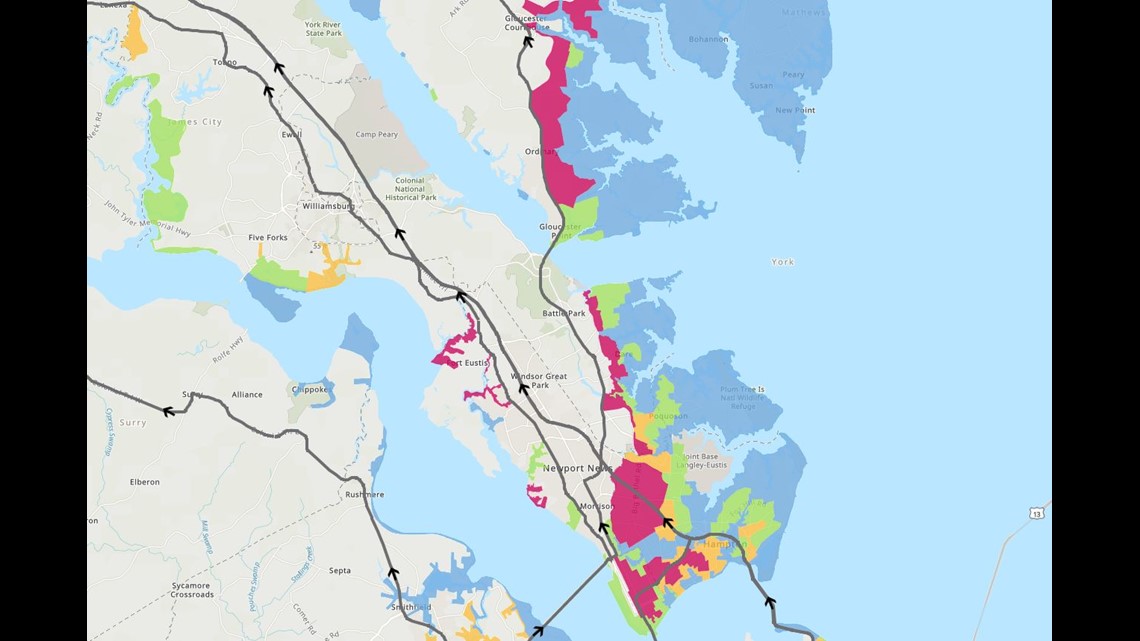 READ MORE: 13News Now's Hurricane Center
Follow 13News Now on Facebook and Twitter
► Make it easy to keep up to date with more stories like this. Download the 13News Now App.